How Long Should Your Hair Be If You Want To Donate It?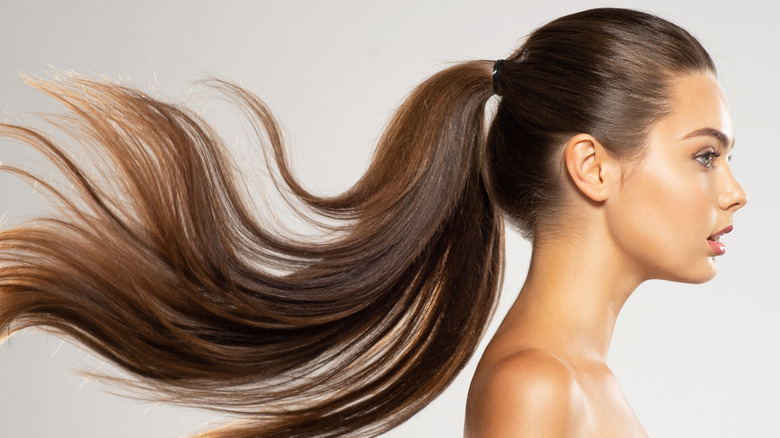 VALUA VITALY/Shutterstock
If you have long hair and you're looking for a dramatic new look, you might be thinking of breaking free of those long locks. Perhaps, you've simply noticed signs that it's time for a haircut. Maintaining lustrous long hair takes a lot of work. From shampooing and conditioning to using hair masks and then styling, long hair can set you back hours in a week. Plus, some of the hottest haircuts of 2022 include shorter cuts, particularly variations of the classic pixie and bob cuts (via Vogue). If you're feeling daring, you can always try both and get the bixie, a mix between a bob and a pixie.
A good thing about shearing off long locks is that you can donate them to those in need. Many cancer and other medical organizations accept hair donations of a specified minimum length and use them to make wigs for those who lose their hair from chemotherapy and other medical issues. Some of the best-known organizations are Locks of Love and Wigs for Kids (via Love to Know). The good news is that the hair you hope to donate might not have to be as long as you think it does.
You should have 8 to 14 inches of hair to cut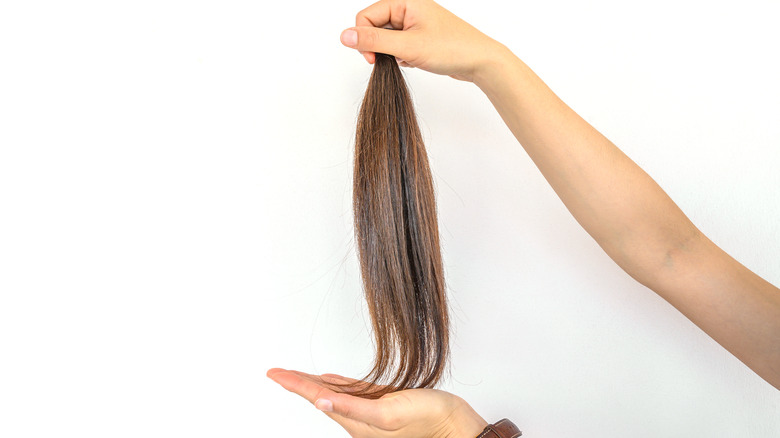 Boyloso/Shutterstock
If you'd like to donate your hair to be made into wigs for cancer patients or those living with alopecia or other medical conditions, you don't necessarily need to have extremely long hair. The Cancer.net website recommends that you have at least 8 to 14 inches of hair that can be cut off, though they stress that each organization has its own specific requirements. Consider that if you hold a 12-inch ruler alongside your face, you'd only need to have hair that is little more than half to the whole length (or more) of the ruler.
If you have dyed, bleached, or gray hair, make sure to check that the organization you'd like to donate to accepts your type of hair. The same goes if you have highlights, dreadlocks, or if your hair has been permed. Many of the organizations accept gray or dyed hair but sell it to help keep their organization funded.
Locks of Love, which makes wigs for children with all types of medical issues, requests at least 10 inches of hair, while Wigs for Kids want 12 inches minimum. Hair We Share will accept 8 inches (via Insider). Most major organizations give their wigs away free for patients.
How to cut hair to donate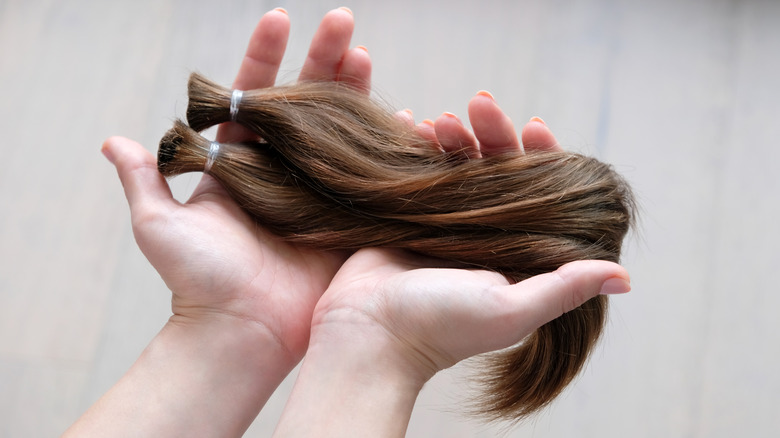 925am/Shutterstock
Your hair stylist may be experienced with sending off hair donations, so the first step is to ask them if they've done it before. Each organization will have precut and care instructions, and these must be followed carefully. Several organizations list beauty salons that regularly donate hair. They might offer a discounted rate on the haircut or even free haircuts when you donate (via ABC News). When you donate this way, the organization might arrange shipping, making it easier to get the hair to them.
If your hairstylist has never helped someone donate hair before, you can still follow instructions from the organization's website. Some request one big ponytail, while others want a handful of small groups of hair. Make sure you bring supplies you may need, such as a plastic bag to hold the hair, and possibly a ruler.
Before the cut, your hair should be freshly washed and completely dried, with no hair products in it at all (via Cosmopolitan). Depending on the organization you may also be able to track your hair and see the finished product after it's made into a wig.