Michelle Buteau Dishes About The Current Season Of The Circle - Exclusive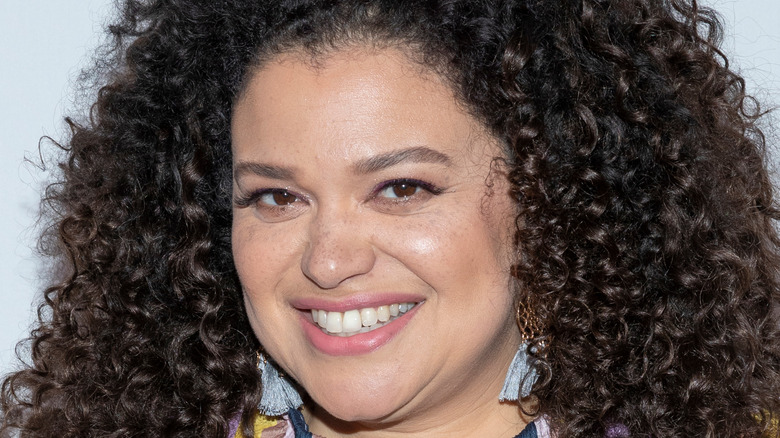 lev radin/Shutterstock
While reality shows are a dime a dozen, there are some that stand out. Cue "The Circle," the hit Netflix show that puts social media at the forefront. How do you win a social media popularity contest: As yourself? As a catfish? As a wife impersonating her husband? "The Circle" has truly seen it all, and the hit show wouldn't be nearly as entertaining without the commentary from host Michelle Buteau, a storied comedienne whose work is cutting-edge, observant, and of course, hilarious. Having worked not only on the stand-up circuit, Buteau has scored roles in feature films and has made a comedy brand all her own. She's bringing her voice back to the podcasting world with her show, "Adulting," co-hosted by Jordan Carlos, and ahead of the podcast's June 8 premiere, The List's sister site Nicki Swift sat down with the hilarious talent to pick her brain about all things "Adulting" related.
Of course, we couldn't stop there, and we had to ask Buteau about her career outside of the podcasting community, as "The Circle" is one of the most entertaining reality competitions on television. In amongst her truly hysterical commentary on the world around us, Buteau dished about the show, how casting is determined, when she found out who won the most recent season, and more.
She loves working with the production company, but she can't get you on the show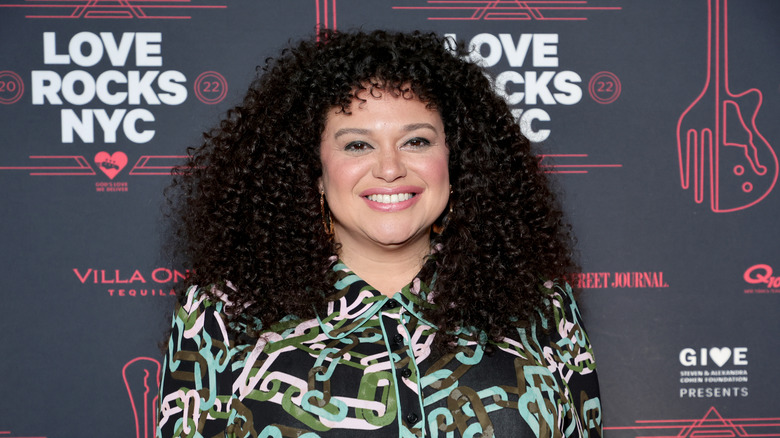 Jamie Mccarthy/Getty Images
We know what you must be thinking — "I'd love to compete on 'The Circle' one day" — and we can't blame you. Contestants get a personalized apartment, all the excitement of the game, and of course get to bond with real people (or catfishes) via the show's platform. Sounds like the dream competition! Host Michelle Buteau holds a similar sentiment, and said during the interview that working with the production company behind "The Circle" is a wonderful experience.
"['The Circle' is] made by a British production company. They're so wise when it comes to social experiments. Incorporating social media is ... You have to deal with it whether you want to or not," Buteau told us. "It's very fun being a part of the show because I'm my sassy, snarky self, and they're like, 'More, please.' I'm like, 'Absolutely.'"
And while Buteau certainly brings the whole show together with her larger-than-life commentary, she did tell us that, despite people sending her DMs, she doesn't have any influence when it comes to the show's casting. "I get DMs all the time: 'Can you hook me up with the show?' No, I cannot," Buteau admitted. "I love you, you're great, you are enough. I have nothing to do with casting."
Michelle reveals an unexpected truth about her hosting duties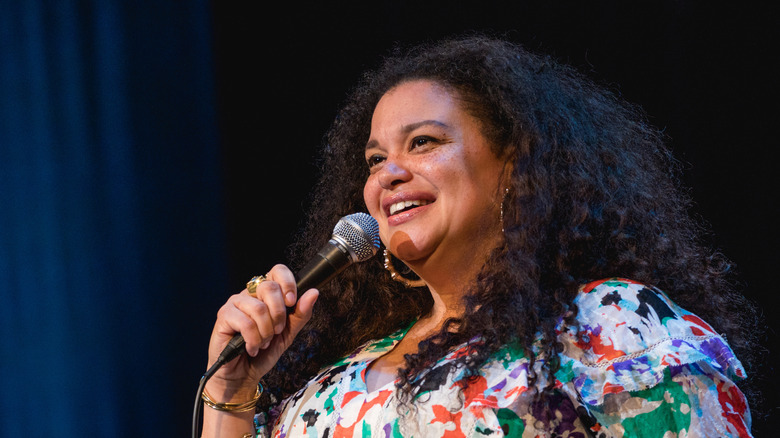 Rick Kern/Getty Images
There's something so exciting about watching "The Circle" evolve with each episode. Friendships form, crushes are established, unions are made (and broken), all of which grips viewers and leads so many of us to binge episode after episode. You may be surprised to learn, then, that Michelle Buteau finds out much of what happens on the show when we do, watching it unfold with each Circle chat.
"[The production team] does a really good job at it. They do a really good job at producing a different strategy every season," Buteau told us. "They send me cuts to watch, and I have no idea what's happening until I'm watching it too. And I love who won. I don't want to give spoilers away, but ..."
This is a spoiler-free zone, but Buteau did reiterate that she "loves" who won the most recent season and was emotional as the winner was announced: "I cried. I was like, 'Stop crying. No one's here for that.'"
The first episode of "Adulting with Michelle Buteau and Jordan Carlos" will drop on Exactly Right on June 8.