How To Recreate Twiggy's Mod Haircut
George Wilkes Archive/Getty Images
Dame Lesley Lawson, better known as Twiggy, has enjoyed a phenomenally successful career as an actor, singer, and model (via The Sun). After decades of experience in the entertainment industry, two Golden Globes, and performances on Broadway, 72-year-old Twiggy continues to model and chart the course of fashion history, per Daily Mail.   
Given her status as a fashion icon, it seems almost incredible that Twiggy's modeling career once seemed unlikely. Back in the early 1960s, Lesley Hornby (Twiggy's birth name) did not expect to go into modeling, let alone become one of the first supermodels. Speaking on Jessie Ware's "Table Manners" podcast in 2020, Twiggy said she knew that she didn't fit the mold of what models looked like at the time. 
At 5 feet, 6 inches tall, she was two inches shorter than the required modeling height, and her body type didn't match what agencies were seeking. "I was this skinny little kid with funny little legs," she said. Additionally, she didn't come from a "posh or middle-class" background or go to the finishing school that models of the era typically attended. However, times were changing, and the ideas about women's "perfect" body types were about to undergo another shift. It was the swinging mod '60s, and Twiggy, thanks to a novel new haircut, was about to make fashion history.
Twiggy's signature style was total happenstance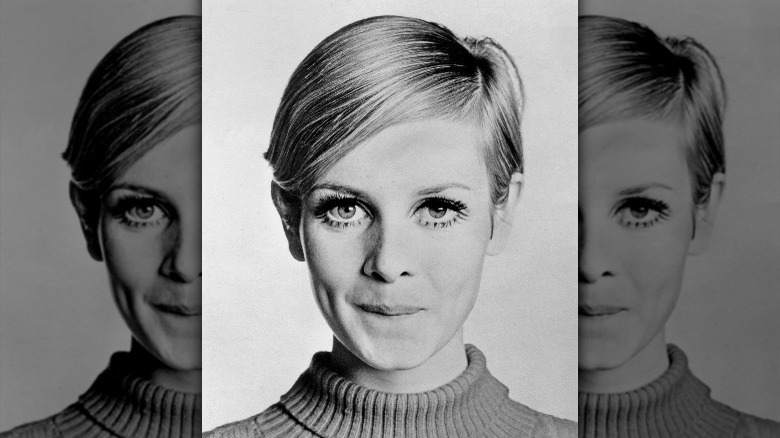 Michael Ochs Archives/Getty Images
Back in 1966, Twiggy was a teenage girl with long brown hair. One day, she walked into a London salon planning to get a straightforward wash and set, per People. Instead, Leonard Lewis, owner of The House of Leonard, had a completely new look — and much shorter style — in mind. Lewis had a reputation for pushing the envelope with innovative new hairstyles (via Women's Wear Daily).
The supermodel reminisced about the experience on Jessie Ware's "Table Manners" podcast. "For a moment I kind of went, 'I don't know whether I want my hair cut,'" she said. "But I was in this very posh salon in Mayfair so I was a bit too shy to say I don't want it done, and I kind of nodded." After getting her approval, Lewis spent seven hours perfecting Twiggy's new style. "He cut it and then I went out and had it colored and then re-cut. Oh, it was mad," the supermodel recalled on the podcast.
After 40 years, Twiggy's signature look remains trendy. According to Our Everyday Life, this now iconic haircut is a hybrid of a pixie cut and a gamine cut. To achieve the desired mod result, it's important for the hair to be longer on top compared to the rest of the head. While this look does include some layers and texture, a sleek and smooth final styling of the top is essential.
The haircut that launched a supermodel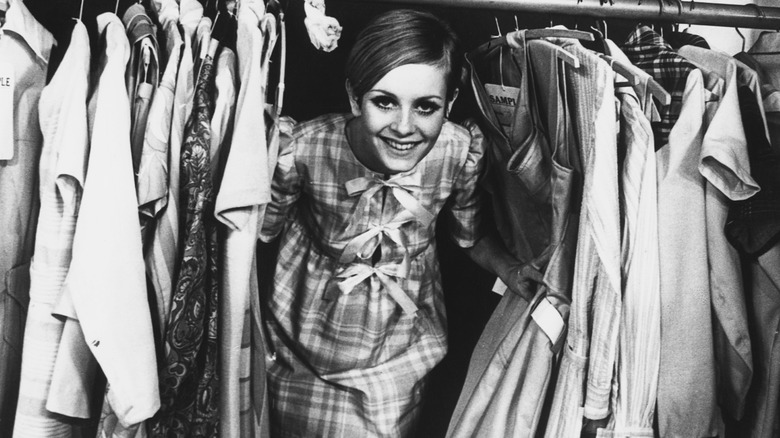 Keystone/Getty Images
After Leonard Lewis was satisfied with Twiggy's haircut, he posted photos in the salon. Her striking appearance caught the eye of Deirdre McSharry, a journalist for Daily Express, per Telegraph. "The Cockney Kid with a face to launch a thousand shapes ... and she's only 16!" McSharry extolled, dubbing the teen the "Face of 1966."
Twiggy was on the road to supermodel stardom.  "That was the pivotal moment — when that haircut was done, when the photograph was taken," she recalled on Jessie Ware's "Table Manners" podcast. The model's iconic name was also a twist of fate. "Twiggy ... my boyfriend's brother used to call me to annoy me." However, as her career skyrocketed, the moniker became inseparable from the up-and-coming model. "Once it was written in the paper it went stupid and within six months I was in Paris."
Besides her svelte hairstyle, Twiggy's signature eye makeup was a key part of her look. The style grew out of her own weekend forays with makeup. "It used to take me an hour and a half to do, I had three pairs of false eyelashes on the top," she told The Guardian. "Then I used to paint the lines underneath." Recreating Twiggy's mod haircut is relatively simple compared to replicating her makeup.
To try this signature look, book an appointment at the salon and make sure your stylist knows how to properly create a gamine cut or a pixie cut (per Our Everyday Life). After a few hours, you'll be ready to embrace '60s glamour in the modern age.