How The June 14 Full Moon Will Affect You If You're An Aries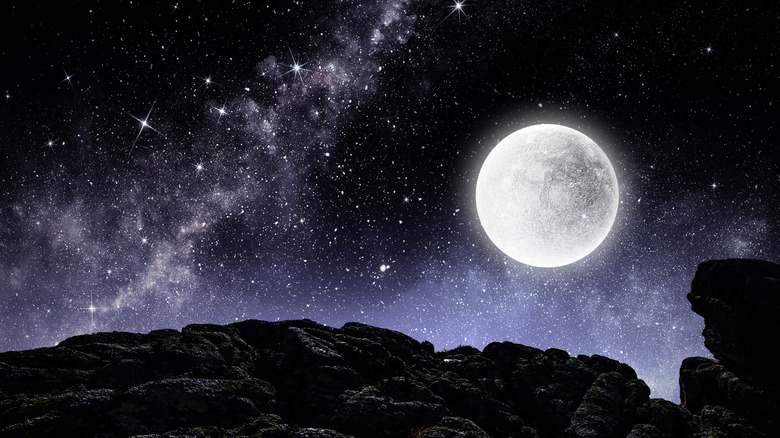 Sergey Nivens/Shutterstock
The full moon on June 14, 2022, is quickly approaching, and it's set to be a good one for many signs of the zodiac. According to the New York Post, a full moon is a time of great spiritual power when emotions and energy are high, and it gives us an outlet to help set new intentions and manifest our dreams into reality.
The full moon is a time when motivation and inspiration often push us to take action and get things done. Those who work with the full moon's energy can also perform rituals to increase the vibes. Taking a bath, lighting candles, and basking in the glow of the moon, among other things, are ways that some like to celebrate the lunation.
June's full moon falls under the sign of Saggitarius and has been dubbed the Strawberry Moon. The lunation gets its name from the time of the year that wild strawberries ripen in the Northern Hemisphere, per PopSugar. 
The outlet also notes that love is one of the central themes of the Strawberry Moon, adding that, in Europe, the lunation is called the Honey Moon, which likely gets its name because June is a traditional month for marriage. However, this month's full moon is also said to be a good time to reflect on romantic relationships, whether that be past, present, or even future.
For Aries, now may be a good time to do some self-reflection as well.
Aries should tap into their spiritual side during the full moon on June 14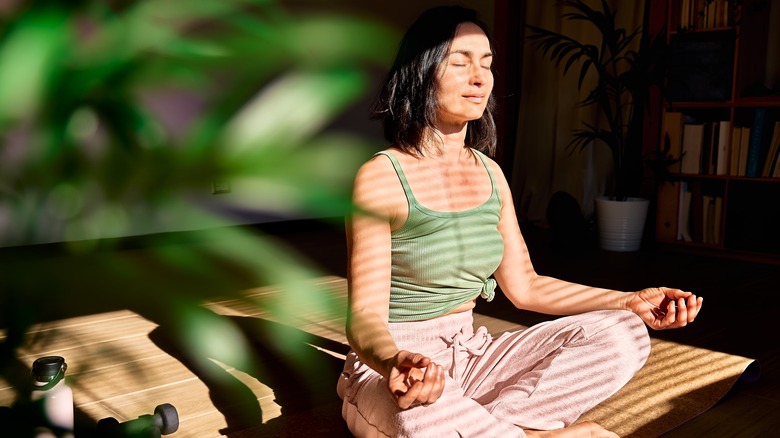 Caterina Trimarchi/Shutterstock
If you're an Aries (born between March 21 and April 19), the full moon on June 14, 2022, may be the perfect time for you to focus on spiritual growth. 
If you've been feeling like something is missing or perhaps you're just a bit disconnected from yourself or those around you, there are plenty of things you can do to help tap into your spiritual side. Bustle suggests traveling, focusing on a passion project that explores your creativity, or seeking wisdom from a mentor.
According to Mind Body Green, other ways to become more spiritual include setting intentions, reading more, taking time to relax each day, taking care of your body, spending time with like-minded people, and looking for signs to help you along the way. 
Astrologer Molly Pennington reveals that the full moon falls in Aries' ninth house of expansion, which could mean expanding your mind, spiritual practice, or anything else that feels right (via Mind Body Green).
Aries may also want to focus on their physical space during the lunation.
This sign may want to refresh their home or office during the full moon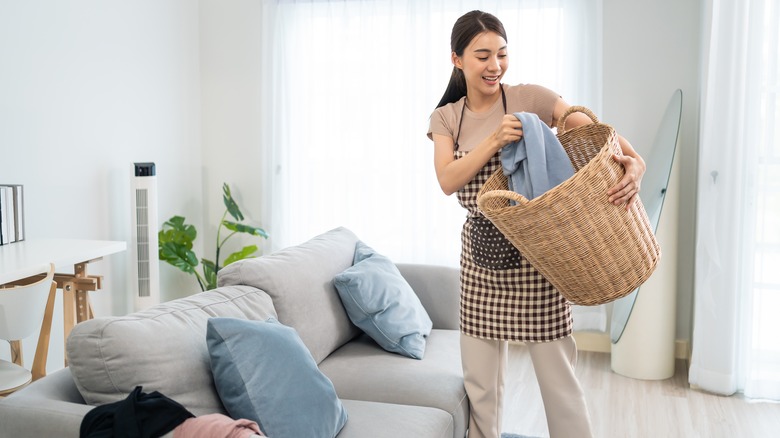 Hananeko_Studio/Shutterstock
According to PopSugar, Aries may feel inspired to clean up their living spaces or offices during the full moon on June 14, 2022. It's a great time for the fire sign to get organized, which will help you to get more done and feel accomplished. 
In addition, your thoughts will drive you during the lunation, so be sure to figure out what you want going forward. "If you feel like your ideas are always all over the place, take some time to come up with a plan that is realistic," astrologer Imani Rae tells the outlet. "Create habits that you are able to stick with and don't feel overwhelmed by. Allow yourself to get out of your own head and live more in reality."
Allure notes that the full moon may also be a time of confidence and sensuality for Aries. If you're looking to spice up your romantic life, now would be a great time to take the plunge. However, if you're not looking to get romantic, treating yourself with a little extra love is always a great way to recharge. Perform some acts of self-care to help you declutter your mind and tackle whatever lies ahead.
It appears that Aries will have a lot to do during the full moon, and staying focused will be the key to success amid the lunation.