Are Southern Charm's Shep Rose And Taylor Ann Green Engaged?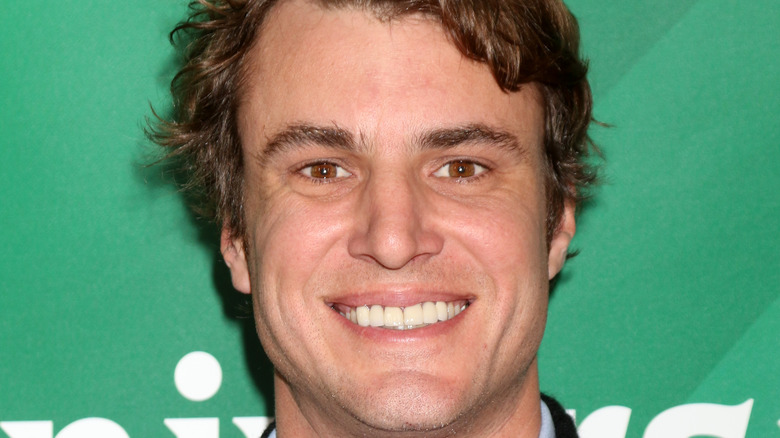 Kathy Hutchins/Shutterstock
It's no secret that "Southern Charm" fans enjoy getting a front row seat to the cast members' complicated lives. From the messy relationship between Madison LeCroy and Austen Kroll to Kathryn Dennis' ongoing custody issues, the drama keeps viewers coming back each season. One storyline that has received much attention is Shep Rose's search for true love. In fact, it launched the dating show "RelationShep," which followed Shep's quest to find his soulmate. The show only lasted one season, and by the end, it seemed like Shep was committed to being a bachelor for life.
All that seemed to change when he met Taylor Ann Green, a North Carolina native who works as an account executive at a staffing agency and a clinical assistant for an orthodontics practice, per Bustle. "The day I met her, I left the next day for Mexico for three weeks," Shep told Decider. "I was like, 'Nice to meet you, see you later.' We just sort of texted a little bit, or DMed. Not too much. I was like, 'Well, I look forward to seeing you.' I got back, and we started seeing each other. She approached it, I wouldn't say carefully, but she just didn't expect a lot."
Their casual hangouts turned into full-blown romance, with Shep admitting to US Weekly that Taylor "refuses to give me a reason to not be in love with her, honestly." So does that mean that wedding bells could soon be ringing for the two?
Viewers will find out this season if Shep and Taylor are ready to get married
Now that Shep Rose has finally found love with Taylor Ann Green, "Southern Charm" fans are hoping to see a proposal on Season 8 of the show — and it looks like they might just get their wish! The couple has gotten a lot of questions about when they're getting married. "We had a very, very lovely conversation about this topic. You'll see what our answer is this season," Taylor said on an episode of "Watch What Happens Live."
Although his parents have been married for more than four decades, longtime viewers know that Shep has had an aversion to settling down (via US Weekly). But his solid relationship with Taylor has made him open to marriage and children. "I guess she makes it just so easy that I just think that I know that I'm in the right situation and it's just easy," he told US Weekly. "She makes it really easy because she's so kind and lovely. And she makes everyone around her feel good. And that's just like a really good trait."
One reason Taylor might not be in a rush to walk down the aisle, however, is because she is 14 years younger than her boyfriend. "The clock isn't exactly ticking for her, which is, you know, I don't know. it's very relaxed on that front," Shep explained.
Shep admitted to a few 'hiccups' in his relationship with Taylor
While "Southern Charm" viewers are pulling for an engagement between Shep Rose and Taylor Ann Green, he has admitted that the relationship did have some "hiccups" in the beginning. "I kissed a girl in a stairwell and that's all it was. It was an old flame and we were texting ... and nothing ever came of it," he admitted, per People. "It was a moment of weakness. I was drinking, but that's all it was and I'll go to my grave knowing that's true."
Luckily, Taylor forgave her boyfriend and their relationship only became stronger during the pandemic. His costars are even hoping that the two stand the test of time. "I love Taylor," Craig Conover told US Weekly in October 2020. "Shep is such a better version of himself with her. You know, towards the end of last year I had stopped talking to Shep. We just weren't on the same page. I was moving forward with my business and there wasn't anything there for me. It was toxic. And he wasn't in a great place and he started dating Taylor."
In fact, Craig believes that Taylor's influence helped him and Shep mend fences. "He rekindled our relationship and we've been phenomenal," Craig explained. "I hope that it works out. She's awesome."