Can You Still Buy Jessica Simpson's Dessert Beauty Brand?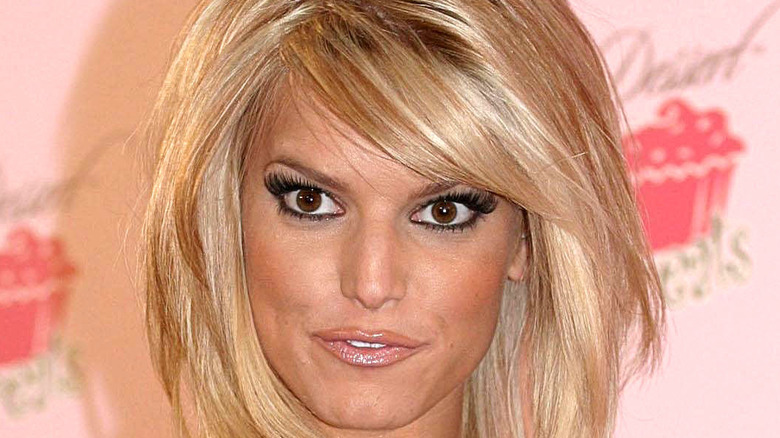 Everett Collection/Shutterstock
We may receive a commission on purchases made from links.
While Jessica Simpson came on the scene as a singer and an actress, some of her biggest successes have been in the retail industry. "Newlyweds," her reality TV show with her then-husband Nick Lachey, made her a household name in the early aughts, according to Us Weekly. While the pair ultimately divorced, Simpson used that fame to her advantage and created brands that led her to her own sustained personal success.
One of those brands was her beauty line called Dessert, which she launched in 2004. Fans loved Jessica Simpson's look, and, according to PopCrush, Dessert was billed as the first of its kind: an edible, lick-able beauty line featuring everything from lip gloss and perfume to body and hair wash. The brand had a sensual edge and named its products things like "Delicious Kissable Hot Body Topping," but that didn't stop it from becoming a hit among young girls. 
Although it hasn't been seen in quite some time, many of Simpson's fans are still wondering what happened to the Dessert line and if it is still available today.
The Dessert beauty brand is now defunct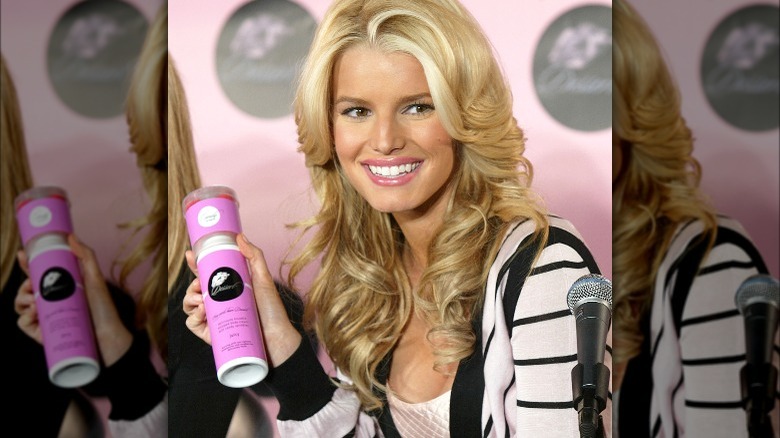 Scott Gries/Getty Images
Even with its popularity, Jessica Simpson's Dessert line didn't last. It was taken off the shelves, never to be seen again, just a few short years after the brand came out. The reason? While it's not entirely clear, it's possible that a couple lawsuits played into the demise. A short time after it launched, the company that created the products, Cosmojet, sued Simpson, the brand, and Sephora for $200,000, according to People. They said they were not paid the full amount they were owed for the products. 
Simpson's team released a statement that clarified that the hitmaker was simply a spokesperson and uninvolved in business dealings. That, along with another lawsuit from Mara Fox, who claimed their product name "Love Potion" was stolen from her (via InStyle), left the brand at quite an impasse.
By 2006, Dessert and its newer releases Dessert Treats and Sweet Kisses were taken off the market. But, if your nostalgia is hitting you hard, you may still be able to find some of the Dessert products on Ebay or Amazon, according to Bustle.
You can try similar products to Jessica Simpson's Dessert line
While edible, overly sexualized products geared towards preteen girls may no longer be high on the list of must-haves for brands, there are still a few products that may have you feeling like you're back in 2004 using Jessica Simpson's Dessert line. Urban Decay created a lickable body powder in honey, cherry, and heat flavors. It's a sensual product with vegan ingredients, which makes it an edible delight as well. Unfortunately, as of this writing, the product seems to be sold out, but you can still get on the list to be notified when it comes back.
If you want something that fits better with this decade, you may want to try Glow Recipe's Watermelon Glow AHA Pink Dream Body Cream. The lightweight hydrating cream with a watermelon scent is sure to evoke memories of walking down middle school hallways. If you loved the super sweet scents of Simpson's Dessert brand, try the Bath & Body Works Ultra Shea Body Cream in Confetti Cake Pop. It is mixed with scents of cake frosting, rainbow sprinkles, and vanilla bean and is sure to make you feel like a teenager again.