How Does A MakeUp Eraser Work?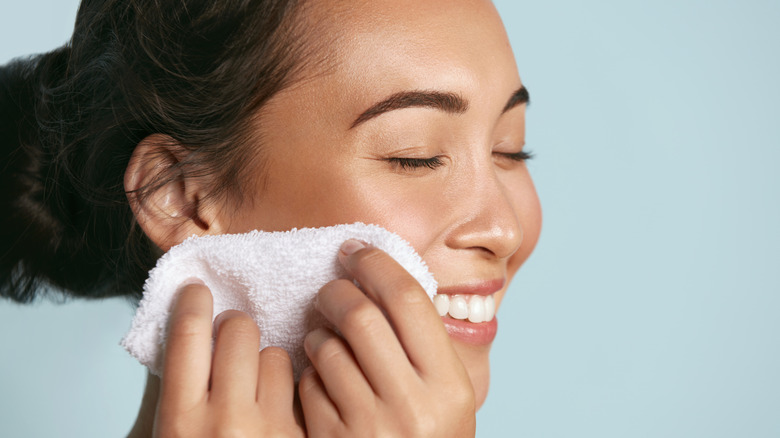 Puhhha/Shutterstock
We may receive a commission on purchases made from links.
Are you tired of spending money on makeup remover wipes? As it turns out, these products are not just expensive, but harmful too. "The most common cleansing agent found in wipes is sodium lauryl sulfate, which can irritate your skin and eyes," celebrity dermatologist Debra Jaliman confessed in an interview with Sunday Riley. Some also contain alcohol, fragrances, parabens, or diazolidinyl urea, an antimicrobial agent that can irritate sensitive skin.
Given these aspects, it makes sense to look for safe options, such as the popular MakeUp Eraser, which contains no alcohol, sulfates, or other chemicals. Plus, it's vegan and cruelty-free. The Original MakeUp Eraser is basically a polyester cloth that you can wash and use over and over again for three to five years, according to the manufacturer's website. What's more, it claims to remove waterproof mascara, foundation, eyeliner, and even lash glue all by itself. Your only job is to soak it with warm water.
You may think it sounds too good to be true, but it actually works — or at least that's what more than 12,000 customers are saying on Amazon. Buyers describe it as being "absolutely brilliant," "amazing," and "impressively good." The question is, can you really trust these claims? And how does a MakeUp Eraser work? Let's find out. 
How the Original MakeUp Eraser was born
Wet wipes, including those used for cosmetic purposes, often end up in oceans and landfills, contributing to pollution. In 2017, European consumers used a staggering 68 billion wet wipes, which would be the equivalent of more than 511,000 tons of waste, reports the nonprofit organization Reloop Platform. Not surprisingly, this trend can be observed in most countries, according to a recent review published in "Environmental Challenges."
The MakeUp Eraser emerged as a safer, more sustainable alternative to facial wipes, sponges, and other similar products. Elexsis McCarthy, the brand's founder, realized back in 2008 that she could use a bathrobe soaked with water to take off her makeup. Five years later, she launched the Original MakeUp Remover, a soft cloth made from hypoallergenic materials. The first MakeUp Erasers were handmade by her grandmother. Today, McCarthy's products are used by millions of customers from all around the world, the brand having been featured in Elle, Marie Claire, Vogue, Allure, and other popular magazines.
With sustainability in mind, you may be shocked to learn that a single MakeUp Eraser can replace up to 3,600 wet wipes, according to the official website. The line of products also includes machine washable makeup sponges and puffs designed to replace cotton rounds. These items are vegan, hypoallergenic, reusable, and eco-friendly, and they work with all skin types. 
This is how the MakeUp Eraser works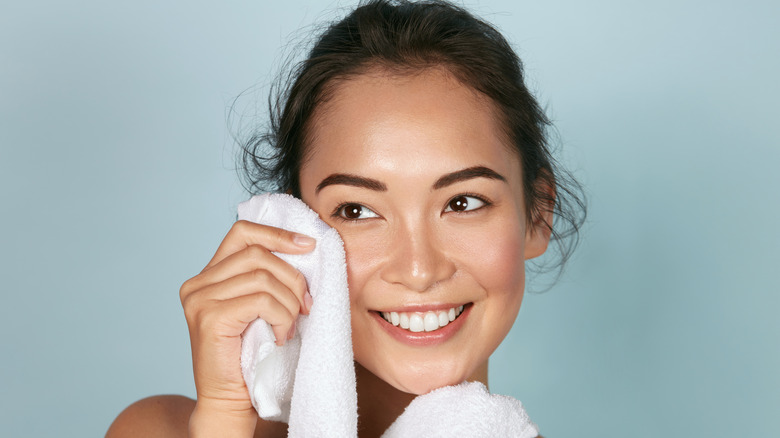 Puhhha/Shutterstock
The Original MakeUp Eraser is made from polyester and contains no harsh chemicals — music to our ears. In fact, Elexsis McCarthy created a special fabric consisting of microscopic fibers that absorbs makeup residues, oils, and debris, explains the manufacturer's website. All you need to do is soak the cloth with warm water and gently rub it on your face. You can also use it with micellar water or creams, but you'll have to wash it more often. The MakeUp Eraser will also exfoliate your skin and remove impurities, which may help prevent clogged pores. Manufacturers recommend using the short-fiber side of the cloth for makeup removal and the long-fiber side for exfoliation. Ideally, wash it once or twice a week. 
If you need testimonials to truly sell you on the product, BuzzFeed contributors Tolani Shoneye and Chelsey Pippin decided to try the MakeUp Eraser to see if it really works. Shoneye was pleasantly surprised with the results, saying she'll continue to use the cloth. "I think it's great for nights when you really can't be asked to follow the whole double-cleanse-and-tone routine, and for when you are on the go and just don't have the time," she told BuzzFeed. Pippin loved it, too, but she still prefers to use wet wipes on most days.
All in all, the MakeUp Eraser can be a great addition to your skincare routine. It's safe, sustainable, and budget-friendly, offering good value for the money. While it's not as convenient as a pack of wet wipes, it lasts longer and can make it easier to create a greener beauty routine.