Is Non-Toxic Nail Polish Actually Better For You?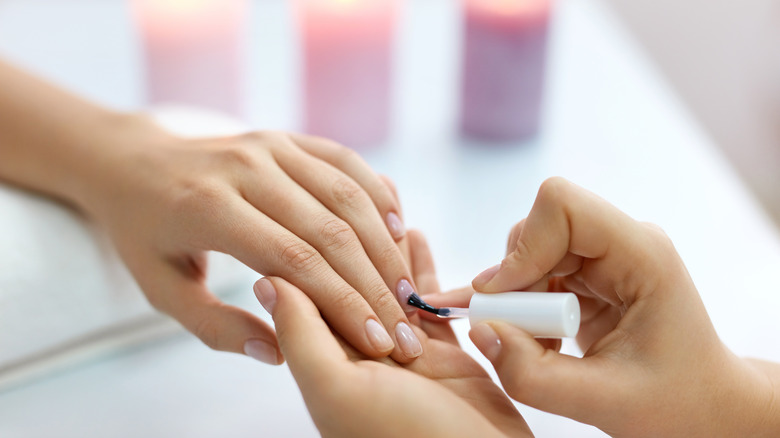 puhhha/Shutterstock
The desire for all-natural food products has been around for quite some time. According to Food Dive, organic foods became uber-popular "in the early 2000s" and their popularity has only increased since then. As people became more focused on what they put in their bodies, they also began to question what they put on them as well.
In 2016, Gwyneth Paltrow — who swears by her unusual morning routine — got people talking when she released her all-natural beauty line, Goop. At the time, she spoke with Vogue about the line's launch and explained that "the idea that you're exercising and trying to eat well and then slathering yourself with chemicals, parabens, and silicones — it's not great." Paltrow was not alone in her push for all-natural beauty products. Natural brands began to pop up everywhere, with products for everything from skincare to makeup and even nail polish growing in popularity (per Cosmetics Business).
Although the idea of non-toxic nail polish sounds great in theory, is it really better for you? We had to find out if this product was just another trend or if it was the real deal.
Non-toxic nail polish is anything but chemical-free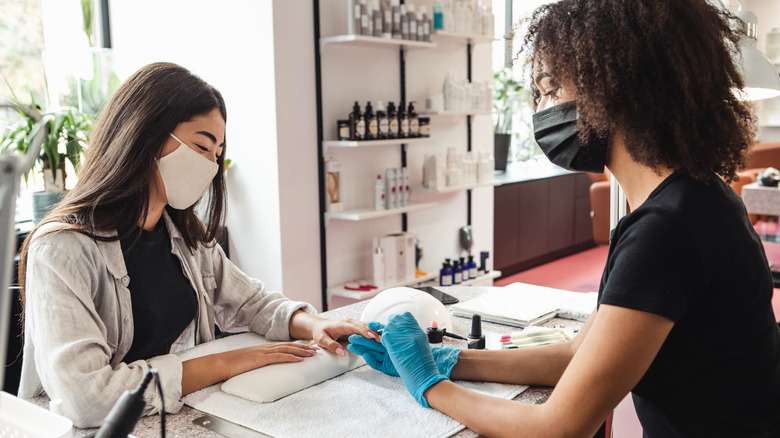 Prostock-studio/Shutterstock
After the demand for all-natural beauty products skyrocketed, nail polish companies followed suit — sort of. According to the founder of Bare Hands, Suzanne Shade, "nail polish is essentially paint," and the ingredients in your bottle of polish can be quite concerning (via Healthline). To combat the negativity around chemical-infused products, nail polish companies began releasing colors labeled "non-toxic" or "free of 3," which refers to being free of the three main toxic ingredients commonly found in polishes.
While this sounds good in theory, much of this is simply marketing. Even though some of the heavier chemicals may be taken out of these products, they're often replaced with different chemicals, which are still dangerous (per Time). Unfortunately, as Healthline reports, the FDA does not approve any nail polish product before they hit our shelves. The only thing polish companies are required to follow is ensuring their labeling is correct — otherwise, any ingredient is pretty much fair game. Don't fret too much, though. According to Time, a manicure here and there isn't going to affect you much, but there are safer ways to keep your nails looking fresh.
How to have a safe manicure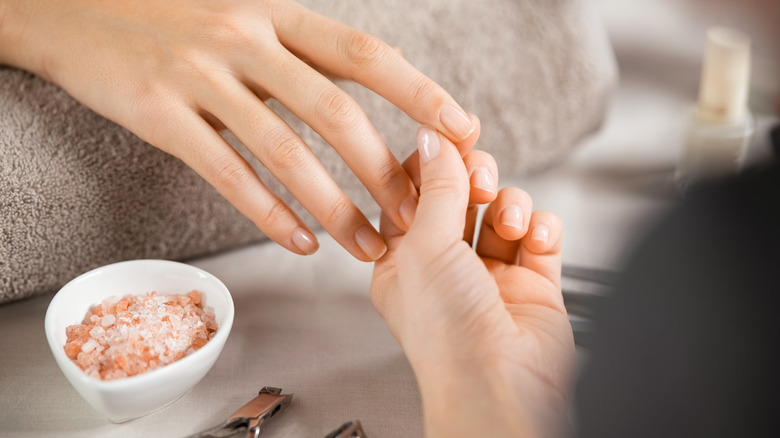 Rido/Shutterstock
If you're okay with foregoing your nail polish color, consider the newly popular Dry Gloss Manicure by Bare Hands as a safer alternative to traditional manicures. Essentially, it's an at-home kit that naturally keeps your nails shiny and healthy. If you aren't ready to give up your fun colors and nail designs though, we're right there with you. To keep your nails healthy while still having fun with them, simply pay more attention to the nail products you purchase. 
Healthline recommends reading the ingredients, not just the front label, to make sure the polish doesn't include any harmful ingredients (or, at least, not too many). They also suggest giving your nails some time to be polish-free, about a week every two months. If you want to change up your nail options completely, Good Housekeeping recommends Jinsoon, a vegan option free of harsh ingredients like Formaldehyde, parabens, and lead. Other great options include Plant Magic Polish by Pacifica, Pure Cover Nail Paint by Orosa, and any polish from Ten Over Ten.