Jon Hamm Reveals Why He Never Got Married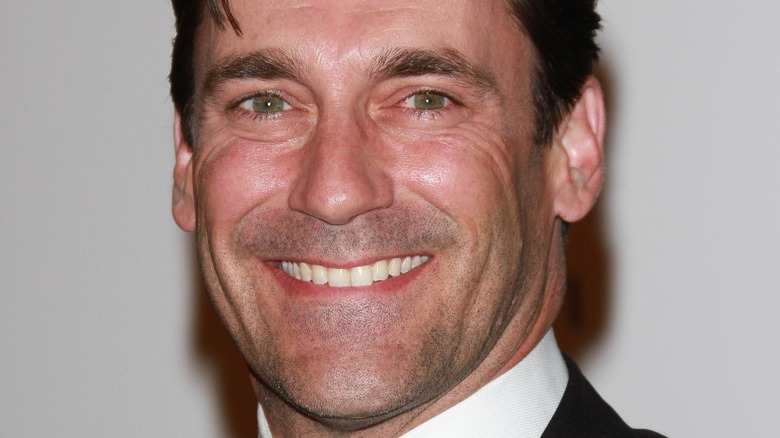 s_bukley/Shutterstock
When you hear the name Jon Hamm, it's hard not to think of the savvy and suave adman from "Mad Men." While it might be hard to believe, being cast as Don Draper in this award-winning drama was the breakout role of Hamm's career, as noted by Forbes. Since then, Hamm has gone on to play iconic roles in a wide range of films and TV series, starring as Matt Trent in a haunting episode of "Black Mirror," and Ted in the award-winning comedy "Bridesmaids" (via IMDb). The actor was also nearly cast in "Gone Girl," but unfortunately Hamm was forced to turn down the role. The Missouri native has received a jaw-dropping 16 Emmy nominations, snagging his first win for outstanding lead actor in a drama series in 2015, for the final season of "Mad Men" (via Emmys).
Just like his best-known character, Hamm's life behind the screen remains fairly mysterious. That said, as an internationally renowned actor, it's hard to keep everything private. The Golden Globe winner was linked to screenwriter and actress Jennifer Westfeldt for nearly two decades, as noted by InStyle, before moving on with actress Anna Osceola. Despite having been in two long-term relationships, Hamm has never been married. The actor opened up about the reason why he has never had the "marriage chip" in an interview with Parade.
The actor thinks marriage is mainly for couples who want kids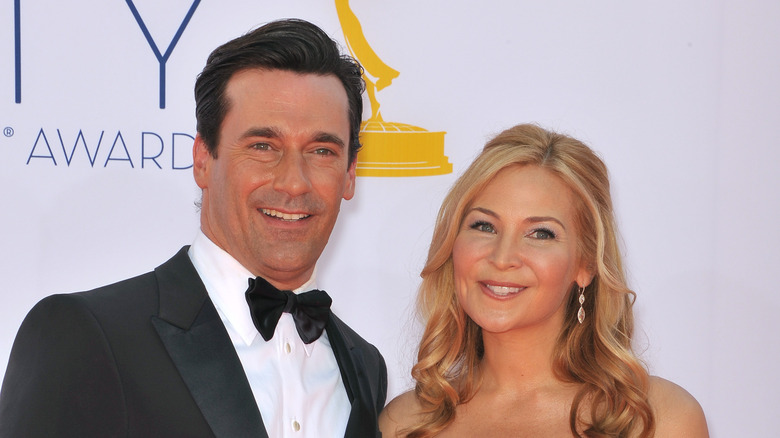 Feature Flash Photoagency/Shutterstock
While many people dream of their fairytale wedding from a young age, not everyone wants to get married. Jon Hamm is one of those people. The star explained his rationale against getting hitched to Parade in 2010. At the time, Hamm had been in a relationship with his ex Jennifer Westfeldt for 13 years. "I don't have the marriage chip, and neither of us have the greatest examples of marriages in our families," Hamm shared. "But Jen is the love of my life, and we've already been together four times longer than my parents were married."
Not only is Hamm unmarried, but the talented actor also doesn't have any kids. While the Hamm expressed his fondness for kids in an interview with Parade, he has also admitted that he would make a "terrible father," to Us Weekly. "I see my friends who have children and I'm like, 'Dude, how are you even upright, much less here at work at 6 a.m?'" That said, he adores other people's children, including his former co-star January Jones' son. "Xander's cute as a button!" Hamm said, referring to Jones' son. 
While Hamm and Westfeldt never ended up starting a family, who knows what's on the horizon for the "Mad Men" actor and his current leading lady, Anna Osceola. Here's what we know about Hamm's girlfriend.
Jon Hamm has been in two long-term relationships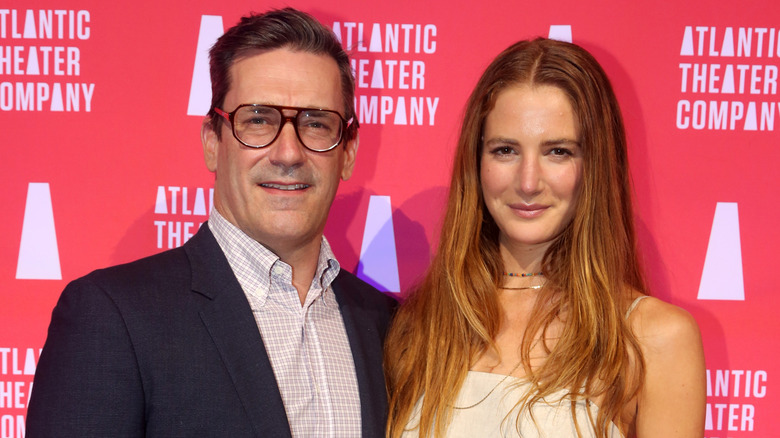 Bruce Glikas/Getty
To this day, Jon Hamm has never been married — but that's not to say that the "Top Gun: Maverick" star is not a relationship kind of man. Unlike Don Draper, who is the epitome of a ladies' man, Hamm seems to have an affinity for long-term monogamous relationships.
Adjusting to single life after his 18-year relationship with Jennifer Westfeldt was no easy feat. In an interview with InStyle in 2017, the actor shared how he felt about being single for the first time in nearly two decades. "It's hard. It's hard to be single after being together for a long time. It's really hard. It sucks."
The "Friends with Kids" co-stars announced their split in 2015, releasing a joint statement to People. "With great sadness, we have decided to separate, after 18 years of love and shared history," the former couple wrote. Luckily for Hamm, it didn't take long for him to find new love elsewhere. While Hamm and Anna Osceola reportedly met on the set of the final episode of "Mad Men," the couple was first publicly seen together leaving a coffee shop in 2017 (via People). Are wedding bells in the future for Hamm and Osceola? Only time will tell!