The Real Reason Jon Hamm Turned Down A Role In Gone Girl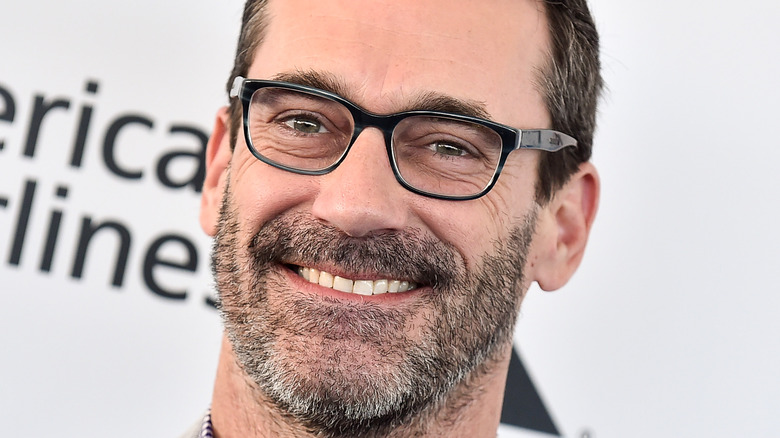 DFree/Shutterstock
It's hard to imagine the hit series "Mad Men" without its star Jon Hamm in the role of Don Draper, the handsome and charming — but troubled — ad executive. However, Hamm wasn't the producers first choice for the role; they wanted to cast actor Thomas Jane, who turned the part down because he had a preference for starring in movies (via CheatSheet). Jane was certainly better known than Hamm at the time — something Hamm himself is aware of.
"I couldn't have had less heat on me. Nobody knew who I was. The casting directors didn't know who I was. I wasn't on anybody's list," Hamm once told Marc Maron, host of "WTF With Marc Maron."
Indeed, "Mad Men" was Hamm's breakthrough role, one that didn't come until he was 36. Although Hamm worked steadily with parts on "Gilmore Girls" and "Charmed," things weren't quite taking off the way he had hoped (via IMDb).
"He would just say, 'I'm going to hang it up, it's not going to work,'" Hamm's former girlfriend Jennifer Westfeldt once told HuffPost (via Insider). Instead, Hamm stuck with it — however, he'd also learn that stardom can have its price.
The would-be Nick Dunne
s_bukley/Shutterstock
In 2012, the novel "Gone Girl" spent two months at number one on the New York Times bestseller list, and the adaptation of the film was highly anticipated (via The Hollywood Reporter). Written by Flynn and directed by David Fincher, the movie would go on to earn $370 million.
The leading role of Nick Dunne was almost Hamm's, but unfortunately, Matthew Weiner had other plans.
"Matt would not let Jon out of his contract to do 'Gone Girl.' Jon was really upset about it at the time — and is still upset, because he's thinking about the future of his career as 'Mad Men' comes to a close," sources told Page Six in 2015.
At the time, Hamm publicly questioned his next steps.
"The one constant thing I've had in my career is now removed. And that's an eye-opener: Are people still going to take me seriously? Am I just going to do romantic comedies for the rest of my life? What's next? And I don't know, you know? I wish I was smug enough to have had a grand plan," he said in an interview with GQ (via AV Club).
Ultimately, the role went to Ben Affleck as Hamm completed his tenure as Draper. Hamm would then go on to appear in "Unbreakable Kimmy Schmidt" and "Tag," and is set to reunite with "Mad Men" co-star John Slattery for "Confess, Fletch" (via Digital Spy).