What We Know About Jon Hamm's Girlfriend Anna Osceola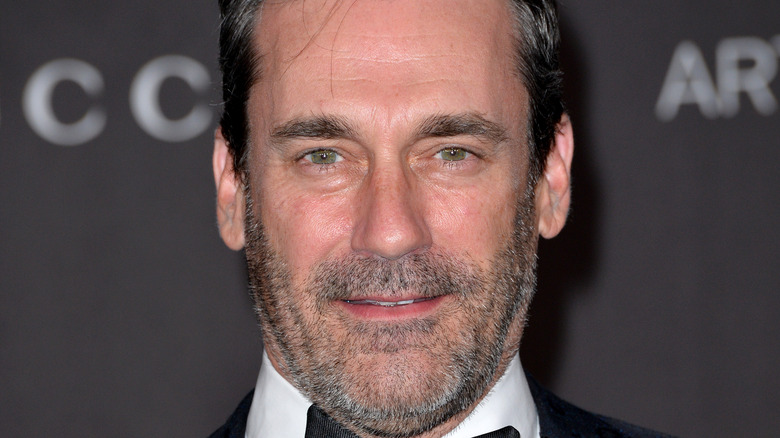 Featureflash Photo Agency/Shutterstock
For a very long time "Mad Men" star Jon Hamm was romantically linked to filmmaker Jennifer Westfeldt. The pair first met at a part in Los Angeles and later formed a connection while helping one another run lines for auditions in 1998 (via Bustle). The pair supported each other in all of their endeavors and even collaborated on a few projects. Ultimately, Hamm and Westfeldt decided to split in 2015 and released a joint statement stating, "With great sadness, we have decided to separate, after 18 years of love and shared history. We will continue to be supportive of each other in every way possible moving forward" (via Yahoo).
Following the break-up, Hamm was linked to a few women but ultimately decided to settle down with actress Anna Osceola. After a series of outings in early 2020, the pair confirmed to Us Weekly that they are involved. Here's everything we know about the 33-year-old starlet.
Anna Osceola likes to stay out of the spotlight
Jon Hamm met his girlfriend Anna Osceola on the set of "Mad Men" in 2015 (via Republic World). Osceola had a small part in the series finale as a receptionist working at a retreat. The pair reportedly kept in touch after the show and were first spotted together in 2017. Despite her close proximity to a Hollywood A-Lister and the paparazzi that loves to follow him, the Massachusetts native tries to maintain a low profile. Osceola doesn't have any social media accounts. Aside from her many L.A. outings with Ham, the actress can only be seen in her work on screen.
According to her IMDb, Osceola landed her first part in 2007 in the film "Not Another High School Show." She's since starred in a few other films and television series. Osceola's most recent part was Noelle Terlesky in the television mini-series "Law & Order True Crime." While the "An American Carol" star is seventeen years younger than Hamm, their most recent outing in Italy showcase just how much they enjoy each other's company. Page Six shared many shots of the pair having fun in the Mediterranean Sea and soaking up the sun together.