What We Know About Prince Charles' Upcoming Rendezvous With Boris Johnson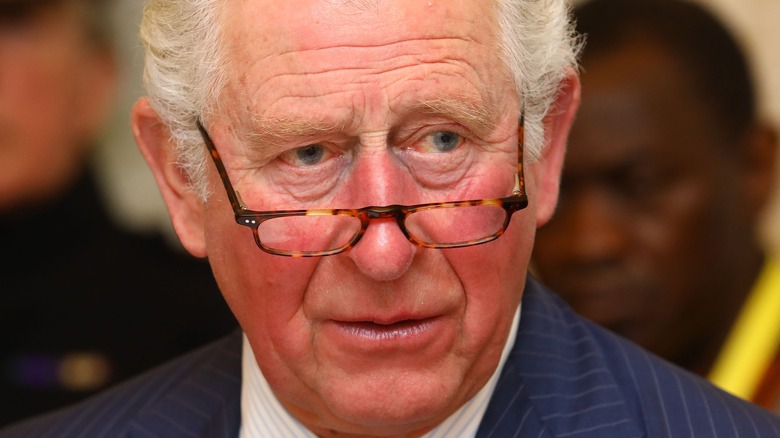 Tim P. Whitby/Getty Images
The British royal family stays out of politics as a point of principle, but they don't always keep mum on the most pressing issues of the day. Just recently, Prince Charles spoke out against the Russian invasion of Ukraine, describing it as "an attack on democracy, on an open society, on freedom itself" and stating plainly, "we are in solidarity with all those who are resisting brutal aggression" (via Twitter). The Prince of Wales bucked convention once again, albeit in private, when he reportedly described the British government's recently-unveiled scheme to ship some illegal immigrants off to Rwanda as "appalling."
Sky News reports that, per The Times, Charles was overheard voicing his opposition to Prime Minister Boris Johnson's hugely controversial proposal during a private conversation behind closed doors. The prince was especially annoyed by all the negative coverage surrounding it, considering his upcoming plans to travel to Kigali, the capital of Rwanda, in place of the queen, who's stepped down from several of her royal duties in the wake of ongoing health problems. Although Clarence House maintained Charles' official impartiality on the subject, they did not deny he wasn't impressed by Johnson's move.
They clarified, "We would not comment on supposed anonymous private conversations with The Prince of Wales, except to restate that he remains politically neutral. Matters of policy are decisions for government." As it turns out, Charles will soon come face to face with the prime minister, and can express his concerns directly, should he wish to do so.
The prime minister and prince will have tea together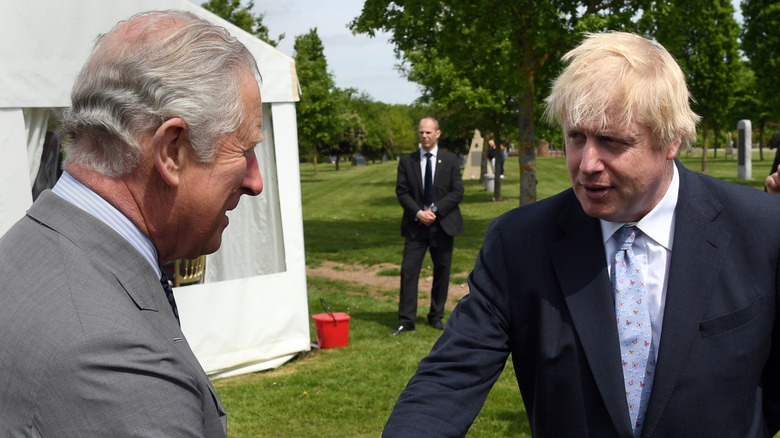 Wpa Pool/Getty Images
Following rumors Prince Charles has been secretly criticizing Boris Johnson's contentious Rwanda policy, the two men are scheduled to meet — in the African country itself, no less — for a potentially awkward discussion about anything and everything. Per The Guardian, the Prince of Wales and the British Prime Minister will meet at the Commonwealth Heads of Government meeting (CHOGM), in Kigali, later this week, for the first time since they crossed paths at the queen's Platinum Jubilee celebrations.
Clarence House confirmed the duo was meeting for a "cup of tea and catch-up" on Friday morning, with Johnson's spokesperson clarifying it would be an "informal" chat "with no set agenda." He added, "They are due to meet, obviously they will encounter each other during the summit, but they are due to have a bilateral discussion as well." The prime minister has fought back against claims the policy is offensive, in the face of intense backlash, after the scheme was announced in April. When asked how he planned to defend the policy to Prince Charles, Johnson told reporters "the critics need to keep an open mind ... and if I'm seeing the Prince tomorrow of course I'm going to make that point."
Johnson's spokesperson confirmed he will not be attending the accommodation provided by the British government for displaced asylum seekers while in Rwanda, reasoning he doesn't have enough time, with bigger things to contend with. Per Politico, this will mark Charles' first appearance at the Commonwealth since he took over from the queen. It's a particularly vital moment for him to visit, since the relationship between the Commonwealth and the British royal family is so fragile.
Boris Johnson defended his controversial policy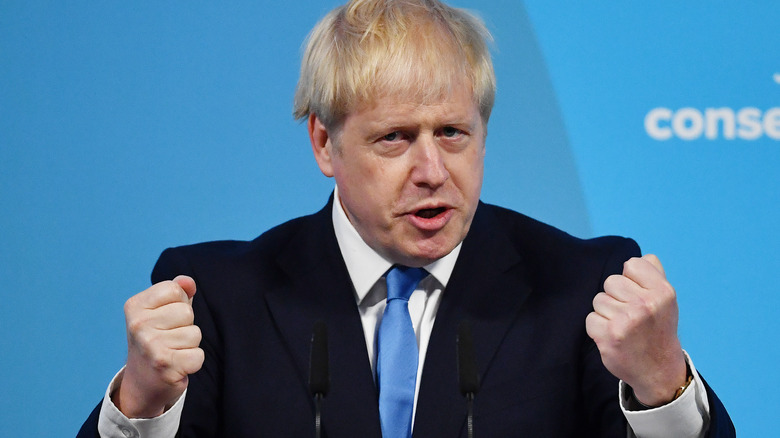 Jeff J Mitchell/Getty Images
In the wake of widespread criticism to his decision to move some illegal immigrants to Rwanda rather than allow them seek asylum in Britain, Prime Minister Boris Johnson accused detractors of being "condescending" towards the African nation state. Sky News notes that Johnson expressed his desire to change people's minds about the policy during his trip to Kigali, hoping to utilize it as "an opportunity for us all to understand what the partnership has to offer, what Rwandans have to offer." The politician also acknowledged that he was scheduled to arrive long before those displaced by his new scheme, after the first scheduled flight out of the UK was grounded following a legal fight in the European Court of Human Rights (ECHR).
New legislation is expected to be introduced to curb the international court's influence going forward. As for whether Johnson was referring to Prince Charles with his "condescending" comment, the prime minister wouldn't be drawn, simply telling journalists he had "no evidence for the assertion ... about the prince's comments." Johnson then reiterated, "It's a plan to deal with the grotesque abuse of people crossing the Channel," noting that that plan "hasn't been ruled unlawful by any court." Per Reuters, the UK brokered a $147 million deal with Rwanda, to deport asylum seekers who crossed the English Channel to illegally gain entry into Britain. The strategy has been widely decried by everybody from politicians to religious leaders, who deem it cruel.