Model And Fashion Designer Catie Li Explains Her Problem With The Bridal Industry - Exclusive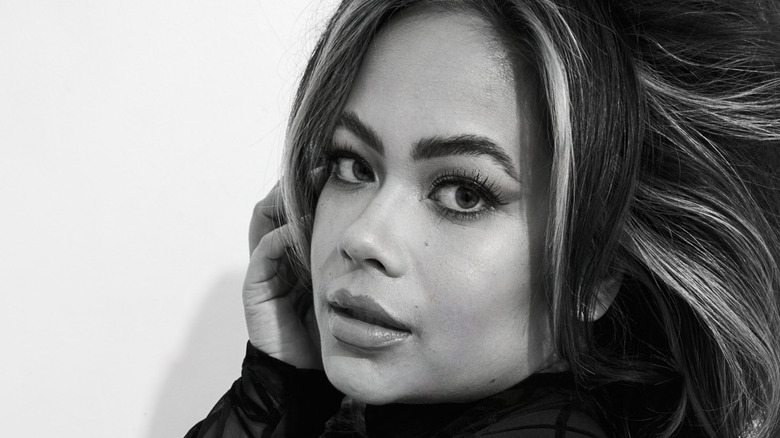 Alice Le
When plus-size model and fashion designer Catie Li started shopping for her wedding dress, she imagined having a perfect "Say Yes to the Dress" moment. Unfortunately, that's not how it went for her. As a plus-size bride-to-be, Li had a really difficult time finding a dress that fit her at all, and finding a dress that actually looked good on her body seemed nearly impossible.
Li published an essay about her experience trying to find the dress of her dreams, and the response from plus-size brides was overwhelming. Thousands of women shared about how difficult it was for them to find a wedding dress and the compromises they had to make. When Li read all the responses, her first thought was that plus-size women deserve better.
Now, she's using her platform to shed light on the ways the bridal industry excludes plus-size women. In an exclusive interview with our sister site Health Digest, Li detailed her difficulties with finding the dress of her dreams, what the bridal industry is doing wrong, and how it can do better for plus-size women.
A traumatic try-on
When Catie Li first started looking for her wedding dress, she imagined showing off the perfect gown to her mother and mother-in-law and feeling like the most beautiful woman in the world. But her first try-on wasn't anything like that.
"Honestly, at my first try-on, I was crying," Li admitted. "My mom showed me pictures. She's like, 'I took pictures. You don't look very happy.' I'm like, 'Yeah, I don't think I was happy because my whole a** was hanging out and I'm in front of my mother-in-law!'"
Li never ended up finding the dress of her dreams in the bridal stores in her area, only one of which even carried plus-size dresses — and she thinks that's a huge problem.
"I'm a size 14, and I'm two sizes up in wedding ... [People who are size] 22, and all that stuff — what are they doing? They're literally having to settle for the limited options that they have. That sucks."
Because of her connections in the fashion industry, she was able to find a designer to make her a custom dress. She readily acknowledged this as a huge privilege, which isn't available to the vast majority of plus-size brides.
'Can I have better?'
The entire time that Catie Li was trying to find the perfect wedding dress, she kept thinking, "Can I have better?" She was painfully aware that she didn't have the options that thinner brides had. 
"We're spending thousands of dollars," Li pointed out. "Some girls spend $10,000. If I'm spending $10,000 on a dress, why do I have to imagine it on myself? I want what everybody else has. I want the opportunity to have what everybody else has. I don't understand it. I don't get it."
She continued, saying that plus-size women don't have the luxury of walking into any bridal store and finding a dress in their size, which is something that thinner brides never have to deal with. Though the plus-size market is huge, no one seems to care about catering to plus-size brides.
"Nobody is talking about plus-size brides at all," Li bluntly stated. "It's not even a conversation." She hopes sharing her experiences can start that conversation so no other plus-size bride has to endure a traumatic try-on like hers.
For more updates on Catie Li's work, you can follow her on Instagram.