How The Bold And The Beautiful Turned A COVID-19 Rule Into An Actual Plot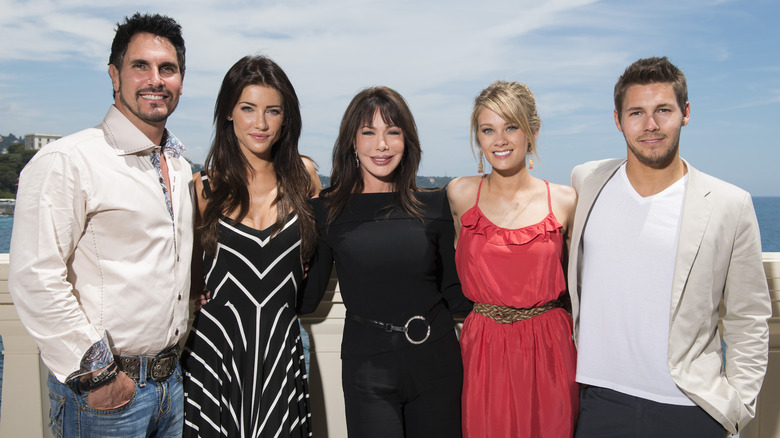 Francois Durand/Getty Images
Even before the COVID-19 pandemic brought many productions to a screeching halt, there were plenty of surprising rules you didn't know "The Bold and the Beautiful" cast has to follow. Naturally, though, with the coronavirus raging worldwide, everything had to be even stricter than usual. For a short but glorious time, while many of us were still stuck at home with nothing to entertain us, the idea of soap operas using mannequins in love scenes, rather than live actors, captivated social media. 
As ComicBook.com reported, many shows were gradually getting back on schedule but, because soaps are predominantly focused on romantic relationships, and typically shoot seven days a week, they faced an especially tough uphill battle to return to normal. A clip from "B&B," widely shared on Twitter, had even those with no interest in soaps giggling since it showed a male actor very obviously, but enthusiastically, smooching a doll instead of his female co-star. 
Elsewhere, producers drafted in actors' real-life partners to get around COVID restrictions. As Denise Richards shared, during an appearance on "The Kelly Clarkson Show" (via People), she had a great time filming love scenes with her husband, Aaron Phypers. "I'm really grateful that Aaron is able to come, and it's been fun for all of us to see everyone's husbands and wives on set," Richards enthused at the time. 
When it came to the mannequins, however, they ended up having a bigger impact than anyone expected.
The show capitalized on a viral moment with mannequins
As Forbes notes, "The Bold and the Beautiful" was actually the first soap to resume filming once COVID restrictions were softened a bit. As executive producer and head writer Bradley Bell explained, when it came to kissing scenes, it was relatively easy to adhere to social distancing rules by using creative editing and clever angles to cover up that actors were shooting their scenes alone. The mannequins were used for sex scenes, because there was no way around it otherwise. 
Funnily enough, after the unintentionally hilarious scene featuring Carter Walton (Lawrence Saint-Victor) and a doll standing in for Zoe Buckingham (Kiara Barnes) went viral, writers capitalized on the moment to turn it into a storyline on the beloved show. Per Soaps.com, "B&B" included a plot where disturbed fashion designer Thomas Forrester (played by Matthew Atkinson) became so infatuated with the object of his affection, Hope Logan (Annika Noelle) — daughter of the iconic Brooke — that he started to believe a mannequin dressed up to resemble her had actually come to life, "Mannequin"-style.
The doll even started talking to Thomas, begging him not to "lock me up in that box again," much like Slappy in "Goosebumps," except less creepy (ish). Thankfully, "B&B" already had the dolls on hand, from years of death scenes, etc. As Bell acknowledged to The Hollywood Reporter, post-production did go on longer than usual as a result, but at least the show's uniquely romantic appeal remained intact. 
Riverdale had similar issues shooting romantic scenes
"Riverdale" also employed mannequins for pandemic filming, albeit thankfully not during the show's infamously steamy love scenes. In an interview with The New York Times, showrunner Roberto Aguirre-Sacasa acknowledged "Riverdale" has a "weird retro 1950s vibe," which allows for more experimentation. "One of the things we sometimes do is suggest sex through coded language — I think we'll almost lean into that melodrama and suggestive behavior," he explained.
Mannequins were used during big crowd sequences, while elsewhere "bottle episodes," featuring just a handful of characters and fewer sets, were utilized to keep performers safe while still allowing them to work. The show didn't cover the pandemic, as many others did, skipping into the future between seasons instead. "We've done mysterious diseases, so my hope is that 'Riverdale' will be an escape from the real world, rather than a reflection," Aguirre-Sacasa opined.
Elsewhere, KJ Apa, who plays Archie, revealed on Instagram that he and his co-stars also had to use mouthwash before kissing scenes, which begs the question — why wasn't this a thing before? Sadly, keeping everybody safe also meant rendering cast-members stuck up north, where "Riverdale" shoots, during production. Lili Reinhart, who plays Betty, told Nylon magazine, "I genuinely feel like a prisoner, going back to work, because I cannot leave Canada. That doesn't feel good." 
She elaborated, "You can't go home for Thanksgiving, can't visit your family. No one can come visit you unless they quarantine for two weeks."