The One Phone Call That Prince Harry Will Regret Forever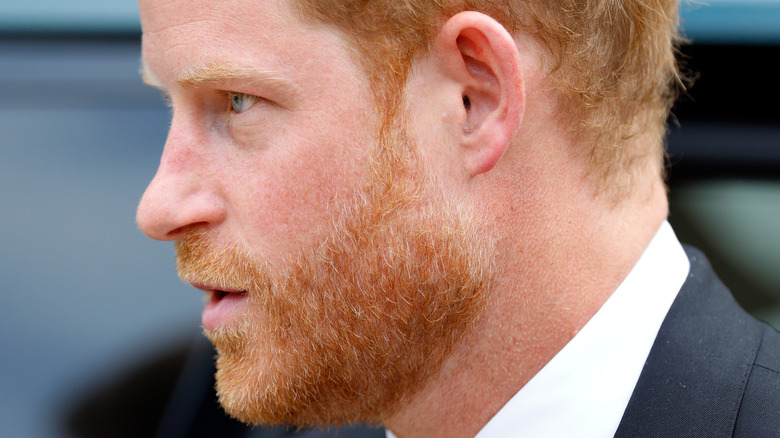 Max Mumby/indigo/Getty Images
Prince Harry's relationship with Diana was different from William's, partly because he's younger than his brother and shares many of their late mom's personality traits. Diana's death still heavily impacts both of them, for obvious reasons, but Harry in particular has made it the cornerstone of much of his decision-making. Most notably, during an interview in the AppleTV+ series "The Me You Can't See," the prince acknowledged that part of the reason he and wife Meghan Markle ultimately opted to depart England — and their roles as senior members of the royal family — was because he was terrified his wife's fate would look similar to his mother's.
The Duke of Sussex recalled how Meghan told him how low she was feeling, admitting, "The scariest thing for her was her clarity of thought. She hadn't lost it, she wasn't crazy, she wasn't self-medicating, be it through pills or through alcohol, she was absolutely sober." In fact, the only thing that stopped the former actor from doing something drastic was the knowledge her husband would be left to raise their son, Archie, alone. 
Thus, rather than continuing to obsess over the media's treatment of the couple, Harry opted to focus on his family instead by removing them from the situation. Elsewhere in the series, Harry argued that there was a stigma associated with openly discussing mental health struggles in the royal family. And similarly, when he looks back on his mother's final days, Harry wishes he'd done more.
If you or someone you know is struggling with mental health, please contact the Crisis Text Line by texting HOME to 741741, call the National Alliance on Mental Illness helpline at 1-800-950-NAMI (6264), or visit the National Institute of Mental Health website.
Prince Harry wishes his final conversation with Diana lasted longer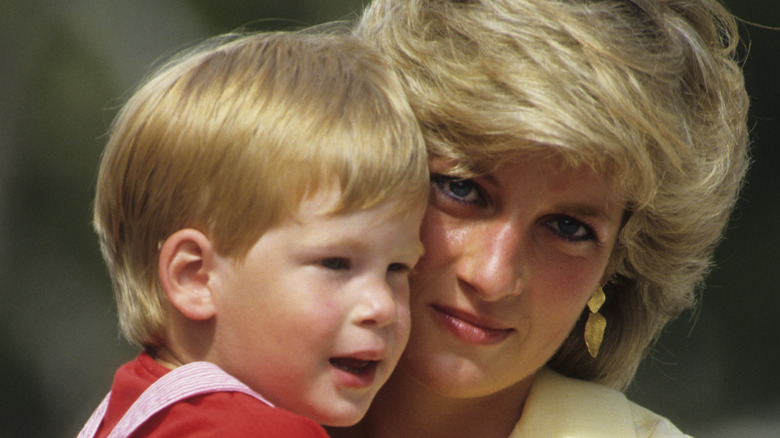 Georges De Keerle/Getty Images
There are some particularly heartbreaking details about Princess Diana's final days, but one of the saddest might be the revelation that her young son, Prince Harry, could've had more time with her if only he'd known what was about to happen. According to Reader's Digest, in "Diana, Our Mother," Harry recalled his final conversation with the beloved princess. Then just 12, the youngster was more interested in hurrying up their phone call so he could continue playing.
As a result, Harry revealed, "I will regret for the rest of my life how short the phone call was, and if I'd known that was the last time I was going to speak to my mother the things I would have said to her...how differently that conversation would have panned out had I had even the slightest inkling that her life was going to be taken that night."
Diana's final phone call before her death was with Richard Kay, who remains a staunch defender of the princess to this day. People reports Kay discussed their impactful conversation in documentary "Diana," noting he was told by the police, after the fact, that he was the last person she spoke to before her untimely death. Diana was "in quite a good place," Kay shared, per The Mirror.
But, heartbreakingly, Diana was also excited to return home to William and Harry. Likewise, "She was desperate to try and make a fresh start and do something different."
Royal experts claim Princess Diana would be proud of her youngest son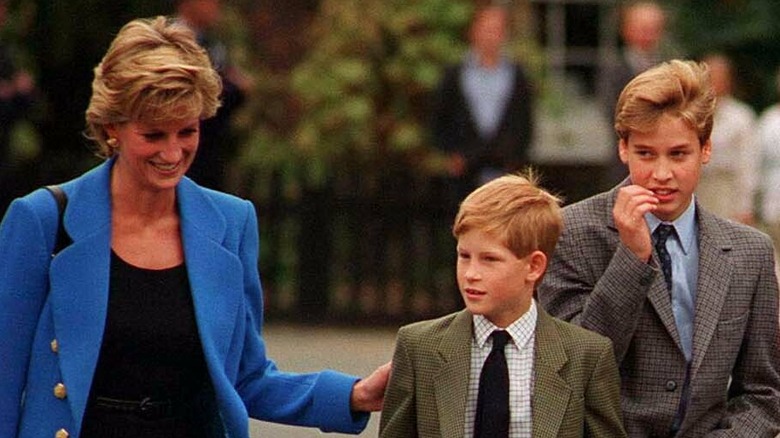 Anwar Hussein/Getty Images
Although their tell-all interview with Oprah Winfrey was highly controversial, according to royal expert Omid Scobie, Princess Diana would fully agree with Meghan Markle and Prince Harry speaking out about their experience in the royal family. As Scobie explained to E! News, "If there's one thing Diana stood for, it was telling your truth and having a voice and making sure others have a voice." He continued, "I think to see her son find his voice and be unafraid to use it when really everything is at stake, I imagine she would be incredibly proud."
Moreover, Sarah Ferguson, the Duchess of York, confirmed to People that Diana would definitely approve of both her sons' choice of partner, revealing, "If she were sitting with me right now, I know she would say, 'I am so proud of both of my boys and the wonderful wives they have chosen.' Because each has got her own voice." The People's Princess would be delighted with life as a grandmother, too, as she loved Fergie's kids. 
The duchess also contended her late friend would appreciate William and Harry "standing tall and firm," per Insider, arguing, "They're very like her." The Duke of Sussex, meanwhile, hopes to pay tribute to the dearly departed princess in every aspect of his life. Harry informed People, "I certainly hope and believe everything I do makes her proud," with particular emphasis on Diana's sterling reputation for public service, adding, "I am my mother's son."