How Hallmark Star Alison Sweeney Makes Her Marriage Work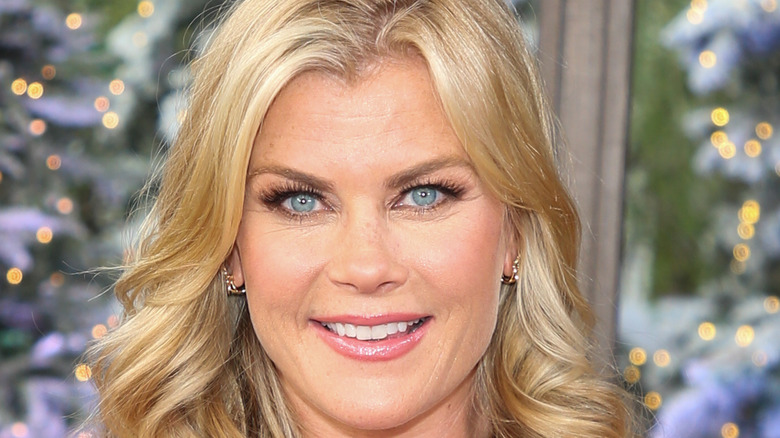 Paul Archuleta/Getty Images
Alison Sweeney has spent her career sharing love scenes with some of the best looking men in Hollywood. In addition to playing Sami Brady DiMera on "Days of Our Lives," Sweeney has starred in a variety of movies for the Hallmark Channel, where she has been paired with actors including Marc Blucas, Benjamin Ayres, and Cameron Mathison.
"I just adore working with Cameron," Sweeney told Culturess of her colleague. "He's such a pleasure to talk to and such a great guy and he's so talented. So I just knew it was going to be so easy and natural to fall back into scenes with him."
In real life, however, Sweeney only has eyes for her husband, David Sanov. Sweeney and the former California Highway Patrol officer actually met as children. "Our parents are friends," she told Access Live. "His dad and my mom played the violin for feature film soundtracks, so we've actually known each other our whole lives. I totally had a crush on him when we were kids." 
The two started dating in the late 1990s before getting married on July 8, 2000. They now share two children — son Benjamin and daughter Megan — per The Washington Independent. 
So after more than 20 years of marriage, what is Sweeney's secret to keeping her marriage strong?
Alison Sweeney makes connecting with her husband a priority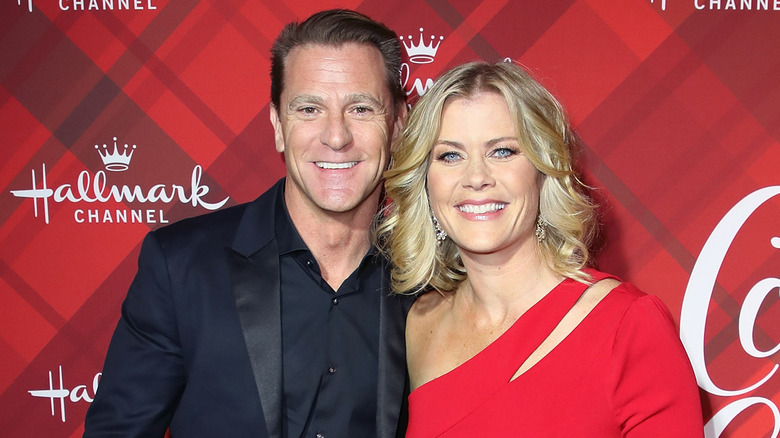 David Livingston/Getty Images
With a busy career and two kids, Alison Sweeney works hard to make sure her marriage to David Sanov is a priority. "I'm juggling a lot of different schedules, and sometimes things don't always work out, but my husband Dave and I work hard to keep our relationship solid apart and separate from our role as parents, even if it's just snuggling watching TV together after the kids are in bed," she told SheKnows.
In fact, sitting down to watch their favorite shows together is very important to Sweeney, who revealed that she once started a heated argument with Sanov when she thought he had watched "Survivor" without her. "We laugh about it, but the shows we watch together are sacred," she explained. "It was like a serious pact when he committed to waiting until I got back from filming on location to watch the 'Breaking Bad' finale together. That's LOVE!"
Sweeney added that she and her husband have other things they enjoy together, including traveling and going to concerts. And just to make sure they're both on the same page, each year on their anniversary, the couple gives each other an evaluation. "We talk about our three favorite things about the other person and then three things that we could work on," Sweeney told Closer Weekly.
Alison Sweeney left 'Days' to spend more time with her family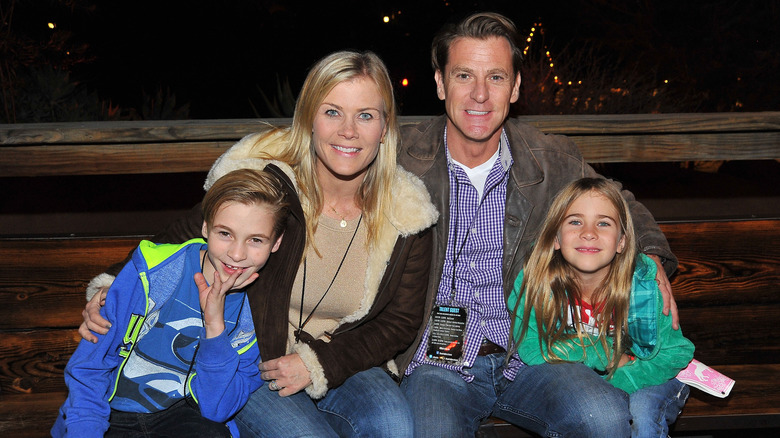 Jerod Harris/Getty Images
Alison Sweeney and David Sanov are a solid team, especially when it comes to parenting their two children, son Benjamin and daughter Megan. "My husband and I are a united front," Sweeney told Good Housekeeping. "If one of us makes a rule, the other always backs it up. We don't want them to think they can play us off each other."
That doesn't mean the couple doesn't love to have fun with their kids. Sweeney revealed that one of their favorite rituals is taking dance breaks as a family. "We always have music playing, and when a good song comes on, we say, 'Dance break!' and everybody stops what they're doing, and we just rock out," she explained. "We have hilarious videos that'll be great blackmail footage when the kids are older."
Family time is so important to Sweeney that she announced her retirement from "Days of Our Lives" in 2014 in order to spend more time at home. Luckily for fans, she did return to the soap opera that made her famous, but she is adamant that she won't be returning to the show full-time. "I love playing Sami but no, full-time is not the plan for me," Sweeney told People. "Because I produce and develop content for Hallmark, and for other streaming services. I love getting to do my own projects: I love producing."