Will Smith Becomes Old News As Rudy Giuliani's Public Slap Takes Over Twitter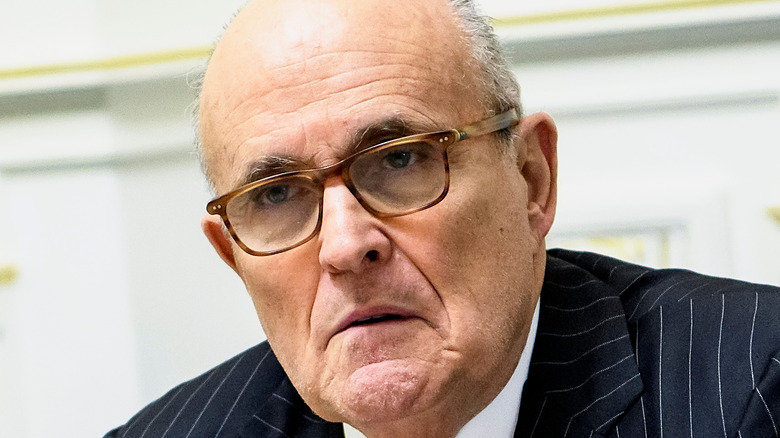 paparazzza/Shutterstock
"Will Smith became a symbol of joy and fun" — is what Will Smith told David Letterman on the host's Netflix show "My Next Guest Needs No Introduction." That may not so much be the case anymore after the slap heard around the world, when Will stormed the Oscars stage and slapped Chris Rock after the funny man made a joke about Jada Pinkett Smith's hair (or lack thereof). Celebrities weighed in on whether Will was in the right or the wrong, the Twitterverse lost its mind, and "the slap" spawned any number of memes. Will got banned from the Academy Awards for a decade in the award show's aftermath, and his career has effectively been put on pause.
But move aside Will — there's a new slap for people to talk about. Rudy Giuliani, former New York City mayor and lawyer for the Donald Trump camp, was at a campaign event at a grocery store in Staten Island for his son who is running for governor of New York. And at the event, he got yelled at and slapped on the back by a man who got taken into police custody, per NBC News.
Some think Rudy Giuliani lied about being assaulted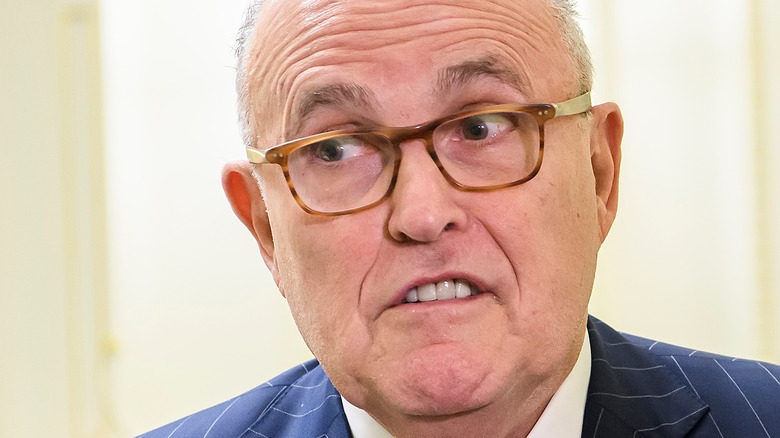 paparazzza/Shutterstock
Rudy Giuliani spoke about what happened at the Staten Island supermarket on Facebook Live, saying he got "hit on the back, like a boulder hit me. [...] It hurt tremendously." He went on to note that the woman next to him felt where he was hit and said, "'Gah that was a terrible blow.'" The 78-year-old Giuliani also said that he could easily have been knocked to the ground and killed by hitting his head.
Shortly thereafter, however, footage of the incident was made public via the New York Post, and people weren't as convinced about the severity of the issue. Of course, many took to Twitter to call Giuliani out. One person pointed out, "He didn't even budge when the man touched him. It was a tap to get his attention like he would tap someone on the shoulder or the back." At least one person thinks Giuliani flat out lied about what happened and got caught.
Another brought up the January 6 insurrection at the Capitol and the "Big Lie" that the election was stolen from Donald Trump and tweeted, "Rudy Giuliani's lies got many people killed [on] January 6th but tell us how he is the victim." And yet another person thinks Giuliani better get ready to have the situation repeated, tweeting, "He's going to have a thousand people slapping him on the back now and probably worse you shouldn't have made a fuss."