Kate Middleton's Recent Look Echoes The Style Of A Famous Celebrity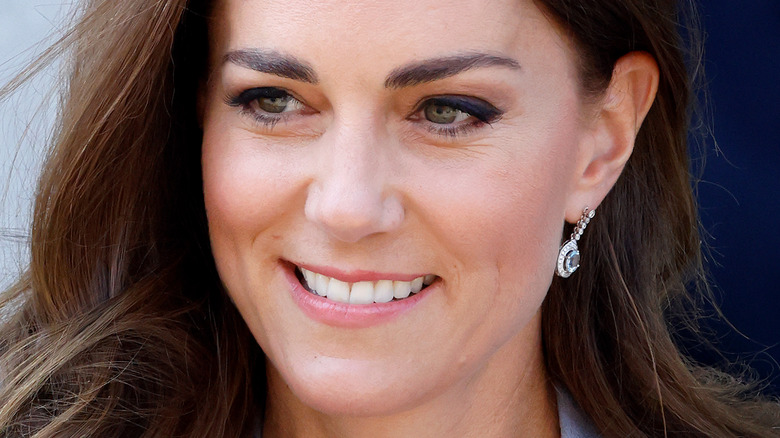 Max Mumby/indigo/Getty Images
The royals really know how to create their own trends. Let's be honest, the family members could wear a brown paper bag and it would sell out. So when Kate Middleton stepped out in a flutter-sleeve dress during her trip to Cambridgeshire, naturally the world noticed (via People). Even the most high-profile family needs to get inspiration from somewhere though. Yes, there are royal stylists who help, but it turns out that the Duchess of Cambridge might have gotten her look from another A-lister.
Long before Meghan Markle came on the block to sell out her stunning Madewell bags or Veja tennis shoes, the Duchess of Cambridge was outselling dresses in minutes, according to People. Dresses are her staple look, but lately she's been switching out her tailored look for something a bit more relaxed with flutter-sleeve dresses. It's completely possible that her change in fashion is a bit more than just her embracing a new fashion trend. She's on a push to modernize the monarchy and even talked about dropping her royal title to become more approachable, reported The Sun. 
No matter what prompted her recent change in fashion, one thing is for sure — it's a trend you'll want to try.
Kate Middleton wore a flutter sleeve dress to play soccer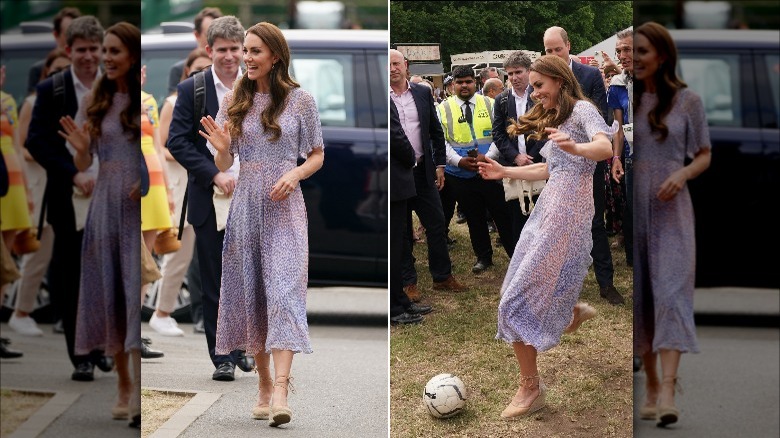 Wpa Pool/Getty & Wpa Pool/Getty Images
If you're thinking that this outfit is your typical, stuffy royal look, think again. Putting her fascinators and tailored coats aside, Kate Middleton wore a flutter sleeve dress to her recent visit to Cambridgeshire. According to People, the flowy midi dress from is from the brand L.K. Bennett. The dress choice could be yet another push to be more approachable: Though the dresses are still between $400 and $700.
Price aside, the Duchess of Cambridge proved that the flutter sleeve trend is one of the most versatile of the season. Middleton ended up playing soccer in the light blue dress and lace-up espadrille wedges during her time in Cambridgeshire. And we'd like to add, she did it all without twisting an ankle — a truly impressive feat. If that's not a royal outfit that can do it all, then we don't know what is. 
Other celebrities love flutter sleeves too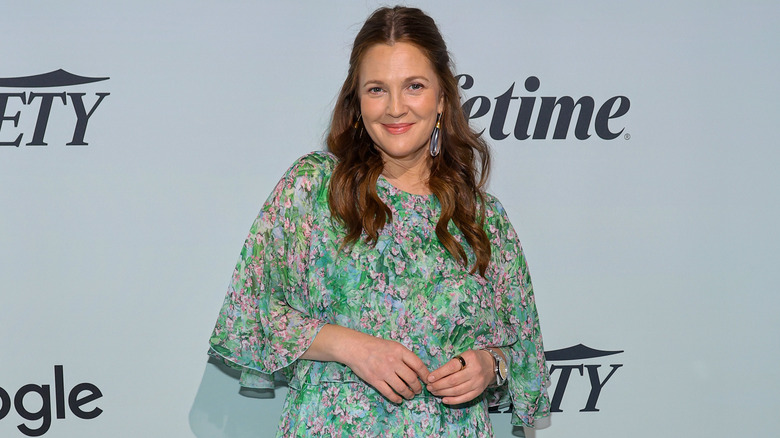 Mike Coppola/Getty Images
While plenty of trends are started because of members of the royal family, Kate Middleton isn't the one who invented the flutter sleeve trend. As People noted, there are tons of other celebrities that have been loving flutter sleeves, and Drew Barrymore is one of the pioneers of this movement. The effortless, boho vibe is something that she has embraced for years now. 
The 47-year-old has worn flutter sleeve dresses to tons of different events. From floral prints on the red carpet to fun sleeves on her talk show "The Drew Barrymore Show," she knows how to nail the look at any event. At first glance, the feminine look might seem like a bold choice, but it's truly a versatile trend.
Barrymore was rocking the outfit long before the royals took over the trend. She even had her own fashion line with Amazon back in 2017 that featured a flutter sleeve tee (via PopSugar). So next time you pop on an outfit that features the flowy detail, make sure to say a silent thank you to Barrymore.
The look is super versatile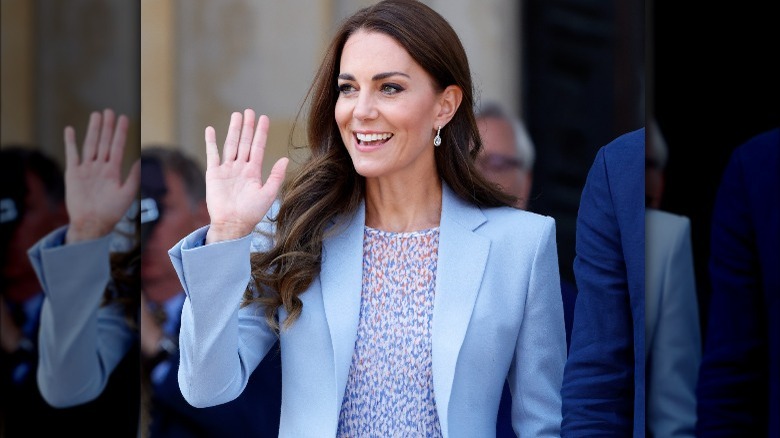 Max Mumby/indigo
If you're still not convinced that the flutter sleeve dress is a versatile look worth trying, Kate Middleton's latest outfit is here to prove it (via People). Not only did she wear the dress to play soccer, but she also threw a pale blue blazer on top for a professional look when she arrived. She showed up in Cambridgeshire looking posh and polished, before taking the blazer off for a more relaxed look for the rest of the event. Consider this the royal version of a day-to-night look — a little work, a little play.
The flutter sleeve is the perfect trend to try this summer. Whether you're looking to nail a look at a corporate event or for an effortless date night outfit, flutter sleeve dresses are a great option. No matter where you're finding your fashion inspiration, this is a trend that will likely follow.