How Many Kids Do HGTV's Jenny And Dave Marrs Have?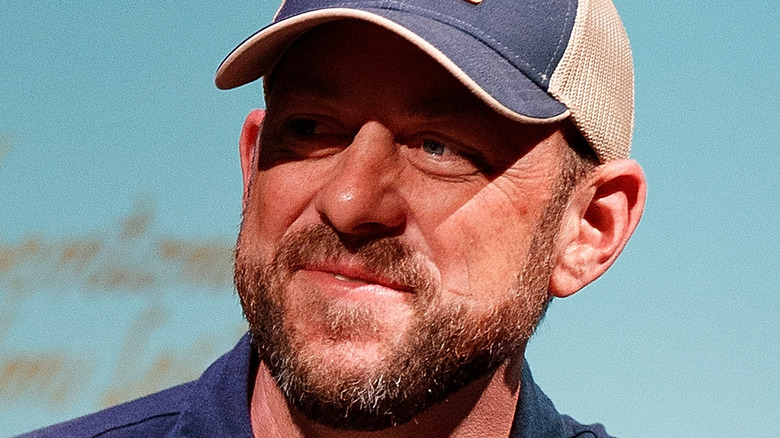 Justin Ford/Getty Images
If you've ever watched "Fixer to Fabulous" or "Rock the Block" you are likely familiar with Jenny and Dave Marrs. The couple, who work to fix up homes in their town of Bentonville, Arkansas, have put their mark on HGTV. According to Discovery, the show has more than 30 million viewers and a large following on social media platforms. In fact, the team from HGTV was so impressed by the accolades given to "Fixer to Fabulous" that they supersized the next season to please fans.
Not only do Jenny and Dave bring fans in through their design and construction talent, they are also super likable and relatable. According to Closer Weekly, the couple met in 2002 at work, eventually leaving their company to help Dave pursue his passion for building. They got engaged in Paris and have now been married for 19 years. They struggled to get pregnant at first, but eventually grew their family. And while they refer to their children often on the show, it can be hard to keep track of just how many children the Marrs have — we dove in to find out.
Jenny and David Marrs have children through adoption and naturally
Jenny and David Marrs always wanted a family, but per Closer Weekly, they struggled to get pregnant on their own. In 2008, they began the adoption process but soon after, found out they had become pregnant — with twins! They welcomed two boys, Nate and Ben, who are now 10 years old, per Reality Titbit. But the Marrs did not give up on their urge to adopt. A few years later, when the twins were just toddlers, they adopted their daughter Sylvie from the Democratic Republic of Congo. They were met with delays and struggles, but Sylvie officially joined the Marrs family three years after the initial adoption went through. 
But the Marrs' children do not end there. They conceived Charlotte during the time they were struggling to adopt Sylvie. In fact, per Closer Weekly, Charlotte was only two months old when Sylvie finally came to the United States. The Marrs family is rounded out by their youngest son, a boy named Luke. If you weren't able to keep up, that makes five children!
All five children have their own unique personalities
With five children under 10 years old, not to mention a hit HGTV show, an HGTV spin-off, and appearances on HGTV competition series "Rock the Block," Jenny and Dave Marrs have their hands very full. And while the couple has found major success, they still take the time to gush over their children. According to Life & Style, their middle daughter Charlotte is the one most interested in design. In fact, Dave told the publication that she loves to set up her dollhouse, spending hours placing furniture and picking paint colors. Nathan, one of their twins, is taking after his father and has an interest in building while the other twin, Ben, is interested in art.
Their eldest daughter, Sylvie is the cook of the family and loves to bake and decorate desserts and their youngest, Luke, is simply busy being a toddler and running wild. When it comes to adding more children to the family, Jenny and Dave are putting a pause on that — for now. According to Distractify, they would first need to build a new house as their current home is already "bursting at the seams." With their background in building, though, never say never!