Lyrica Okano Details Moving On From Marvel's Runaways - Exclusive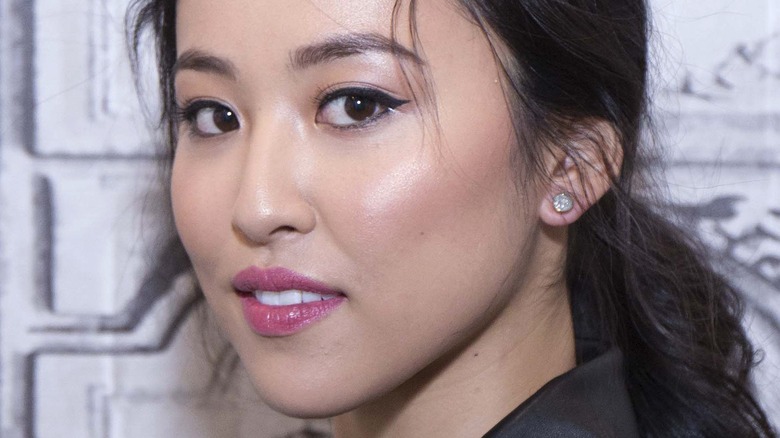 Santiago Felipe/Getty Images
Between 2017 and 2019, Lyrica Okano helped save the day as Nico Minoru, the staff-wielding witch in Marvel and Hulu's "Runaways." The actress teased that she was born into the witch life in a 2018 post on Instagram, and her on-screen outfits were pretty much the epitome of witchcore. But no role lasts forever. Okano and the rest of the cast — including the likes of Virginia Gardner and Rhenzy Feliz — hung up their super suits and looked to the future after the show's third and final season. 
For Okano, that entailed traveling to Hawaii to play the beloved best friend in an innovative romance called "Press Play." Unlike the typical love story, there's an element of fantasy to her latest film. In it, Okano plays Chloe, and her future is on the line as her best friend Laura (Clara Rugaard) discovers the ability to travel back in time. Laura's trying to save her own deceased partner, but her attempts affect others who are close to her. While it's not quite the time heist that centers "Avengers: Endgame," the stakes are every bit as high. 
In an exclusive interview with The List, Okano opened up about how it felt to leave "Runaways" and Nico in the past. She also alluded to rumors that she might be reprising the role for a certain video game.
Okano was ready for a break from playing Nico
As a self-described "sucker" for love stories, "Press Play" was an obvious next step for Lyrica Okano after "Runaways" wrapped. She told The List that she was also ready for the opportunity to move on from Nico Minoru for a while at the time. She accepted the role after filming the show's final season in 2019 and was looking for a change. "I'll be honest, I was exhausted, and I felt like I needed to laugh a little bit," she said. 
"I wanted to have some fun and bring some lightness back into my life, and I read the script. It was in Hawaii, and it was a love story and thinking about the idea of getting to play Chloe, who brings all the fun. She loves the boys, she loves her best friend and her stepbrother, and she wants to have fun. That really excited me. With my other projects [like] Marvel, I played mainly a really goth emo witch, and she's really fun to play, but it's dark."
Okano's latest character left Nico's goth wardrobe and witchy powers in the distant past. However, Okano could still look to "Runaways" for inspiration.
The actress channeled a different Runaways character in Press Play
Chloe and Nico Minoru are not the same character by a long shot. But Lyrica Okano told The List that the former resembled another character from "Runaways" — Karolina Dean (Virginia Gardner). "I got to be Karolina Dean, which is the light in our show in 'Runaways,'" she explained. "That was nice. I got to smile more." 
Okano listed Sandra Oh as a dream future co-star. But there are also rumors swirling online that she's set to reprise her breakout role for an upcoming video game called "Midnight Suns." The actress couldn't confirm or deny the gossip, which hasn't been announced by Marvel yet. But she seemed down with the idea of revisiting Nico again a few years after saying goodbye.
"It sounds really cool and fun if I were to reprise the role for a video game," she teased. "Who knows? It's a good idea. You're going to have to [wait to] know when it comes out, guys."
"Press Play" is now playing in select theaters and is available for rental and purchase digitally and on demand.