Kamala Harris Just Made Everyone Doubt Biden's Plans For 2024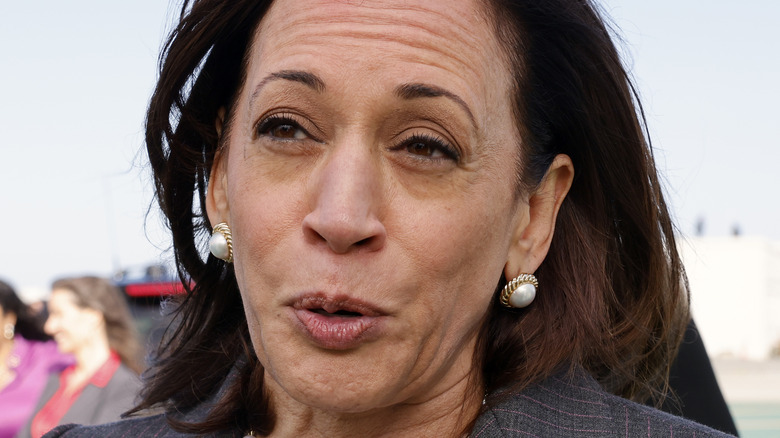 Bloomberg/Getty Images
If you thought it was a foregone conclusion that President Joe Biden would seek reelection in 2024, think again. Although, judging by Vice President Kamala Harris' comments on Monday on CNN, you may have considered the leader's intentions to be pretty clear. "Joe Biden is running for reelection, and I will be his ticket mate," the second in command said, adding unequivocally, "Full stop."
Then we learned that the White House wanted "to clarify" what Harris said on the network (via New York Post). So on Wednesday, the VP told the Los Angeles Times, "The president intends to run and if he does, I will be his ticket mate. We will run together."
Even before this doubt-inducing series of statements, there were all sorts of rumors about the possibility that Biden won't be the Democrats' candidate in the next election.
So what exactly is going on?
Who might run if Joe Biden doesn't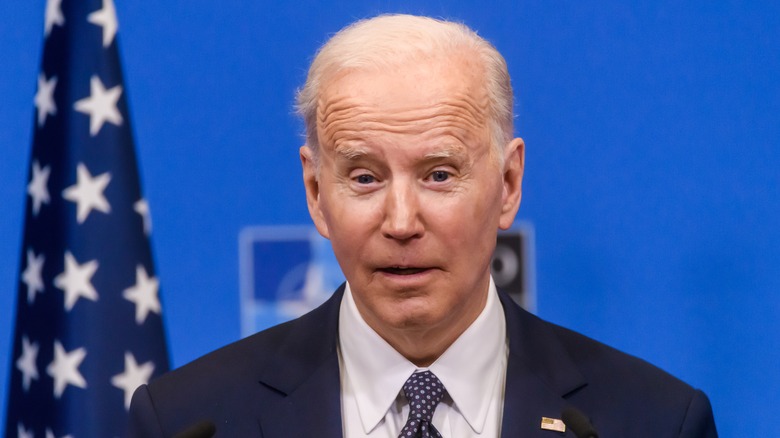 Gints Ivuskans/Shutterstock
In recent weeks, doubts have been afoot about the likelihood that Joe Biden will seek reelection in 2024. 
Among the speculation is that Hillary Clinton may throw her hat in the ring again (via Yahoo!). Or, insiders say VP Kamala Harris may step up if Biden decides not to run again, with Democrats even expressing doubt that the 79-year-old can make it another four years in the White House (via The New York Times). Critics allege he is simply too old (via The Atlantic). Consider that if Biden did win reelection, the Delaware native would be 86 at the end of his second term in office (via New York Post).
The problem with Harris taking her boss' place on the ticket is that she has a pretty low approval rating, with Five Thirty Eight noting that in the most recent polling, only 32% of people are happy with the job she is doing. This is only slightly worse than Biden's approval rating, which stands at 39% according to Bloomberg.
Insiders are so unsure of whether Biden will run in 2024, that many are speculating about fresh blood that could step up to the plate instead, with The Hill reporting that Democrats from Stacey Abrams to Michigan Governor Gretchen Whitmer are being courted by the top dogs.
Who is running on the Republican ticket?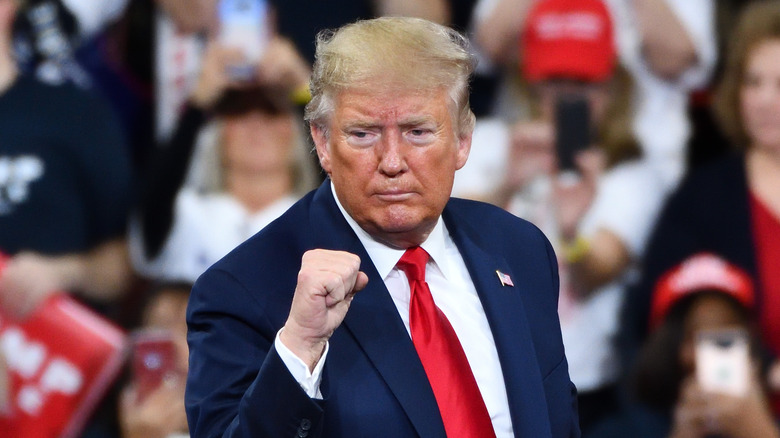 Evan El-Amin/Shutterstock
On the other side of the ticket, nothing is settled either at this point.
Despite rampant speculation, no one knows for sure whether Donald Trump will run for the top job again in 2024 — except maybe Trump himself. At this stage, the former leader's potential rival for the position, Florida Governor Ron DeSantis, has neither confirmed nor denied that he is officially seeking the Republican nomination either. As Politico notes, polls are divided as to which candidate could potentially fare better with voters. For his part, Trump has recently asserted he would win.
Ultimately, a lot seems to be up in the air when it comes to who voters will be deciding between in November of 2024. But, if Joe Biden seeks reelection, he hopes Trump will be on the Republican ticket again, saying recently, "The next election, I'd be very fortunate if I had that same man running against me" (via New York Post).
Only time will tell if we see a repeat of the 2020 candidates squaring off against one another in the coming election.