Inside Prince Harry And Meghan Markle's Strange Supermarket Date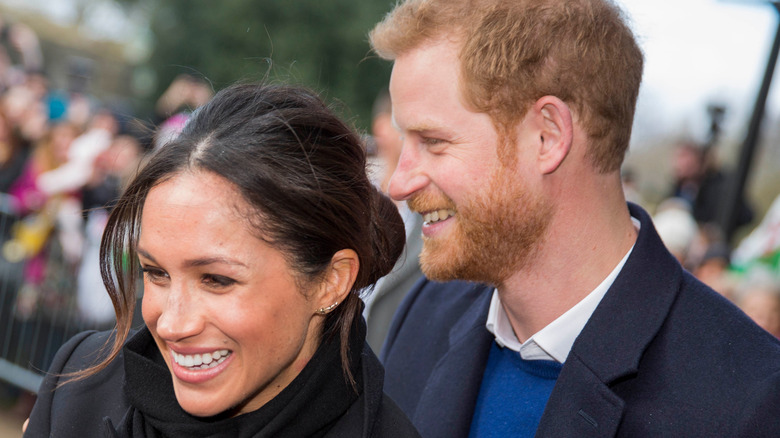 ComposedPix/Shutterstock
Meghan Markle was already famous when she hooked up with Prince Harry, thanks to an acting career that included, most notably, a leading role in the legal drama "Suits" (for which Meghan thought she bombed her audition). 
But, when the American star was revealed as Harry's girlfriend, Meghan was launched into the stratosphere, for better and for worse. In fact, one of the main reasons the Sussexes gave Oprah Winfrey about why they ultimately defected from the royal family was the intense press intrusion, per Deadline.
As Stylist reported at the time, when the duke first publicly confirmed their relationship, he took it as an opportunity to decry the sexist and racist abuse Meghan had already endured. Harry's statement pointed to "the smear on the front page of a national newspaper; the racial undertones of comment pieces; and the outright sexism and racism of social media trolls and web article comments." 
Unsurprisingly, then, when they were in the early stages of their relationship, the Sussexes went to great extremes to get some privacy.
The Sussexes were forced to meet in secret at the beginning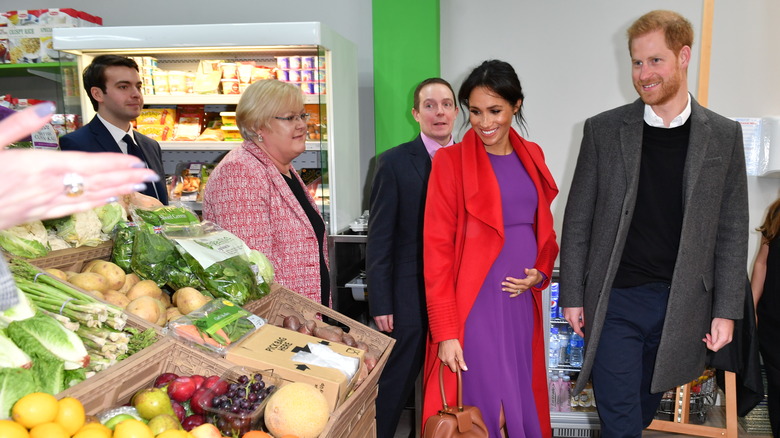 Anthony Devlin/Getty Images
During an interview with actor Dax Shepard on his "Armchair Expert" podcast (via Insider), Prince Harry recalled how he and now-wife Meghan Markle kept prying eyes away from them early on. 
"The first time that Meghan and I met up for her to come and stay with me, we met up in a supermarket in London — pretending that we didn't know each other — so, texting from the other side of the aisle," he shared. Other shoppers naturally thought he was acting quite strangely, wandering around the aisles looking for her, while messaging back and forth about which items to find.
The duke explained, "I was there texting her saying, 'Is this the right one?' She goes, 'No, you want parchment paper.' I'm like, 'OK, [whispers] where's the parchment paper?'" 
It wasn't Harry's first time in a supermarket, luckily, but, growing up as Princess Diana's son, he acknowledged that there were rarely times when the family wasn't trailed by photographers while out together. Per ET, during the same chat, the prince compared life as a royal to a combination of being in the Jim Carrey movie "The Truman Show" and being an animal, gawked at constantly, in the zoo.
Thankfully, everything has calmed down considerably since Meghan and Harry relocated to California, with a source telling Us Weekly they had "no regrets" about leaving. Further, the Sussexes are enjoying "being a normal family and having the freedom to make their own decisions without anyone watching over them."
Security issues remain an ongoing concern for Meghan and Harry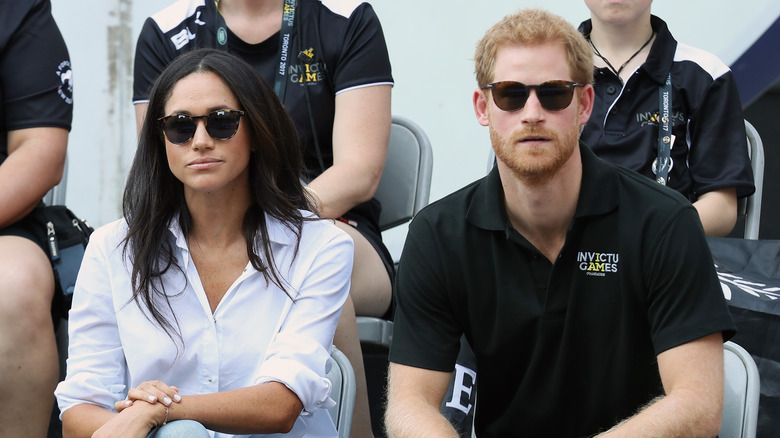 Chris Jackson/Getty Images
In May 2022, more than two years after moving to the States, Prince Harry and Meghan Markle hired security with an unexpected connection to Michael Jackson, solidifying that, even though they're no longer working royals, the Sussexes are still two of the most famous people in the world. The Sun published photos of Harry enjoying a bike ride around his California neighborhood with the burly Alberto Alvarez following close behind him. 
As an insider noted, "Alberto has worked with the biggest celebrities so knows every trick in the book of keeping them out of harm's way." They added, "He and Harry seem like a good match and Harry hopes he's the man to look after him and his family." 
Elsewhere, there were major security concerns when the couple and their two young children, Archie and Lilibet, were figuring out their plans to visit the U.K. for the queen's Platinum Jubilee.
During an interview on "Today" a couple of months prior to making the trip over, Harry admitted, "There's a lot of things with security issues and everybody else." Thankfully, TMZ subsequently confirmed that their family was being provided full, high-level police security throughout their stay, both at the various celebratory events and while staying in Frogmore Cottage, their former Windsor home.