Kamala Harris Is Facing An Uphill Battle If She Wants To Be A 2024 Presidential Candidate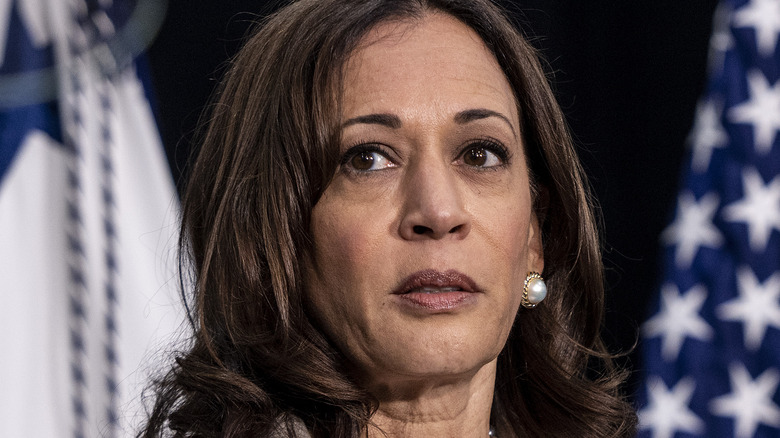 Bloomberg/Getty Images
Joe Biden will be 80 in November — and 86 by end of his second term in office were the President to run again in 2024 and win. Given his age, even Democrats are saying it may not make sense for the Delaware native to be their nominee in the next general election (via The New York Times).
There's another reason Biden doesn't have a ton of support right now going into the 2024 race: More than 56% of Americans disapprove of the job he's doing according to recent polling (via Newsweek). In fact, the leader's disapproval rating is actually worse than Donald Trump's was at this point in his presidency. Not only that, but according to The Hill, a new poll reveals that more than 70% of people are not in favor of Biden running again.
Given the commander's age and unpopularity, Democrats are starting to wonder if another candidate would give them a better chance of remaining in the White House. But Vice President Kamala Harris, who just this week cast doubt upon her boss' intentions, is not exactly perfectly positioned to snag the nomination.
Kamala Harris might not beat Donald Trump according to polls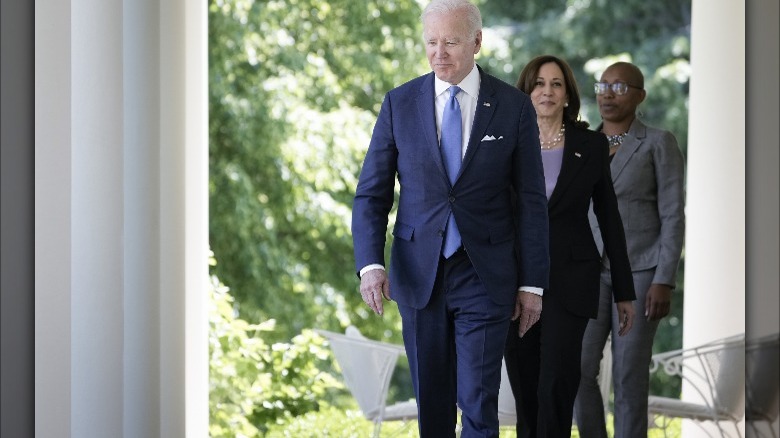 Drew Angerer/Getty Images
As the New York Post reports, three polls taken recently show just how unpopular Kamala Harris is with the American public, with more than 50% of people having an unfavorable view of the VP. An expert told the outlet that if Joe Biden were more popular with would-be voters, then his number two might also be faring better — but this is definitely not the case.
Worse news yet for Democrats is that in a potential matchup of Harris and Donald Trump in 2024, he comes out on top (via SF Gate).
At this stage we don't know if Biden will run again, or if Harris would be the nominee in his place — or even if Trump is definitely going for the top job again. But that hasn't stopped people from speculating about who else might replace the 79-year-old on the Democratic side of the ticket.
Donald Trump could lose to Joe Biden — again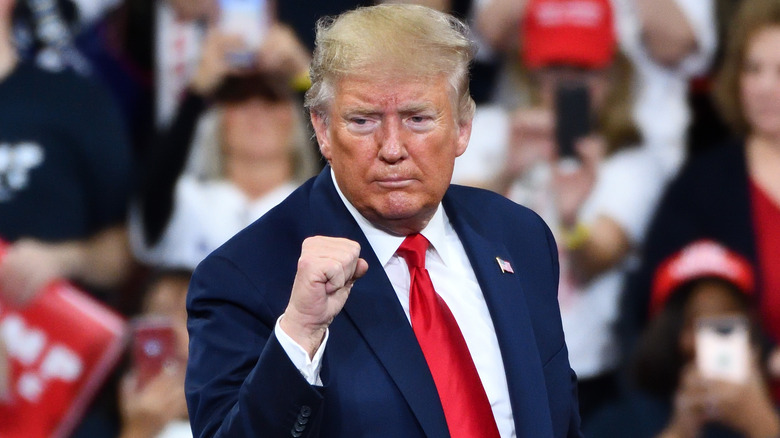 Evan El-Amin/Shutterstock
Joe Biden's age is a huge liability and Kamala Harris is not popular with the American public based on recent polling (via Politico). So the Democrats are left looking for a suitable candidate who would keep their party and agenda in the White House.
Could that person be Hillary Clinton — again? Chatter has already started that she may be interested (via CNN). Chatter has also begun that Democrats are not in a good position going into this very important election. But are Republicans in any better of a situation?
Newsweek notes that Donald Trump would be likely to win the Republican nomination were he to announce his official intentions to run. How he'd fare going up against his former rival, Biden, is not as good of news for the polarizing politician, with polling indicating another loss could be the likely outcome.
Meanwhile, The Hill reports Florida Governor Ron DeSantis would be an easy shoe-in to take the nomination if Trump bows out. And some conservatives are of the opinion that in a matchup between DeSantis and Biden, the Floridian would be more likely to take the White House than Trump were he the nominee.
The only thing we know for sure: The 2024 presidential race is going to be very, very interesting to watch.