The Popular Bags Often Spotted On Meghan Markle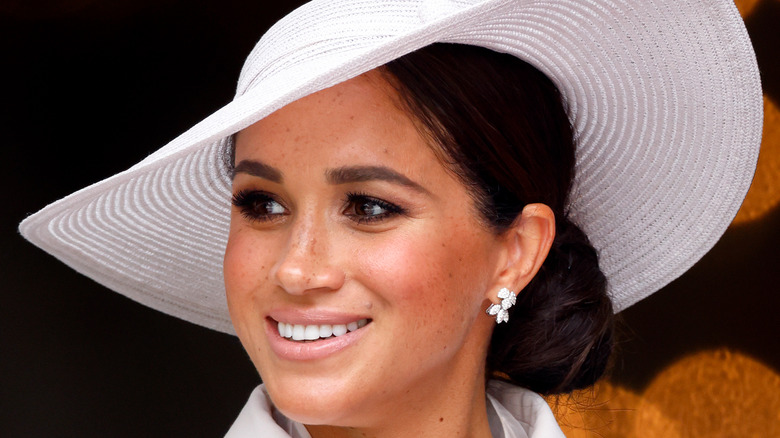 Max Mumby/indigo/Getty Images
Meghan Markle has more than one thing in common with her sister-in-law, Kate Middleton. Both women are obviously married to a prince, with both of their husbands being sons of Princess Diana. Neigher Meghan nor Kate came from royal families, but ended up with titles. Every single thing the Duchess of Cambridge and the Duchess of Sussex do is also scrutinized by folks the world over, and their fashion copied by legions of adoring fans. From the shoes they wear to the bags they carry, people want to know where to get the looks, if they aren't already sold out that is.
As for Meghan and her totes of choice, well, we couldn't help but notice that some of her favorite bags are sort of our favorites, too. And you'll never believe this, but the styles are not totally out of reach budget-wise either — at least when you compare the price tag on the bags with the Queen's beloved Launer purse collection (she is said to have 200), with one of the styles alone retailing for over $2,300 (via People).
Indeed, you can snag a bag like Meghan's for well under $1,000.
Meghan Markle prefers British brands of bags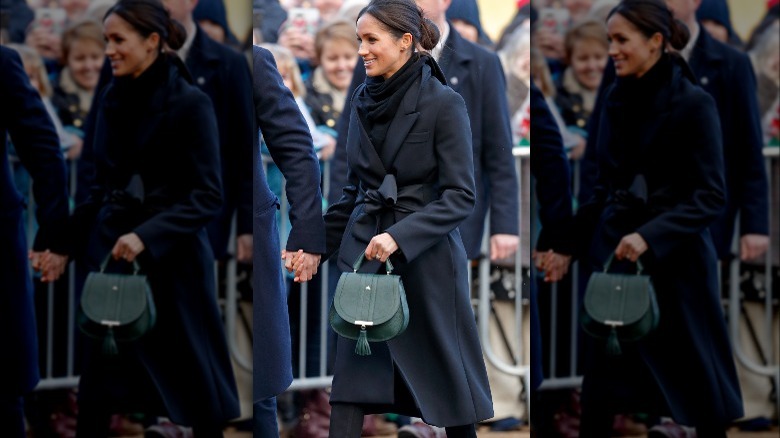 Max Mumby/indigo
Meghan Markle's style is inextricably linked to one handbag in particular according to Harper's Bazaar: DeMellier London's Mini Venice bag. The outlet gushed that years after the Duchess of Sussex first sported the purse in public, it's still one of their top picks for readers. 
The bag, made by the London-based designer, is ethically produced, which makes it so very Meghan. The style costs $395 if you want to add one to your collection, incidentally. Go with Meghan's exact color selection of forest grain, or mix it up with a taupe shade or even bright red. No matter which hue you go with, the bag is a great choice for everyday wear.
Founder Mireia Llusia-Lindh of course took note of the Duchess of Sussex donning her bag back in 2018 and told Hello! in part, "We are truly honoured that Meghan is wearing one of our bags, she is a fantastic role model to women all over the world."
Should you desire another everyday tote to mix things up, consider a classic carryall that is also one of the royal's treasured bags.
You can copy Meghan Markle's bags for less... and more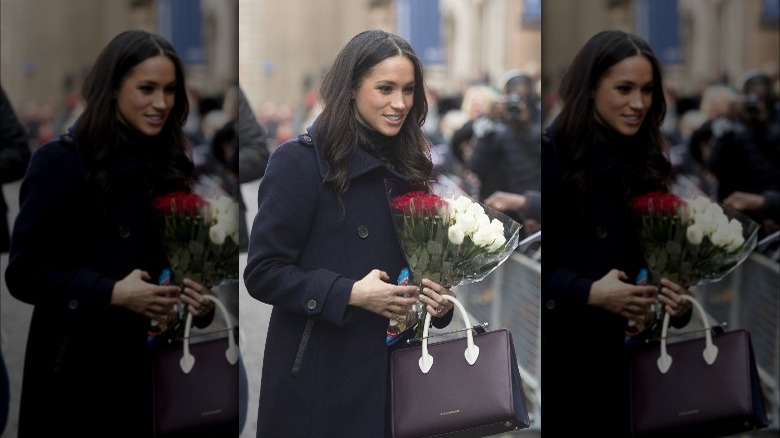 Wpa Pool/Getty Images
The Strathberry Tote is also among Meghan Markle's collection of favorite handbags according to Harper's Bazaar. Now be warned: This multi-toned bag will set you back a bit more than the Mini Venice, with a price tag of $775. But it seems that like the royal, you may get a lot of use out of the bag.
Consider that as Newsweek notes, the mom of two has carried the British brand's midi tote in multiple colors — and that the brand has also become a staple accessory for Kate Middleton.
But hey, if these two designer bags are a little too rich for your blood, SheKnows notes that the Duchess of Sussex sported a canvas tote from Madewell in May of 2022 that costs less than $100. 
Still, make no mistake — Meghan is also known to style herself with bags that us mere mortals will likely never get our hands on, like the Dior Lady D-Lite bag that the royal carried in 2021. As Page Six reported, this nearly-$5,000 accessory echoed the Lady Dior purse her mother-in-law Princess Diana once loved and was frequently seen showing off.