Here's How HGTV's Jenny And Dave Marrs Really Met
Viewers fell in love with Dave and Jenny Marrs, alongside their adorable children and the idyllic Arkansas farm the family calls home, on HGTV's "Fixer to Fabulous." 
The show debuted in 2019 and quickly proved to be one of the home renovation network's biggest hits. According to Discovery, Season 3 of "Fixer to Fabulous" was a top performer, nabbing impressive viewership figures across several key demographics. Unsurprisingly, it was swiftly renewed for a fourth season shortly after the previous one finished airing.
As Betsy Ayala, senior vice president of programming and development at HGTV, explained at the time, "We saw from last season's ratings performance that our audience was smitten with Dave and Jenny Marrs, so we plussed up the 'Fixer to Fabulous' renewal order to ensure we had a supersized run this season." She added: "When you talk about a fabulous pay off, this is it."
Key to the show's ongoing appeal is, of course, the lovable couple at its core. Dave and Jenny's enthusiasm for each project always shines through. Plus, as Jenny noted in an Instagram post, they watch every episode of "Fixer to Fabulous" live alongside their fans, which keeps them feeling connected to the Marrs. 
After watching them on TV for so long, viewers might feel like they know everything about Dave and Jenny. But it might surprise you to learn just how they originally got together.
The Fixer to Fabulous stars met through their corporate jobs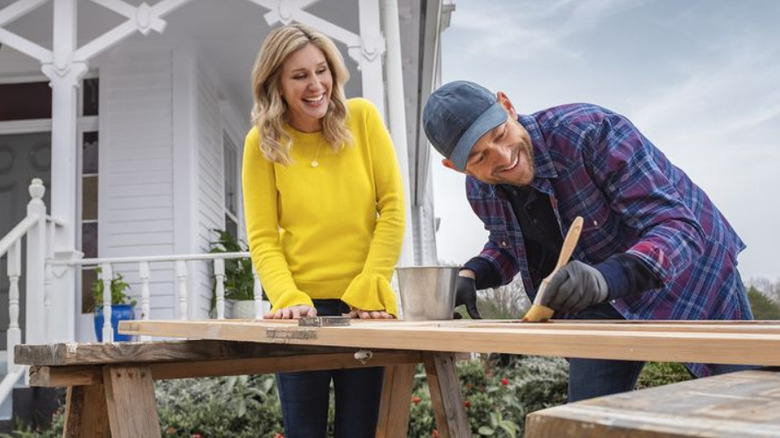 HGTV
Dave and Jenny Marrs love working together, with him telling Pop Culture that he "wouldn't have it any other way," despite how taxing it can be to keep so many balls in the air.
Given their great working dynamic, it's not too surprising that the "Fixer to Fabulous" stars met at another job. Dave told About You that, after graduating from college in 2002, he began working at Newell Brands' Rubbermaid, where his future wife was also employed in a separate department. 
They got close relatively quickly, but Dave was required to travel a lot, so it took a while for the couple to make things official, given the constraints of their long-distance relationship. Dave ultimately left the company in 2004 and relocated to Arkansas to pursue his twin passions of building and construction. 
"I did the corporate world for two years, which was enough," he said. "It allowed me to meet Jenny ... but I just got sick of it." 
Moreover, when he told Jenny his plans, she decided to take a chance and go with him, reasoning that they could try it out on a temporary basis for a couple years and see how it worked out. 
Clearly, as fans of "Fixer to Fabulous" are already aware, it worked out — and then some. The happy couple tied the knot in 2005, with Jenny marking their anniversary in 2017 with an Instagram post.
Dave and Jenny's partnership has only gotten stronger
In an exclusive interview with The List, "Fixer to Fabulous" stars Dave and Jenny Marrs shared why they initially turned down a TV show, admitting to being concerned about opening themselves up to public criticism. In particular, the reality stars worried about their children and the kind of scrutiny they could potentially face.
Dave and Jenny never anticipated their show becoming such a massive hit, either. "It's been very humbling," he said. "It's been very fun, very exciting."
Working together might put extra strain on certain relationships, but, for the Marrs, it's only made things better. As Dave sweetly told Closer Weekly, "I get to be with and spend all of my time with Jenny. ... She's become like, just from an amazing wife, to an amazing mother, to an amazing business partner, to everything I could ask for." 
The HGTV stars share five adorable kids, and they reckon getting a glimpse of their home life is part of the reason "Fixer to Fabulous" has proven to be so popular with viewers.
Furthermore, watching Dave and Jenny bicker is hugely appealing, too. She made it clear, however, that they're each other's biggest cheerleaders, even when they disagree about something.
Thus, "Fixer to Fabulous" provides the ideal platform for the couple to do what they love. "We're always gonna be creative," Jenny said. "We're always looking for what's next."