What Was HGTV's Good Bones' Original On-Air Name?
"Good Bones" began airing on HGTV in 2011 and quickly emerged as one of the network's most popular and beloved shows, not least because of the sweet rapport between stars, business partners, and real-life mother and daughter Mina Starsiak Hawk and Karen Laine. 
Aside from being based in Indianapolis, where the show is filmed, the Two Chicks and a Hammer founders — who launched their business back in 2007 — are adamant that they're not typical house flippers.
"We truly are rehabbing neighborhoods," Laine told the Indy Star emphatically. "If we were flipping, we wouldn't strip down to studs, install new electrical, new HVAC, new plumbing or whatever else needs to be done. This is rehab. These houses need a good 12-step program." 
Likewise, they keep it local as much as possible. "We have this opportunity for local people to apply their trade and grow in their chosen career, which is a beautiful thing to watch," Laine told PopSugar.
"Good Bones" has changed considerably since its debut — and rightly so — but, if the show kept its original name, we might have witnessed a very different evolution.
The show's original name paid tribute to its two leads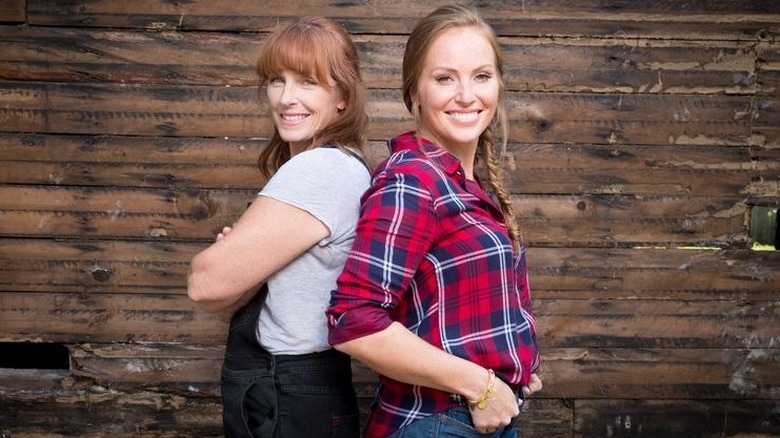 HGTV
Considering Karen Laine and Mina Starsiak Hawk were offered a show primarily because of their impressive business acumen, it makes sense that the original title for "Good Bones" paid tribute to it. 
According to House Beautiful, when the pilot for the show was released in May 2015, it was initially entitled "Two Chicks and a Hammer," which is also the name of their company. However, although HGTV quickly greenlit more episodes, it changed the name to "Good Bones" in the process. 
Naturally, it didn't matter, with filming beginning on "Good Bones" just a couple months after the pilot dropped, but it's interesting to imagine what kind of show "Two Chicks and a Hammer" could have been. Funnily enough, Starsiak Hawk didn't really get the new name. "I actually HATED the name when they first told us, but now I can't imagine it being anything different," she said during an Instagram Q&A session, per Pop Culture.
The HGTV star pointed out that she and her mother don't actually have a lot of say in what makes it to the screen. Starsiak Hawk clarified, "I build houses. The powers that be make a show."
The duo wasn't looking for fame when HGTV came calling. In fact, Starsiak Hawk reasoned it all happened by chance. "Mom and I aren't the types to say no to a new challenge so when they asked if we'd ever consider doing a show we said 'heck yea,'" she quipped.
Good Bones has evolved significantly over the years
As Mina Starsiak Hawk discussed in an exclusive interview with The List, "Good Bones" changed considerably after her mom and co-host, Karen Laine, took a step back from it in 2019 (she still appears on the show intermittently). 
Thankfully, other members of the Two Chicks and a Hammer squad were happy to step up to the plate in Laine's absence. Starsiak Hawk divulged, "I'm not discussing floor plans with her. It's me and Cory going over that, and then MJ and I doing the designs for the houses." 
She added: "And Mom's really having her moment to shine with some pretty awesome landscapes at the houses and her usual fun DIY projects, and they're just bigger and cooler than ever." Laine's retirement worked out well for both of them. Acknowledging it had been "a transition," Starsiak Hawk shared how her mom finally has the time to relax with her husband at home, leaving Starsiak Hawk free to focus on building "an empire" like she's always envisioned. 
With "Good Bones" going from strength to strength, in 2021, Deadline announced that a spinoff show, "Good Bones: Risky Business," had also been ordered by HGTV. The series saw Starsiak Hawk and her team renovating the historic Sanders House in picturesque Fountain Square, Indianapolis.
"The Sanders House is an amazing historic property," Starsiak Hawk enthused. "It's way more than I've ever taken on before, but I'm committed to bringing it back as the jewel of the neighborhood."