A Novel First Date Idea To Let Your Aggression Out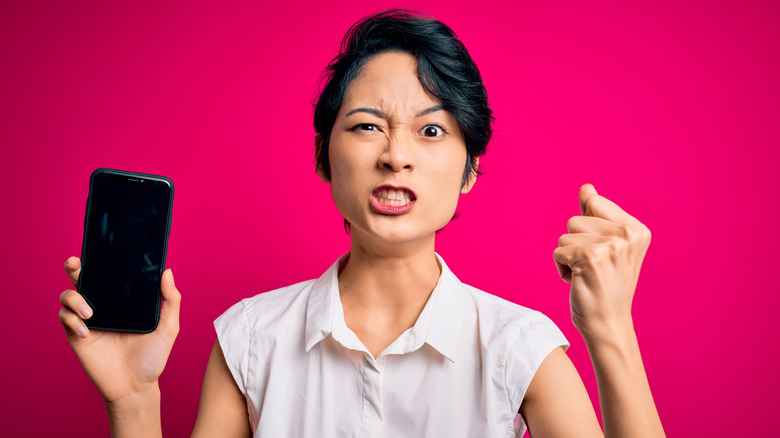 Krakenimages.com/Shutterstock
Planning the perfect first date can be tricky, especially when you and your date are just getting to know each other. Do you suggest a more traditional route with dinner and drinks or is that too been-there-done-that? A movie date subjects you to at least 90 minutes of dark silence with no chance of getting to know each other, that new nightclub is a little too noisy for the new relationship Q and A, and a first date might be a little early to introduce them to your parents (although we appreciate the double date offer, mom and dad). 
No matter where you go on your first date, breaking the ice with your new significant other can be super awkward, so we say make the most of it. Marisa T. Cohen, P.hD recommends finding a date night spot that can really showcase your best qualities, telling Women's Health, "You want to do something that's not the same cookie-cutter experience that everyone else is having over a meal." And, of course, it's always a good idea to have fun on your first date, to see if you and your potential bae truly click. But what is there to do that hasn't already been done? Maybe it's time to think outside the box.
This creative date idea is sure to score a bullseye with your date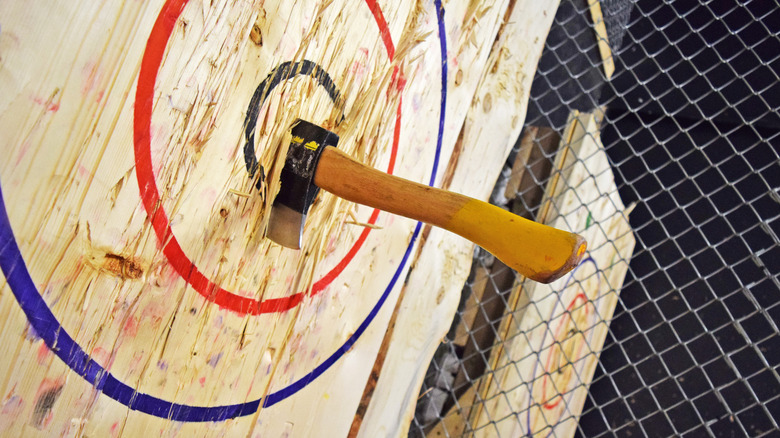 Aldo_Parrotta/Shutterstock
It's Friday night and you promised to meet the cutie you've been messaging after work, but when 5:00 p.m. rolls around, you're exhausted, your boss is stressing you out, and this week just hasn't been great. Do you cancel? Do you reschedule? Or do you find an activity for you and your date that lets you take out all your week's frustrations on red and white targets?
That's right, we're talking about axe throwing. Women's Health suggests the adrenaline-building activity to get your body moving and boost your connection. Kick Axe claims that axe throwing is a perfect first-date activity that builds rapport and leaves a long-lasting impression. So what exactly is axe throwing? According to Total Axe, "Axe throwing is a target sport, similar to darts . . .[where] players stand behind a foul line, approximately 10-12 feet from the target, and try to throw their axe into the target." NBC News reports that urban axe throwing facilities have been popping up all over the US since around 2013, combining the industrial charm of a warehouse and the provisions of a bar for players to enjoy as they try to hit a bullseye. We have to admit, chucking an axe at a neon target as we're served IPAs and our favorite appetizers sounds like a pretty unforgettable time.
Friendly competition can lead to some serious relationship bonding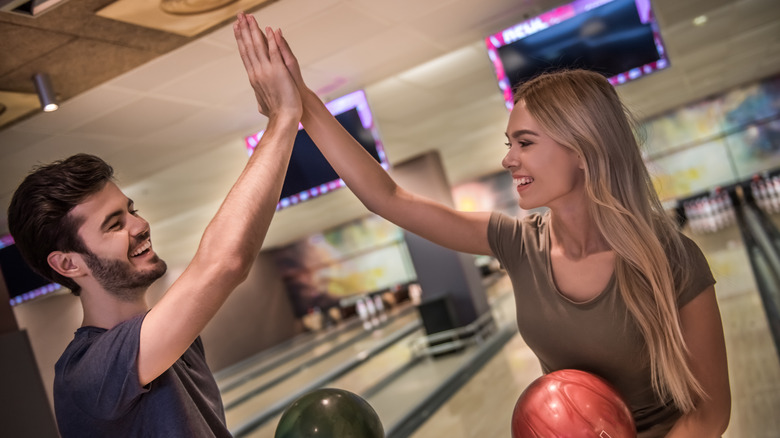 George Rudy/Shutterstock
Axe throwing isn't the only activity that combines the playful atmosphere of the first date with some physical therapy — rage rooms are another fun alternative to the standard first date that lets you and your date smash breakable items in the comfort of your own soundproof room (via USA Today). You could take a slightly traditional route too, with a game of bowling or mini golf. Or for those of us who are less sporty but still love the spirit of competition, go to an arcade and see who will be first to beat the reigning high score. These first date ideas give you and your date lots of things to do and talk about, while allowing you to set your own pace as you enjoy each other's company throughout the night.
Any time you have an opportunity to do something fun yet competitive and engaging on a date, do it. Relationship expert and therapist Jaime Bronstein says that competition in a relationship plays a key factor in bonding physically and emotionally, per People. It can even help rekindle a relationship that needs reviving, so remember to revisit your favorite axe throwing place once you and your partner have been dating a while — and you can recreate your memorable first date!