Why Ralph Fiennes Was Covered In Blood The First Time He Met Jessica Chastain - Exclusive
Ralph Fiennes and Jessica Chastain's on-screen chemistry is palpable, and it's never been more evident than in their latest collaboration, "The Forgiven." The tense thriller, which is in theaters now, stars Fiennes and Chastain as married couple David and Jo Henniger. While traveling to a party thrown by a British ex-pat in the middle of the Moroccan desert, the Hennigers get into a terrible accident, causing the death of a local teenager in the process. A series of complicated circumstances ensue, with Chastain's Jo finding flirtation with a mysterious stranger at the party, while her husband ventures across the desert in search of redemption.
A decade before working on "The Forgiven," Chastain and Fiennes co-starred in an adaptation of William Shakespeare's "Coriolanus," which Fiennes also directed. Discussing working with Fiennes on two occasions to date, Oscar-winner Chastain told The List, "I love working with Ralph. I hope, in the future, we end up playing characters who really like each other because we've had two very difficult marriages on our hands. But it's good fun."
But anyone who knows "Coriolanus" knows the story isn't all fun and games, and it also paved the way for an unconventional introduction between two of its actors. The List caught up with the stars of "The Forgiven" to find out why Ralph Fiennes was covered in blood the first time he ever met Jessica Chastain.
An unforgettable, but very bloody, first meeting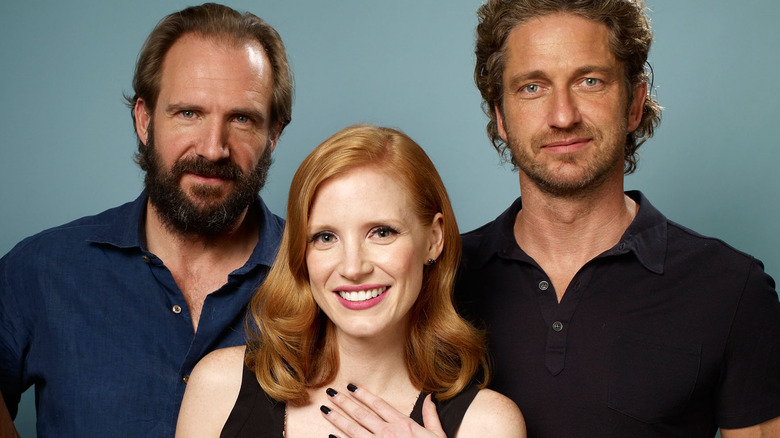 Matt Carr/Getty Images
In Ralph Fiennes' 2011 adaptation of William Shakespeare's "Coriolanus," Jessica Chastain plays his wife, Virgilia. Discussing their first experience working together, Fiennes told The List, "Jessica was incredibly loyal to a film I made earlier, Shakespeare's 'Coriolanus' [in 2011] where she had a much, much smaller part playing the important but small part of Coriolanus' wife." 
As for his most memorable moment on set, Fiennes explained, "One thing that I do remember was that [Jessica] came to the set of 'Coriolanus' and ... I was covered in blood. I was covered in fake blood, but I looked pretty horrific. Gabby — the producer [Gabrielle Tana], brilliant woman — said, 'I should warn her that you are looking like this because you know she's vegan.'"
Reflecting on their unusual first meeting, Chastain said, "I remember. We had lunch. When I first arrived, I came to set to say hi, and of course, Ralph is directing and starring in the film. We met in the trailer, and he's completely head to toe covered in blood." She continued, "Were you eating a steak? You might have also been eating a steak." 
Fiennes confirmed that as well as being covered in blood, he was, indeed, eating a steak when they first met. "I have my salad and I'm like, 'Where am I?'" Chastain joked. Talk about an unforgettable meet-cute.
Book tickets for "The Forgiven," which is in theaters now.