School Of Chocolate Winner Juan Gutierrez Shares The Secret To Chocolate-Making - Exclusive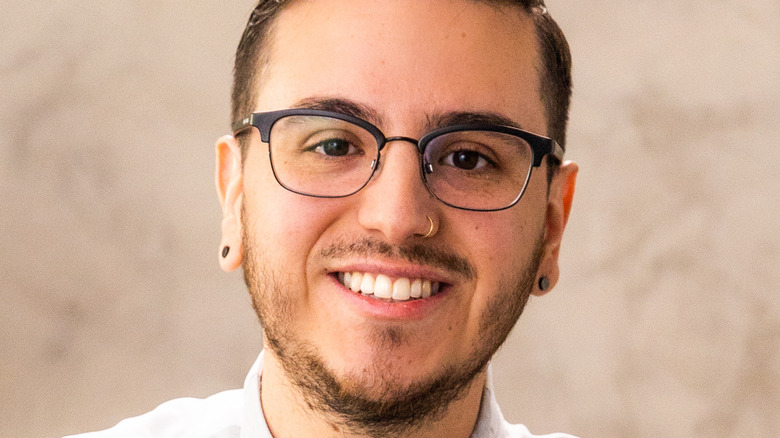 Courtesy of Olmeca Altos
If you're looking for the perfect date night, Olmeca Altos has you covered. The popular tequila brand has partnered with dancer and TikTok star Brian Esperon and the award-winning chocolatier Juan Gutierrez to orchestrate the ultimate romantic night. In partnership with Olmeca Altos, Gutierrez and Esperon each created a free 30-minute class that couples can watch online. Either follow Gutierrez's chocolate-making tutorial to make three varieties of truffles — and a refreshing Olmeca Altos Sparkling Paloma to go with the treats — or get up and moving with Esperon's pop dance lesson. Either of the curated date options are perfect for anyone looking to enjoy a romantic night without going out.
Gutierrez has become well-known as the winner of Netflix's "School of Chocolate" and Food Network's "Chopped Sweets." He's the perfect teacher to give you your first taste of chocolate-making. During an exclusive interview with The List, the pastry chef gave his best advice to anyone just learning about chocolate-making.
Why chocolate-making is the perfect date idea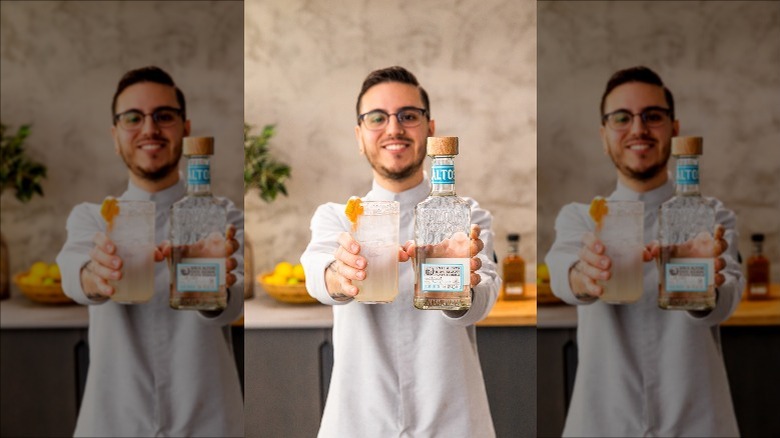 Courtesy of Olmeca Altos
For Juan Gutierrez, participating in Altos Juntos' at-home dates is the perfect way to have a more intimate evening with your partner. "When you go out, you go to the traditional dates ... We have movies. We go to the park or play mini-golf. All of those, even though you're still together, you have [other] people around you, and with Altos Juntos, you get to create those memories just with the person next to you ... For me, it was [about] having that personal moment with that person," Gutierrez explained.
Taking a class is a great way to experience something new, get out of your comfort zone, and make memories together. It's also a date night idea that you can enjoy whether you're already in a relationship or have just started dating someone. "[It's] one of those extra things to spice up your relationship or to try with the person that you're trying to date or you're trying to impress," Gutierrez said. "I'm definitely going to do this now. For my next date, I'm like, 'Definitely, let's do a dance class. Let's do a chocolate class. Let's do something that we're not used to.'"
Guiterrez's best tip for beginner chocolate-making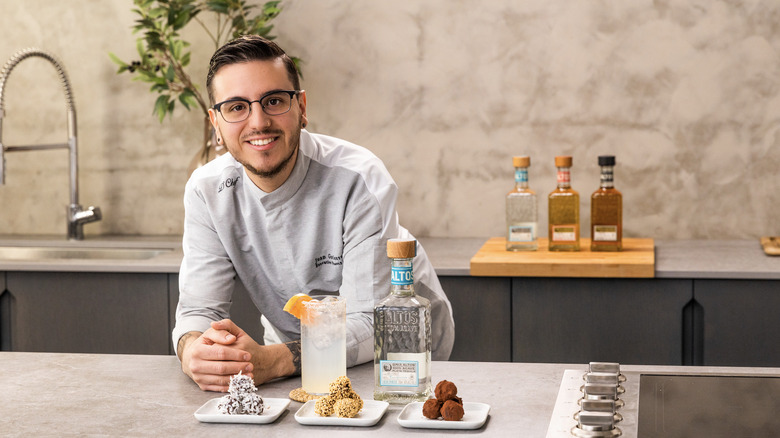 Courtesy of Olmeca Altos
Whether you're an experienced chef or a complete novice, Juan Guiterrez's truffle-making class is an enjoyable and delicious way to spend your evening. When it comes to chocolate-making, Guiterrez's best advice was to have fun and not "be scared of the chocolate." He elaborated by saying, "Don't be scared of getting dirty cause you're going to get dirty, but that's the best part. You're going to get chocolate everywhere. You're going to go back to those childhood memories when you have your hands full of chocolate, then you ended up licking your hands. Don't be scared of that. Have fun."
He added that the class is perfect for any skill level, so you don't have to be scared to try, even if it's new to you. "You can create whatever comes to your mind. It's a really [beginner] friendly class. It's for everyone. It's really funny. It's fun," Guiterrez said.
Now through August 31, couples (must be 21+ in age) looking to shake up their nightly routine can choose between two complementary 30-minute experiences hosted on altosjuntos.teachable.com led by Brian Esperon and Juan Gutierrez.