Inside Carlos Santana's Adorable Proposal To Wife Cindy Blackman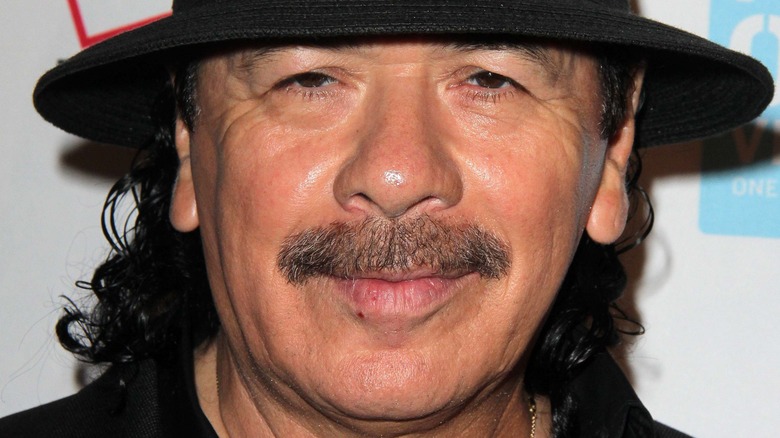 s_bukley/Shutterstock
Carlos Santana is one of the most legendary musicians of all time, and he isn't afraid to speak his mind. Santana notably made his real feelings about Donald Trump known during the former president's tenure, solidifying he had no time for the controversial politician thanks in large part to Trump's dodgy views on immigration. 
In fact, during an interview with AZ Central, the "Smooth" hit-maker even shouted out Nikola Tesla for inventing TV remotes. Santana quipped, "I pick it up and as soon as I see Donald Trump, I change the channel or turn it off. So he has absolutely no power over me whatsoever. I just turn his a** right off." 
Despite his frank commentary on Trump, the iconic guitarist is typically well-known for preaching peace and love above all else. In fact, he was happily married to first wife and mother of his children Deborah for 34 years, with the couple splitting in 2007, as the Daily Mail reported at the time. 
Following the publication of Deborah's memoir, in 2005, Santana publicly apologized for being unfaithful to her, admitting he "wasn't in my right mind." Although their relationship didn't work out, Santana found love again, and indeed proposed, in an unlikely place.
The guitar legend popped the question on stage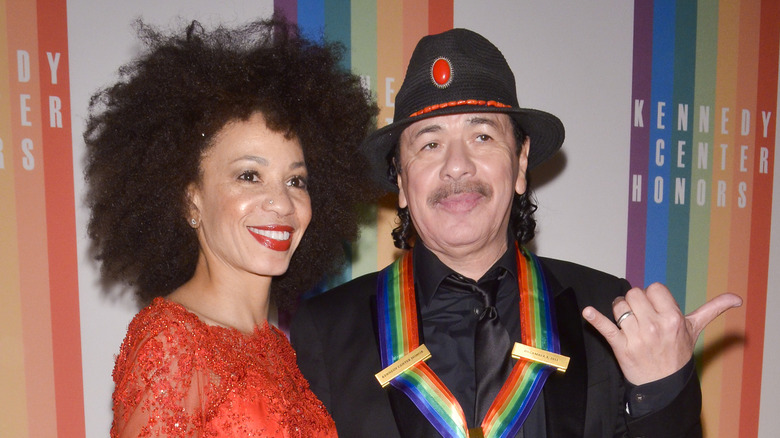 Kris Connor/Getty Images
Per Billboard, Carlos Santana proposed live on stage to his girlfriend, and the drummer in his band, Cindy Blackman, in 2010. The pair were playing a show just outside Chicago at the time, with Santana's reps confirming he got down on one knee four songs into the gig, and shortly after Blackman had performed a killer drum solo. Naturally, she said yes, and the happy couple kissed to cheers from their fans.
"Cindy and I are blessed to have found each other," Santana gushed in a statement. "Being in love is a gift from the universe, and the spirit and vibrations that come with it are infinitely powerful. I look forward to expressing that incredible energy through my music, and in helping to tip the balance toward more love in the world with what Cindy and I share." Blackman previously played with big names including Lenny Kravitz.
Santana, who received a major honor at the Hispanic Heritage Awards, told Guitar World that he and Blackman were meant to find each other. "Your mind is a magnet," he explained. "You don't attract what you need or what you want; you attract who you are. And I love who I am! I love who Cindy is — 'cause we both love the same things." The guitar god added, "If your relationships are assigned and designed to make spiritual progress, it's fun! F. U. N. If you're not making spiritual traction, then everything is a burden."
Carlos Santana considers marriage to be a sacred thing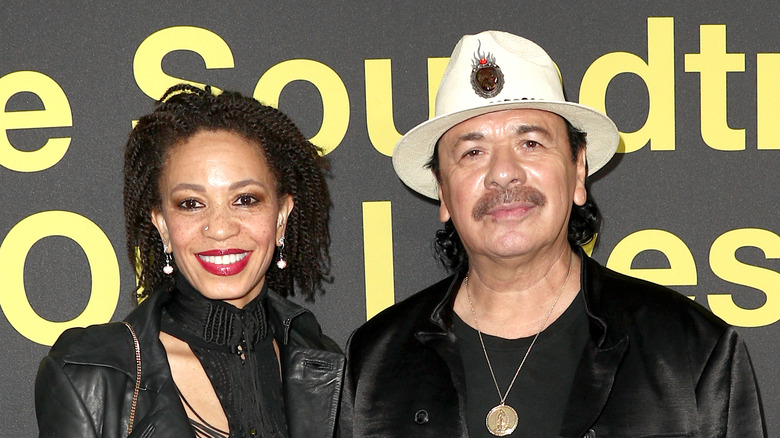 Frederick M. Brown/Getty Images
Although his first marriage didn't work out, Carlos Santana learned a lot from it. When asked what his advice for those going through a divorce would be, by the AARP, the legendary musician said, "Do it lovingly and do it honorably, and accept that that particular relationship has been accomplished." Santana continued, "My heart was being burned alive. But all that remains from the past relationship is beauty and blessings."
He still believes in the sanctity of marriage, telling The Guardian he holds no ill will towards Deborah, who needed to find her own way in the world, as Santana sees it. The "Maria Maria" hit-maker argued, "When you've found your twin flame, it's important to honor it and nurture it every day." 
Santana and his current wife Cindy Blackman found common ground with music, and he frequently credits her influence in interviews, telling Rolling Stone Blackman was key to choosing tracks for the album "Africa Speaks." The feeling is clearly mutual, with the drummer enthusiastically promoting the release during a chat with Boomero City.
Meanwhile, when it comes to their marriage, Blackman enthused, "It's a beautiful thing because we still have our freshness. We still have playfulness and we still have fun. I see some people who are together for a lot less time and sometimes they don't stay together. Sometimes, things wear out. We still have all of those things so I'm very happy with that."