The Time Days Of Our Lives' Sami Brady Tried To Sell Her Sister On The Black Market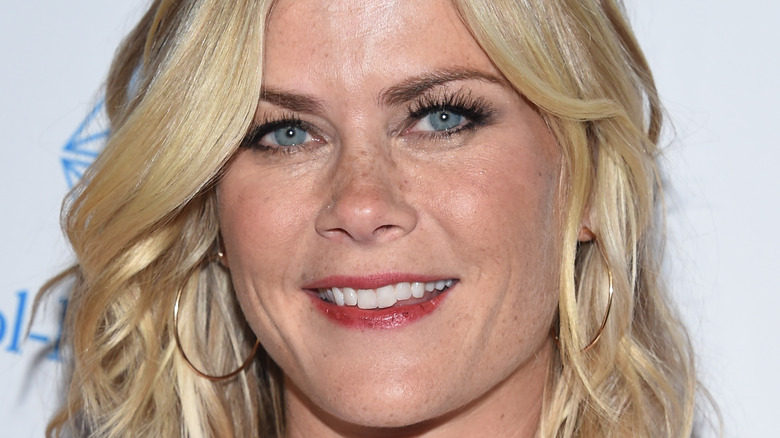 DFree/Shutterstock
Alison Sweeney made a name for herself when she was cast as the legacy character Sami Brady on "Days of Our Lives." However, the actress has proven to be more than just a soap actress over the years. In addition to her role on "Days of Our Lives," Sweeney has also appeared on other TV shows such as "Webster," "St. Elsewhere," "Family Man," "Bay State," "Friends," "American Dreams," "Las Vegas," and many more (via IMDb). She's also worked with Hallmark on many different projects and even hosted NBC's "The Biggest Loser."
Many longtime "Days of Our Lives" viewers may even remember that Sweeney landed a role on the soap opera as a child before she was cast as Sami Brady. According to "Little Things," Sweeney originally appeared on the sudser back in 1987 when she was tapped to play a younger version of Judi Evans' character Adrienne Johnson Kiriakis in flashback scenes.
However, it wasn't until she appeared as Sami that fans fell in love with the actress and became invested in the character.
Sami started scheming at an early age
Getty Images/Getty Images
According to Fame 10, Sami Brady is one of the most loved and loathed characters in Salem. "Days of Our Lives" fans have watched Sami scheme and plot for decades. Sami came back to Salem as a teenager and immediately started causing chaos for her friends and family members. It all started when Sami fell in love with Austin Reed, the boyfriend of her older half-sister, Carrie Brady, per Soaps in Depth.
Carrie and Austin were a fan-favorite "Days of Our Lives" couple. However, Sami stopped at nothing to break them up. This created a long-lasting rivalry between Sami and Carrie and their relationship never fully healed from the aftermath.
Over the years, Sami lied, cheated, and plotted against her enemies, friends, and family to benefit herself and her evil deeds usually backfired on her, per Soap Central. One of Sami's most shocking moments came when she attempted to get rid of her younger sister, Belle Black, all due to her mother Marlena Evans' (Deidre Hall) affair with John Black (Drake Hogestyn). The moment that Sami caught John and Marlena together changed everything for her, and she was never really the same after. Unfortunately, Belle also became a victim of Sami's wrath.
Why did Sami want to get rid of Belle?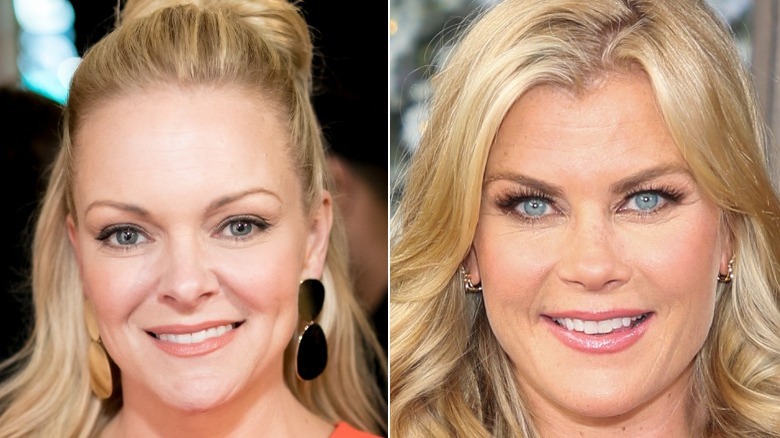 Greg Doherty & Paul Archuleta/Getty
Sami Brady's teenage years were full of chaos and much of her issues stemmed from her parents' relationship. "Days of Our Lives" fans watched Marlena Evans fall in love with John Black when she believed him to be her presumed dead husband, Roman Brady. However, when the real Roman was found alive, John backed off and allowed Marlena to reunite with her husband, per Fame 10.
While John and Marlena both tried to move on, they couldn't stay away from one another and ended up having an affair. Sami caught the pair in the act and it traumatized her. Marlena later found out that she was pregnant and didn't know whether John or Roman was the father (via Soap Central).
Marlena later gave birth to her daughter, Belle, and a DNA test proved that the little girl belonged to John. Sami wanted nothing more than her parents to live happily ever after, so she kidnapped her baby sister and attempted to sell her on the black market, per Soaps in Depth.
However, it was John that came to the rescue. He eventually found Belle and returned her to Marlena. He later learned that Belle was his daughter. Sami's actions created strife between her and Belle as well. John and Marlena eventually reunited and got married, and Sami never really got over her resentment towards John for ruining her parents' marriage.