Why Did The KFC Colonel Visit Maxie And Lulu On General Hospital?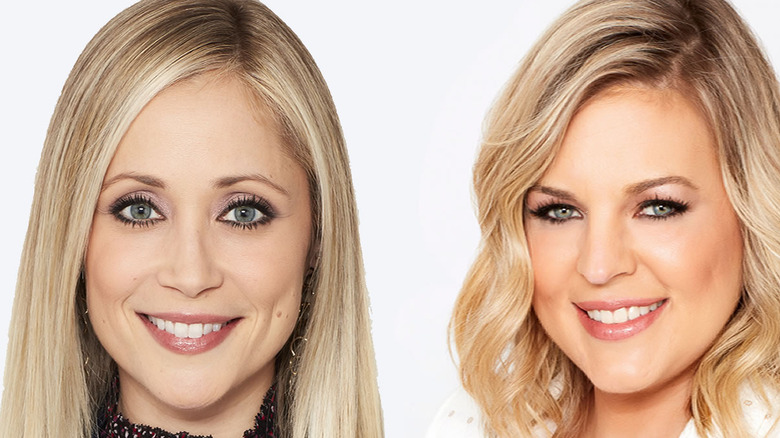 ABC
Maxie Jones (Kirsten Storms) and Lulu Spencer (Emme Rylan) are two of the most memorable characters on "General Hospital." She and Maxie went from being enemies to becoming best friends, and their portrayers also became real-life BFFs.
Maxie has been a major player in Port Charles for over 30 years on "General Hospital." She is the daughter of Frisco Jones (Jack Wagner) and Felicia Scorpio (Kristina Wagner). In her younger days, she was kind of a bad girl, engaging in such naughty acts as procuring drugs for Lucky Spencer (Greg Vaughn) and aiding and abetting fugitives like Jesse Beaudry (Matt Marraccini) and Zander Smith (Chad Brannon). She was even sentenced to 20 years in prison for the murder of Lisa Niles and Officer Briggs, although the sentence was overturned a month later when the real killer was caught (via Soap Central). 
Lulu is the daughter of super-couple Luke Spencer (Anthony Geary) and Laura Spencer (Genie Francis), which is a huge legacy to live up to.  Her younger years were also riddled with wild times including hooking up with her stepbrother and getting involved with a mob underling who turned out to be undercover police detective Dante Falconeri (Dominic Zamprogna), per Soaps in Depth.
Maxie and Lulu have been involved in some wild storylines, but possibly one of the most entertaining is the one in which they were visited by KFC founder Colonel Sanders. How did he end up on "General Hospital"? 
A surprise visitor with a secret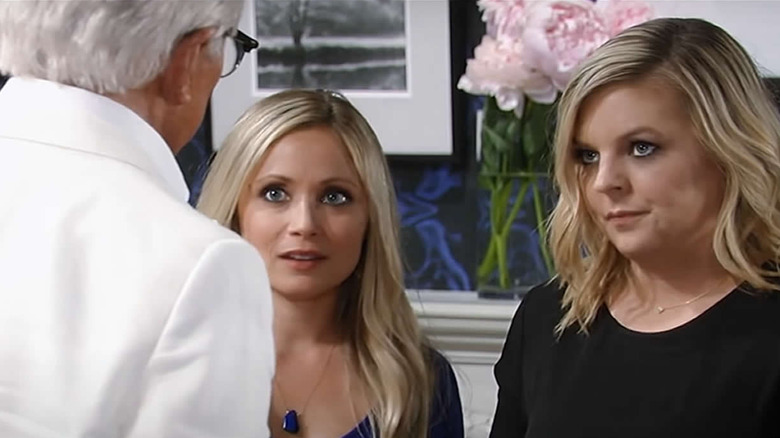 ABC/YouTube
Product placement on screen has been around since at least the 1920s, and KFC is no stranger to advertising their offerings this way. According to Daytime Confidential, in July 2018, Disney-ABC and KFC entered into a branded content deal — a trade in which KFC would tweet about "General Hospital" and Colonel Sanders himself would appear on the show as portrayed by George Hamilton.
On July 6, 2018, which was National Fried Chicken Day, Colonel Sanders entered the "General Hospital" universe. In that day's episode, Maxie and Lulu are seen hanging out at Maxie's apartment, eating some KFC chicken, when Maxie off-handedly mentions that she's friends with Colonel Harland Sanders. Lulu is shocked to learn that they are friends and that the colonel is a witty texter. He shows up at Maxie's apartment — much to Lulu's astonishment — and shares some chicken-related puns before getting into the real reason he is there (via TV Guide).
It turns out that years ago, Maxie and the Jackal aka Damian Spinelli (Bradford Anderson) were once tasked with helping the colonel stop hackers from an unnamed mob organization known only as "The Syndicate" who were trying to get into KFC's mainframe and steal the secret recipe of KFC's 11 herbs and spices. Oh, and the colonel also reveals he has the power to see into people's souls, due to a warlock's curse upon him.
Colonel Sanders puts his faith in Maxie and Lulu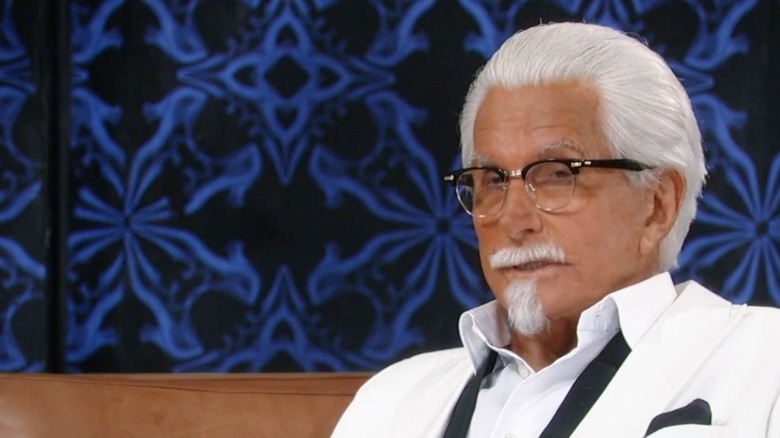 ABC/YouTube
Per TV Guide, the "General Hospital" episode continues with the KFC Colonel explaining that The Syndicate is still trying to get his secret recipe, therefore he went to the one person he could depend on to help him — Maxie. He entrusts an envelope containing the secret recipe to her, asking that she keep it in a safe place. Maxie produces a fake book that has a secret compartment inside. She puts the envelope in it, swearing to protect the colonel's most closely guarded secret. Before leaving, he uses his powers to reveal that Lulu's soul is pure and departs with the words, "Stay crispy, stay humble."
Although the real Colonel Sanders died at age 90 in 1980, in the "GH" universe he is still around trying to keep his secret recipe out of nefarious hands. Several actors have portrayed Colonel Sanders in various mediums over the years, including Mario Lopez in a bizarre Lifetime short. Entertainment Weekly notes that George Hamilton first played Colonel Sanders in 2016 in some KFC commercials and was chosen to portray the character on "General Hospital." Hamilton was very dedicated to his craft and wanted to honor the real Sanders, whom he had briefly met years prior.
"It's a very big honor," he told The Hollywood Reporter of portraying the historical figure.