Elton John Makes A Bold Statement About The Queen Allegedly Slapping A Royal Family Member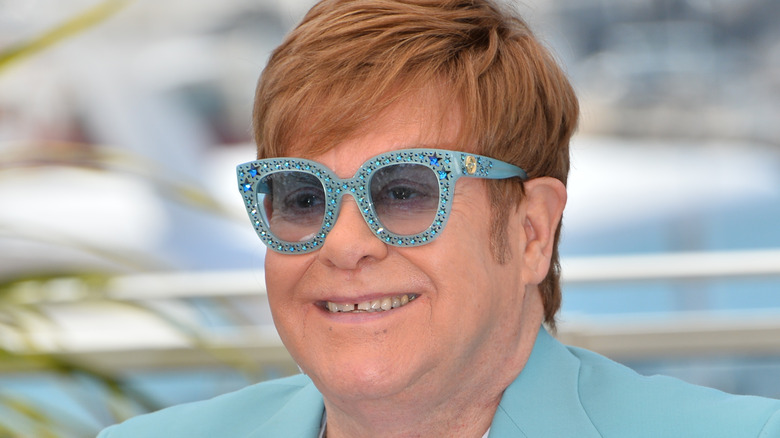 Featureflash Photo Agency/Shutterstock
Music legend and singer Elton John may primarily be known for his iconic 60-year music career, but you might not have realized his connection to the royal family. He was close to certain members from the 1970s onwards, including Queen Elizabeth and her sister Princess Margaret, with the queen often inviting Elton John to perform at events. 
As reported by Time, John talks about the rocky relationship between Princess Margaret and Lord Snowdon in his autobiography, as well as lighter moments such as Prince Philip telling John the Yellow Aston Martin he drove made him look "like a bloody fool." The book, aptly titled "Me," came out in 2019, hot on the heels of the release of the Elton John biopic "Rocketman." The memoir shared many candid details from Elton John's life, including his struggles with alcohol and drug abuse, his eating issues, and his relationships — both good and bad. 
Still, there's one moment John brings up in his book that might raise a few eyebrows, as it involves the queen doing something the public would definitely not expect her to do.
He dished the details of the incident in his autobiography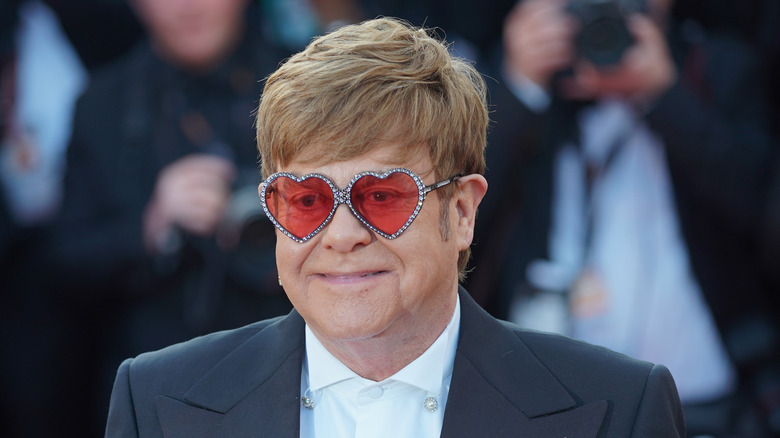 Denis Makarenko/Shutterstock
As reported in Women & Home,  Elton John discussed the incident in his autobiography "Me." Not only did he confirm the rumors about the queen having a cheeky sense of humor, but he also went on to share a shocking story regarding the queen and her nephew. According to John, the incident took place at a party, though he doesn't say which one.
John begins his story by saying, "I saw her approach Viscount Linley and ask him to look in on his sister, who'd been taken ill and had retired to her room." However, the viscount apparently kept brushing the request aside, which is where things get a bit surreal. The Queen grew frustrated at him ignoring her request and "lightly slapped him across the face, saying "Don't – SLAP – argue – SLAP – with – SLAP – me – SLAP – I – SLAP – am – SLAP – the – SLAP – Queen!" John states that the viscount was left rather flustered after this unexpected turn of events and indeed left to check on his sister. 
The tale doesn't end there, though — the music legend went on to say that the queen "saw me staring at her, gave me a wink and walked off." 
Elton John had royal ties through Princess Diana, with the two sharing a close friendship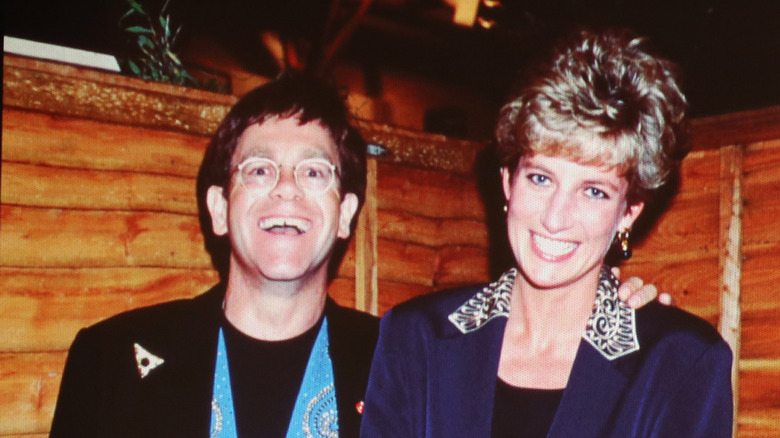 Chris Jackson/Getty Images
Elton John has had close royal ties for years, partially due to his treasured friendship with the late Princess Diana. After Diana's tragic death in 1997, John performed a special version of his 1973 hit "Candle in the Wind" at the princess' funeral to honor her memory. The song shot straight to No.1 on the U.K. charts and is still the best selling single of all time, a clear sign of the public's love for Princess Diana (via Smooth Radio). 
The pair met in 1981, with John reminisicing in his 2019 autobiography "Me" that when Diana arrived to a rather dull ballroom event they "immediately clicked" (via Biography). From that point on John and Princess Diana were spotted at several events together, including backstage at the iconic 1985 Live Aid concert. They had a falling out in 1997, but made up again a few months later to bond over the tragic death of mutual friend Gianni Versace. 
Sadly, their friendship ended prematurely with Princess Diana's untimely death. However, John's recollections of the royal family and of Diana help to bridge the gap for curious people who have ever wondered what the royals are like behind closed doors.