Juan Gutierrez And Brian Esperson Share Their Suggestions For A Perfect Date Night - Exclusive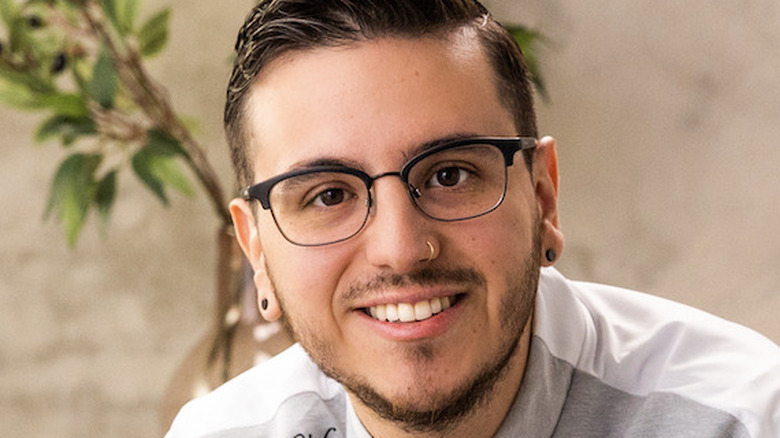 Courtesy of Olmeca Altos
Brian Esperon and Juan Gutierrez have partnered with the tequila brand Olmeca Altos on their new program Altos Juntos ("Better Together"). The series is focused on curating the perfect at-home date nights for couples to enjoy along with their Altos Juntos cocktail kit. For the evening activity, you can pick between two complimentary 30-minute classes hosted by Esperon and Guiterrez: Guiterrez's class takes couples through a beginning course in truffle-making, and Esperon's teaches an upbeat pop dance routine.
Guiterrez is a world-class pastry chef and the winner of Netflix's "School of Chocolate" and Food Network's "Chopped Sweets," so he's an ideal teacher for making a chocolate treat. And as a choreographer and the creator of the viral TikTok WAP dance, Esperon is just as perfect of a dance coach. They both sat down for an exclusive interview with The List to discuss their partnership with Olmeca Altos and the classes they created. If you're interested in even more date ideas, both of them shared what they consider the perfect date.
Esperon's ultimate night out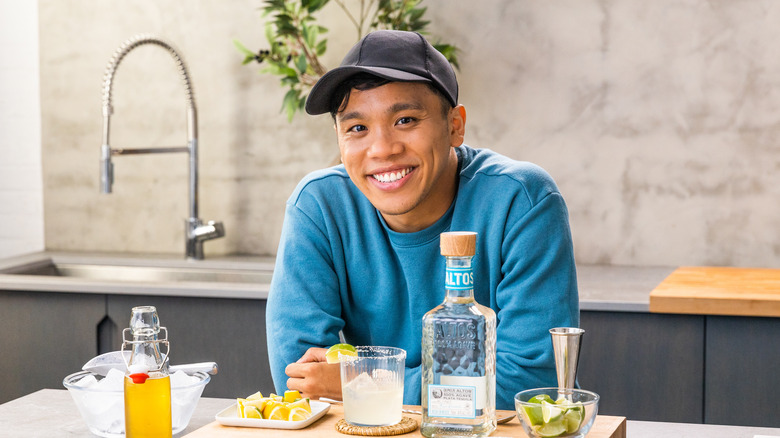 Courtesy of Olmeca Altos
While Altos Juntos offers a fun night in, Brian Esperon shared his ideal night out with his partner. For the dancer, the best date is sticking to the classics with dinner and a movie. But he still likes to keep things a little more interesting and fresh with the restaurant and film selection. "Anytime we can go to a new restaurant that we both have never been to is really fun. I like going to movies where we don't really know what to expect, especially if we haven't watched the preview or anything," Esperon said.
For Esperon, going out on a classic dinner date like this is also great because it can fill up the entire evening. It all starts with getting ready to go out. "I love getting dressed up and going out," Esperon said. Then after going out, you have something interesting to talk about together. "On the way home, [you can talk] about the whole movie and what we had for dinner," he said. "To me, a classic dinner and movies is always good."
Gutierrez's cozy night in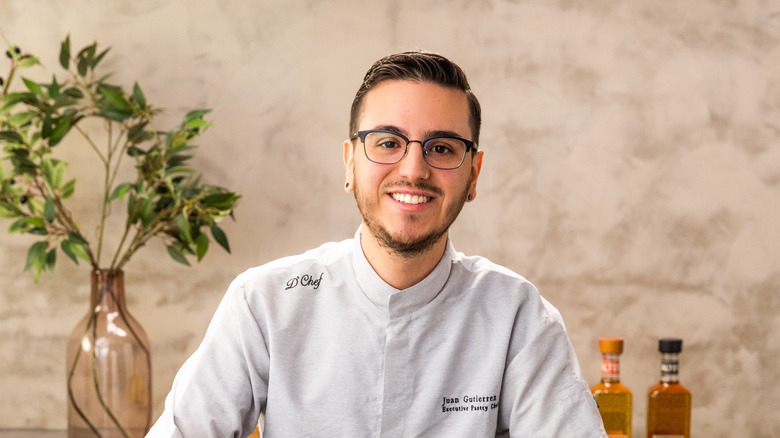 Courtesy of Olmeca Altos
Just like Brian Esperon, Juan Gutierrez is all for dinner and a movie. But he prefers enjoying those at home. "I'm more of a home person. I like to stay home. I like to make a nice dinner and watch a movie at home," he said, later adding, "That, for me, is the perfect night. It's chill. I don't have to worry about people around us. It's more intimate. I like that."
If staying home and watching a movie doesn't seem special enough, Gutierrez suggested an easy way to make it feel more cozy and fun. "We have something in Colombia that is called a cambuche," he explained. "[It's] like a bed that you make on the floor. You put a bunch of pillows, and then you put blankets on top, and you create a bed. I feel like the fact of doing that is so fun. It's so different. I like to [lie] down there, watch a movie, make a nice dinner, and then have all the food on top of the bed and then relax, talk, and drink a nice cocktail and watch a movie." Creating a comfortable and cute place to enjoy yourself can elevate a typical night at home into a memorable experience.
Now through August 31st, couples (must be 21+ in age) looking to shake up their nightly routine can choose between two complementary 30-minute experiences hosted on altosjuntos.teachable.com led by Brian Esperon and Juan Gutierrez.