Famous Designer Connected To Princess Diana Shows His Disdain For Meghan Markle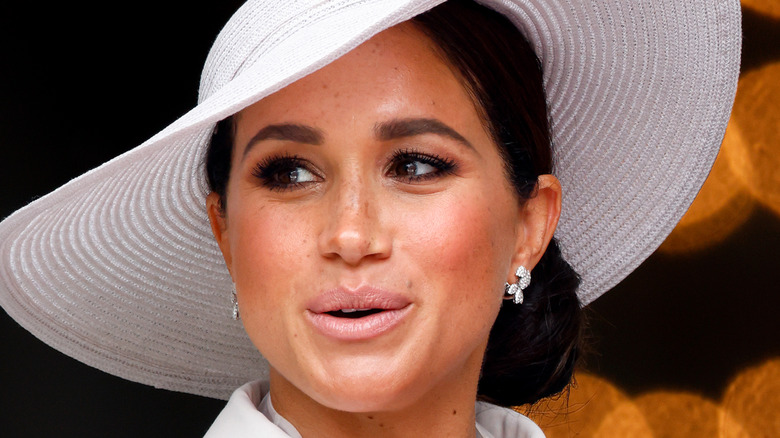 Max Mumby/indigo/Getty Images
No two wedding dresses are quite so different from Princess Diana and Meghan Markle's. The Princess of Wales wore a voluminous gown that featured more than 10,000 pearls (via Mirror). The Duchess of Sussex donned a simple silk gown with a body-hugging silhouette. Of course, both the wedding of Diana and Prince Charles and Meghan and Prince Harry were watched by the entire world. One person who saw the momentous occasions was the Princess of Wales' wedding dress designer, David Emanuel, who along with his wife Elizabeth created the custom gown we are still awed by all these years later.
Interestingly, he has said he's "disappointed" by the Duchess of Sussex's choice of her Givenchy wedding dress (via Newsweek). To be fair, while plenty of fans loved the 2018 look, which did not rely on any lace or pearls to pull of the design, some critics blasted the choice as "ill-fitting" (via Marie Claire Australia).
But criticizing Meghan's wedding dress is hardly the only harsh thing Emanuel has to say about the woman who married Princess Diana's younger son.
Diana's wedding dress designer compared Meghan Markle to another controversial figure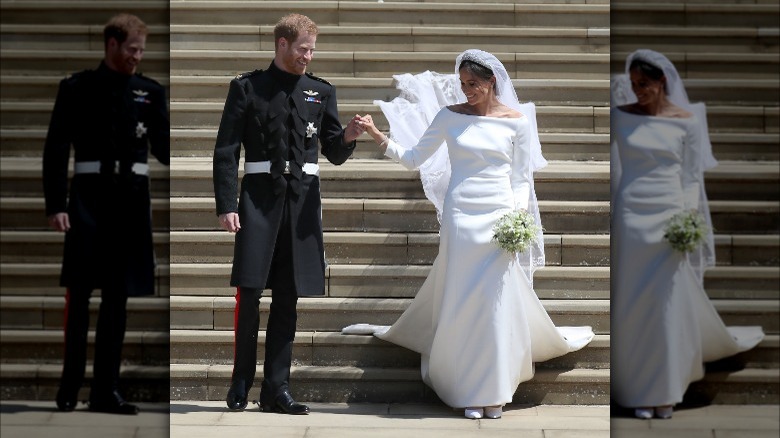 Wpa Pool/Getty Images
David Emanuel is no fan of Meghan Markle. Not only did he criticize her wedding dress, but he was not in love with the Duchess of Sussex's latest look for the Platinum Jubilee. The mom of two attended the service of Thanksgiving wearing another white look — this time created by Christian Dior Haute Couture.
The famous dress designer was not afraid to compare her to Wallis Simpson, another controversial and divorced American who married British royalty (via Newsweek and Britannica). In Simpson's case, her object of affection was heir to the throne Edward, Prince of Wales, who later abdicated to be with her.
Needless to say, Emanuel was not complimenting the Duchess of Sussex by comparing the two women, nor was he being very flattering when he said in a conversation with the Daily Mail in referring to her white suit, "I will stick my neck out here, but she looked as if she was in a nurse's uniform."
In fact, the designer so despises Meghan that he won't refer to her by her own moniker.
Diana's wedding dress designer won't even say Meghan Markle's name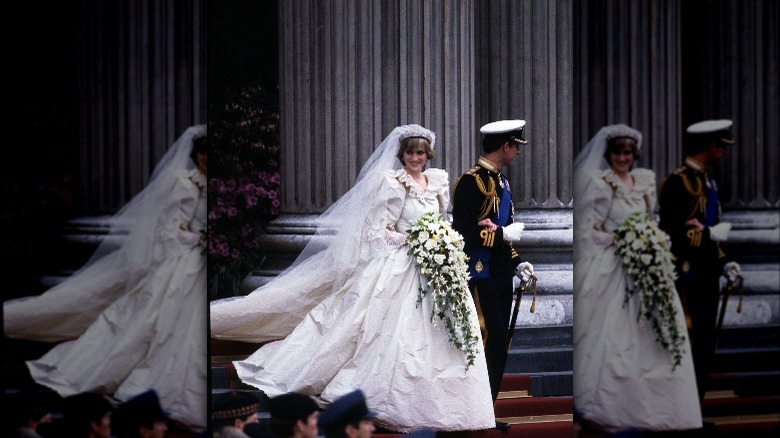 Anwar Hussein/Getty Images
In his chat with the Daily Mail, David Emanuel referred to Meghan Markle as "the American woman" and admitted, "I can't utter the name now" (via Newsweek). He even questioned why the Duke and Duchess of Sussex bothered to show up for the Queen's Platinum Jubilee given that they are no longer working royals.
Speaking about the tension among the royal family following Megxit (which at least one royal expert said was justified based on a single recent public appearance), Emanuel noted, "If Diana were alive, all of this would have been sorted out."
Meanwhile, a look back in time reveals that the dress designer may also be his own biggest critic, with his wife Elizabeth saying in 2018 on an ITV special about the wedding of the Duke and Duchess of Sussex that Diana's wedding gown "horrified" them when they saw it on TV (via Mirror).
As Elizabeth admitted, "We did know it would crease a bit but when I saw her arrive at St Paul's and we saw the creasing I actually felt faint." She added, "I was horrified, really, because it was quite a lot of creasing."