The Time David Beckham Pulled Off Perfect Polish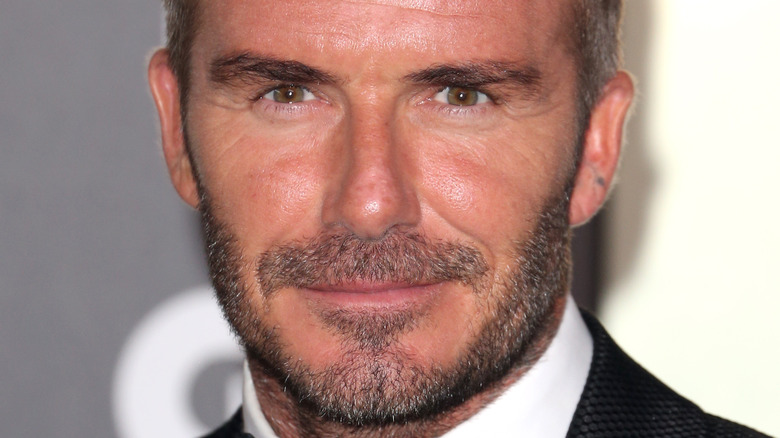 Cubankite/Shutterstock
We may receive a commission on purchases made from links.
Celebrities attempt fashion trends all the time. It seems like every time they step out into public something is new, and people notice. That's true even when it's the little details like nail polish. Although we're all pretty familiar with Hailey Bieber's pearl manicure by now, it turns out the guys have been getting in on nail trends for a while too. David Beckham and his family love nail polish, as it turns out, and they pull it off perfectly every time. Don't believe us? Wait until you hear how Beckham stepping out in polish created a brand new fad and even prompted new businesses. 
The early 2000s were a wild time. People were wearing unconventionally-shaped tops, super wide belts, and low-rise everything. Apparently, Beckham was trying to get in on the Y2K trends as well. While he didn't step out in low rise jeans, the soccer star did start wearing nail polish. The choice completely shocked people in both the United States and United Kingdom and sparked a trend that was popular on both sides of the pond. Here's how he wore the trend then and keeps it alive even today.
David Beckham used to wear colored nail polish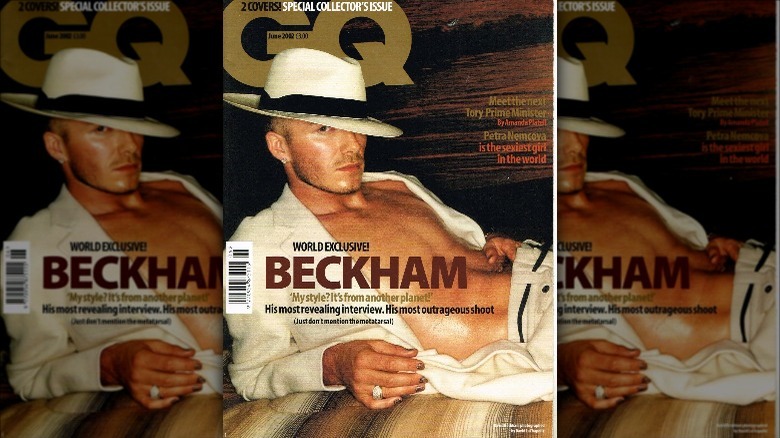 GQ
There are plenty of men out there who wear nail polish, but it's not often that you hear of a male athlete who nails the trend. Believe it or not, David Beckham wore bright pink nail polish to one of his soccer games back in 2002 and it actually sparked a worldwide trend (via The Sydney Morning Herald). He also wore nail polish on the cover of GQ and other photo shoots at the time.
A spokeswoman for Woolworths said that men were coming in just to get nail polish after Beckham wore it, which confused some of the employees until they realized what was going on. "We have seen a large surge in men coming into the shop and asking for nail polish," a Woolworths spokeswoman told The Sydney Morning Herald. "Some of the staff were a bit confused at first until it was pointed out that Beckham had started a new craze." 
If you're still not sold, there was also the creation of a mens nail polish line called Evolution Man shortly after the polish trend took off as well (via Daily Mail). The line focused on deep colors like silver, black, and burgundy. "Men are becoming more aware that how their nails look can define them," Marco Berardini told Allure. "Besides, if you're wearing a Rolex with chewed, scraggly nails, it's a contradiction of sorts." Today the matte polishes have a 3.2 out of 5 star review on Amazon.
The trend rubbed off on his son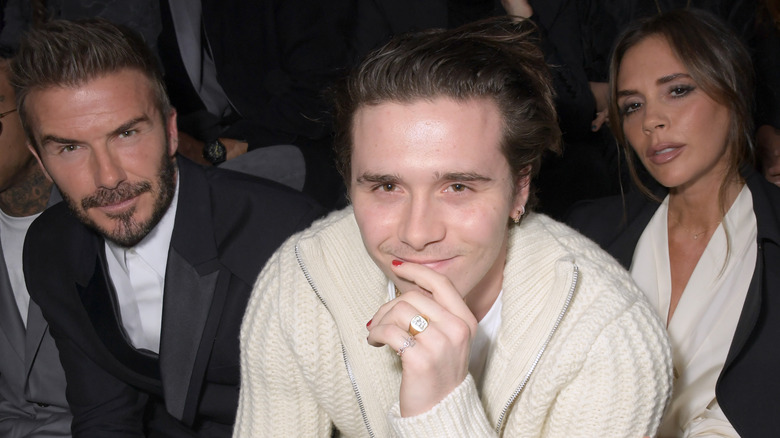 David M. Benett/Getty Images
David Beckham isn't the only one in the family who loves nail polish, and we're not talking about Victoria. Brooklyn Beckham was spotted getting coffee with bright red nail polish, which he sported shortly after that at Paris Fashion Week with his parents (via Daily Mail). The shade of red nail polish — and even a teal color — has been seen all over his social media as well, proving that there's no holding back in the nail trend he just might have gotten from his father.
While David has since given up the colored polish, he still makes it a point to take care of his nails. He and his younger son Romeo Beckham were seen getting manicures together in July 2018, according to Mirror. While there was no color on his nails, and hasn't been since the early 2000s, they do always look manicured. It looks like there's one thing that pops has passed down to the kids and it's how to properly take care of your nails.
The Beckhams aren't alone, either. According to Your Tango, a whopping 77% of men said that they go to the nail salon with their partner. This is one trend that almost everyone wants to get behind.