The Duggar Family's Website Is Missing An Important Announcement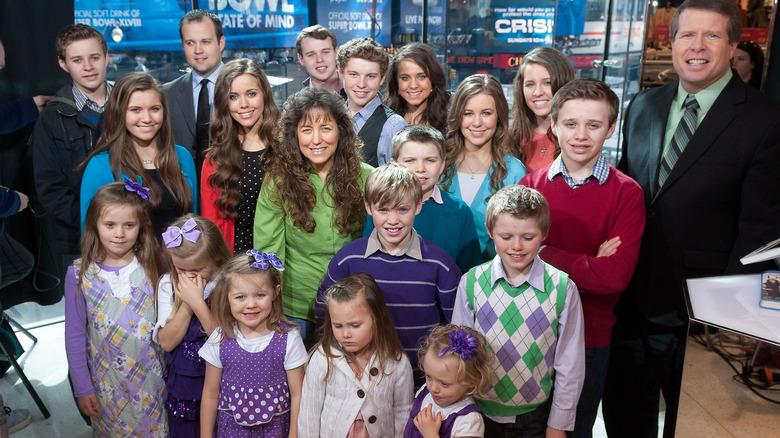 D Dipasupil/Getty Images
There have been a lot of changes in the lives of the Duggar family of "19 Kids & Counting."  When the reality show began, the older children of the huge clan were in their teens and tweens. Now, they range in age from 34 to 13, and many of the adult Duggars are married and live on their own. Two have moved far from the family homestead in Arkansas; daughter Jinger lives in L.A., and son Justin makes his home in Texas.
Parents Jim Bob and Michelle Duggar keep fans informed of their family doings via their Instagram account and website, where the blog vertical is the source for major news. They've reported on both happy events (weddings, holiday celebrations) and less joyful ones (their thoughts on the prison sentence of oldest son Josh Duggar). In 2022, son Jeremiah got married, and his twin brother Jedidiah became a father for the first time. If you're keeping count, there are 24 "grandDuggars" at this writing, per ET Online: 13 girls and 11 boys — but that number is about to change again with the upcoming birth of a son for John-David and Abbie Duggar.
The blog has been quiet in recent weeks; the last two posts were a report on son Jackson's graduation from basic training in a Christian boot camp, and a recipe for Vanilla Pudding Pie. That might not be unusual in itself, but the apparent omission of a big piece of family news is raising eyebrows.
Jill Duggar Dillard's parents have yet to comment about her baby
On July 12, the Dillard family made a huge announcement on their website: "Freddy Frederick Michael Dillard is here!" they wrote. "He was born 7/7/2022 at 5:16 pm weighing 7lbs. 6oz. and is 20 inches long." The sweet meaning of Jill Duggar Dillard's baby's name is a tribute to her husband since the name Derick is embedded inside.
Surprisingly, as of this writing, the Duggar family website hadn't been updated to include their latest grandchild. The last time this happened was in the fall of 2021 when oldest son Josh had his seventh baby. Considering that Josh was in the midst of his infamous trial at the time, it's not surprising that the senior Duggars opted to stay quiet.
Jill's new baby is another matter. It's well known that this Duggar daughter is estranged from her parents, particularly dad Jim Bob, whom she has accused of being "verbally abusive" and trying to control her life and finances, per the Daily Mail. Still, this seems like a surprising snub for a family who built their fame on their belief that children are God's precious gift. 
On the other hand, perhaps the Duggars have opted to offer their congratulations quietly. Jessa Duggar Seewald, the only sibling at Jill's baby shower, recently denied suggestions of family feuding, per People. "We spend plenty of time together even if there aren't a lot of photos circulating on the internet to prove it," she claimed.