Camilla Parker Bowles Reveals What Really Keeps Prince Charles Happy And Healthy
Chris Jackson/Getty Images
Royal watchers were surprised when Buckingham Palace made changes to Queen Elizabeth's official duties. 
As a result, other senior members of the British royal family have stepped up, particularly Prince Charles, who is next in line for the throne. The Prince of Wales represented the queen at the opening of Parliament and will stand in for her at the opening ceremony of the Commonwealth Games this summer, per the Daily Mail.
Charles — along with his wife, Camilla Parker Bowles, the Duchess of Cornwall — has also been traveling a great deal on Queen Elizabeth's behalf. They traveled 2,000 miles throughout Canada before the Platinum Jubilee, and, in November 2021, the couple visited the Middle East, making stops in Egypt and Jordan. Together, Charles and Camilla carried out more than 30 engagements over four days.
"We are not on holiday, we might be dressed up and photographed against the pyramids like tourists but we are not on holiday. We are working for the government and country and we are trying to make a difference," Camilla explained (via Metro). "I'm a lot older now. Well into my 70s. But to quote Richard Ingram, 'We've still got a snap in our celery.'"
In fact, the future queen consort called Charles "the fittest man of his age I know" during an interview on "The Emma Barnett Show," per Yahoo! And she revealed his passion that helps keep him in good shape at the age of 73.
Prince Charles spends most of his free time in the country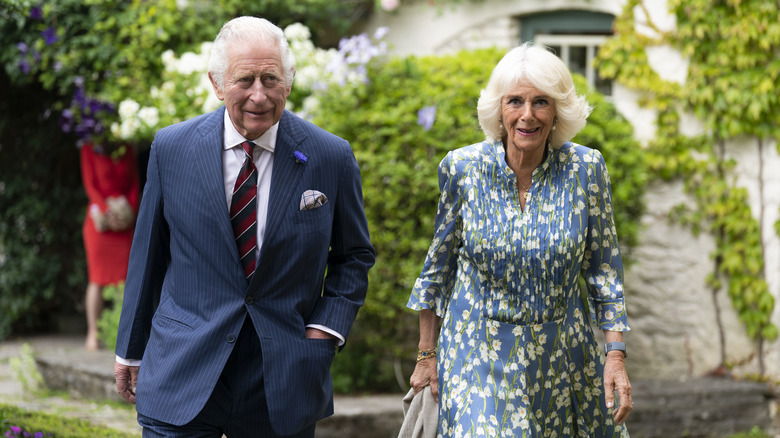 Wpa Pool/Getty Images
Camilla Parker Bowles, the Duchess of Cornwall, has shared how Prince Charles keeps himself in such great shape at the age of 73. Although he lives an insanely lavish lifestyle, Camilla called the Prince of Wales a "countryman to his very core" and explained that her husband loves taking long hikes outdoors. 
"He'll walk and walk and walk," she told "The Emma Barnett Show," per Yahoo! "He's like a mountain goat, he leaves everybody miles behind."
In addition to the physical benefits, the future king is also able to recharge mentally during his time in the country. "Whether he's hedge-laying in the pouring rain, striding, like a mountain goat, up impossibly steep Highland hills, planting trees in the arboretum or pruning at Highgrove, this is where he finds true peace," Camilla explained to Country Life, per Hello!
As for Camilla, she stays in shape with Silver Swans ballet classes, which she did virtually during the pandemic. But she hasn't been able to get Charles to join in on the fun. "I did not get him doing a plié, but he is a very, very fit man," she said. "But he is not doing ballet."