Prince Charles Shows Off His Playful Side While Attending A Fun Event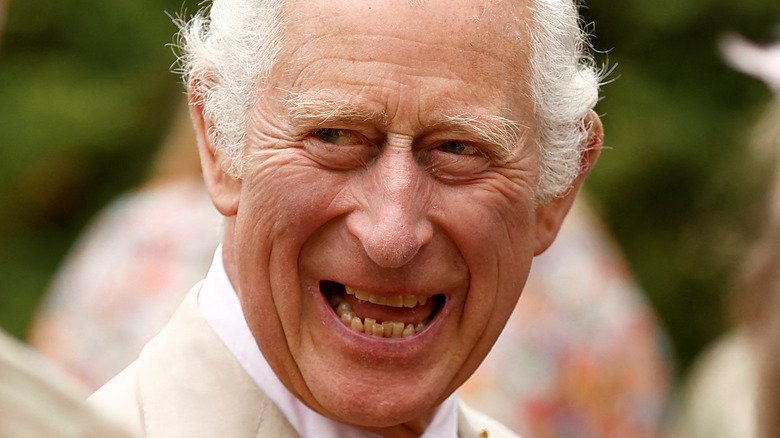 Wpa Pool/Getty Images
Being a member of the royal family isn't all that it's cracked up to be, but sometimes there are perks. On the downside, there's a dress code to follow and a whole list of events to attend. Thankfully, some of those mandatory events are fun — like when Prince Charles and Camilla Parker Bowles attended an event preparing for the return of the Notting Hill Carnival (via Yahoo! News). The festival boasts tons of bright colors and fun attractions to see, which had the king-to-be showing off his playful side. In fact, Prince Charles behaved unlike himself, but in the best way possible.
Prince Charles gets a bad rep. He has always been seen as a little bit stuffy and, of course, famously divorced Princess Diana, which didn't leave him in the best light with the public. It's no secret that the man will someday become King of England, and it looks like he's working on becoming more personable of late. Prince Charles' visit to the Notting Hill Carnival preparations was reportedly "tremendous," according to the Daily Mail. The carnival, which is held in London and celebrates the British West Indian community (via National Today), brought out a different side of the Prince of Wales. Here's what he was up to, so you can see for yourself. 
Prince Charles played the steel drums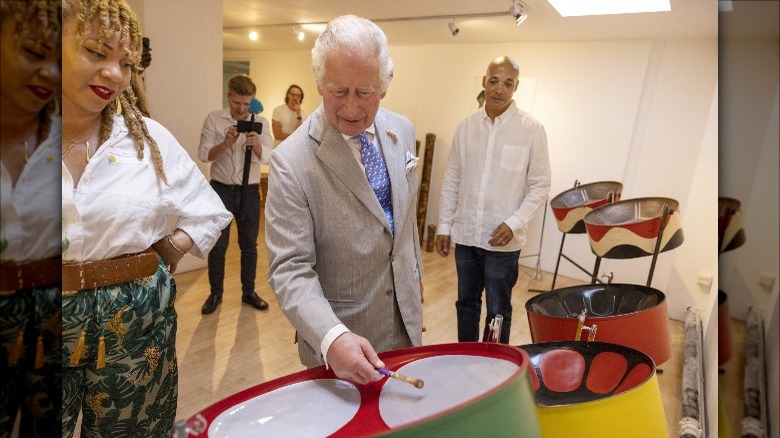 Wpa Pool/Getty Images
It's not often that Prince Charles is seen at royal events with a large smile on his face, but the Notting Hill Carnival apparently brought that out. According to the Daily Mail's royal editor Rebecca English, Prince Charles and Camilla Parker Bowles were welcomed to the event by a steel band and 12-foot-tall stilt walkers (via Twitter). Apparently, the 73-year-old was thriving because he was all smiles at the event. 
English reports that the Prince of Wales was so into the event that he even picked up some drum sticks to get into the spirit (via Yahoo! News). "The prince got into carnival spirit after being handed a set of drum sticks and offered the chance to tap out a beat on the steel drums," she tweeted. "But he joked: 'I'm not much cop at this'." 
Prince Charles typically likes to hang back at royal visits, so it was nice to see him stepping out with a bit more personality. This could be part of the push to modernize the monarchy, which Prince William and Kate Middleton have both spoken of incorporating into their roles.
The festival expresses 'cultural variety'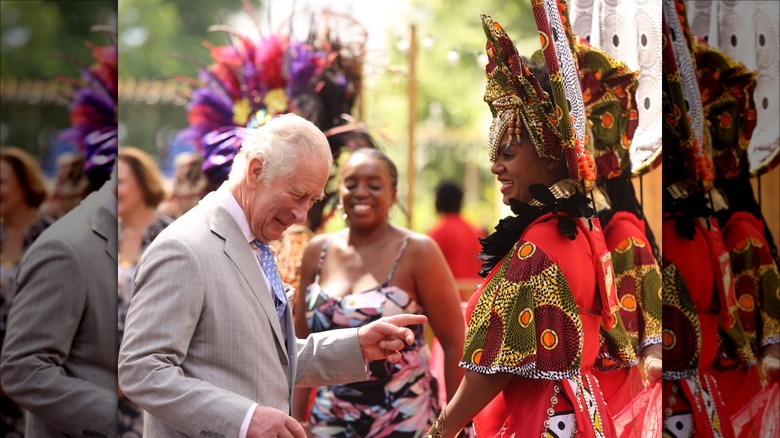 Wpa Pool/Getty Images
The royal family has not always been known for their diversity. Most notably, Meghan Markle claimed the royal family made racist remarks to her during her now-infamous Oprah interview. The interview put the royal family in a bad light for a while, but it looks like now they are working to embrace different cultures. Prince Charles' visit to the Notting Hill Carnival prep was proof of that.
According to the Daily Mail royal editor Rebecca English, Prince Charles had a hand in writing about embracing culture in the carnival's program. "The carnival is...a tremendous expression of the cultural variety which means so much as we continue to strive towards the establishment of an harmonious multi- cultural society," the Duke of Edinburgh says in the pamphlet (via Twitter). 
If nothing else, the King-to-be's visit was a push in the right direction when it comes to inclusivity. It's nice to see that he also enjoyed himself in the process. One thing is for sure though: He likely will not be joining a steel dum band in the future.