Joe Biden Claps Back At Reporters Over 2024 Primary Comments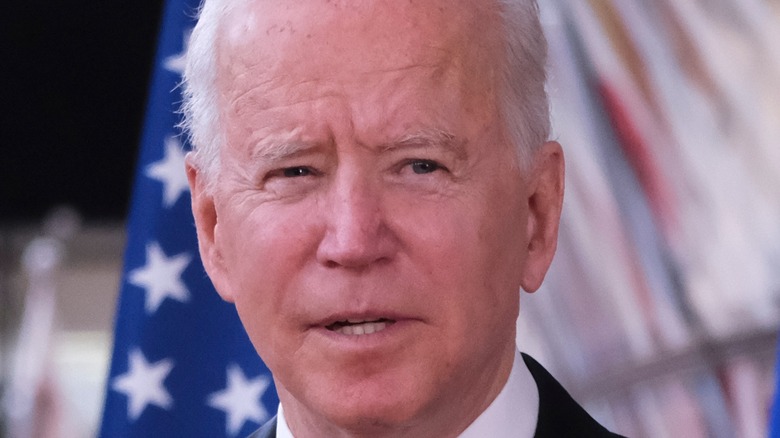 Alexandros Michailidis/Shutterstock
Since he took office in January 2021, President Joe Biden has been tasked with leading the country out of the COVID-19 pandemic as well as through record-breaking inflation and civil unrest. And while there's still plenty of work still to do, political analysts are focusing on the 2024 presidential election — and Biden's chances of being reelected. If the polls are to be believed, it's looking grim for the current commander-in-chief.
According to a PBS poll, 56% of Americans believe that Biden's first year in office was a failure, with 58% unhappy with how the president has addressed the economy. Another poll — this one from The New York Times/Siena College — reported that only 1 in 3 Americans approves of Biden's job performance, and only 26% of registered Democrats want to see him run again. 
A Politico opinion piece by Jeff Greenfield also speculated on Biden's chances of being nominated and winning. The political analyst's forecast was grim, especially since Biden will be almost 82 when his first term is over. "No candidate has ever run, and no president has ever served, at age 80 or above," noted Greenfield.
It isn't all bad news for Biden and his administration, however. People reported that, if Biden once again runs against Donald Trump, he leads in the polls with 44% popularity over Trump's 41%. And it looks like Biden isn't planning on throwing in the towel anytime soon.
President Biden insists his party will back him up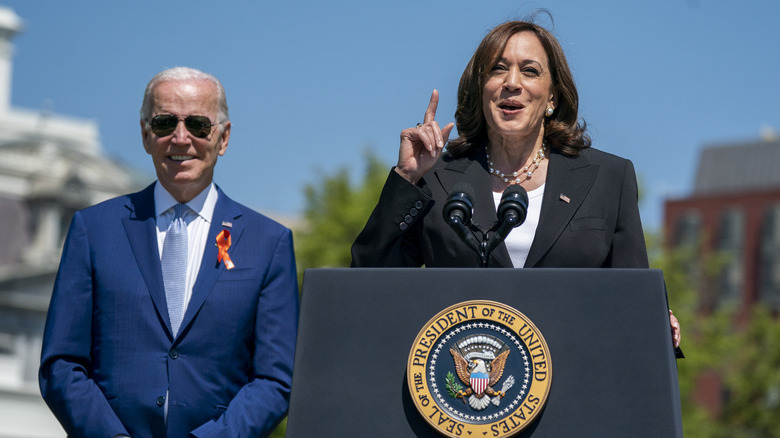 Bloomberg/Getty Images
While Joe Biden's popularity isn't doing well in the polls, he insists that his fellow Democrats are in his corner. 
When asked by a reporter for a response regarding his party reportedly not wanting him to run for president again in 2024, Biden responded (per New York Post), "They want me to run. Read the poll. Read the polls, Jack. You guys are all the same. That poll showed that 92% of Democrats, if I ran, would vote for me."​
After being pressed further on the issue by another reporter, the president added, "Ninety-two percent said if I did, they'd vote for me," and then walked away. 
Whether or not they support him, Democrats might not have a choice but to throw their hat in the ring for Biden as Vice President Kamala Harris appears to have an uphill battle in winning the nomination. According to the New York Post, three separate polls have shown that she is unpopular with voters. Even worse: If she ran against Donald Trump in 2024, he would lead the polls 49% to 38%. 
As a result, there is speculation that she could be challenged for the Democratic ticket by fellow liberals including Transportation Secretary Pete Buttigieg, New Jersey Sen. Cory Booker, Minnesota Sen. Amy Klobuchar, and Massachusetts Sen. Elizabeth Warren.