The Sweet Thing Camilla Parker Bowles Did For Homeless Dogs Was Caught On Film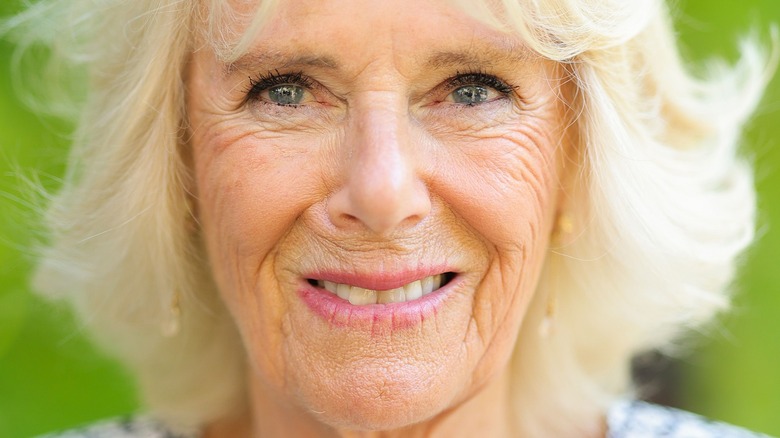 Chris Jackson/Getty Images
The royal family has been open about their love of dogs. During Queen Elizabeth II's Platinum Jubilee celebration — during which she, unfortunately, had to skip out on some events due to her ongoing health concerns — there was a special tribute paid to the monarch's favorite dog breed.
The Platinum Jubilee celebration marked an impressive 70 years on the throne for Queen Elizabeth. During the festivities, there was a special event centered around Corgis (via the Daily Mail). The first ever Corgi derby saw 10 dogs competing in a race. The winner was a pup named Georgie who managed to best a relative of one of the queen's own Corgis in the dash! The event was held in Scotland and was a celebration that will certainly go down in history!
Queen Elizabeth is not the only member of the royal family who loves dogs (per Town & Country). A quick internet search will bring up hundreds of pictures of important members of the royal family taking in some puppy love. Meghan Markle, Prince William, Prince Charles, and Kate Middleton have been photographed with dogs often. Recently, Camilla Parker Bowles, the Duchess of Cornwall shared a heartwarming moment with a few pups. Thankfully, it was all caught on film.
Camilla shared a heartwarming moment with adoptable dogs
Camilla Parker Bowles, the Duchess of Cornwall and soon-to-be Queen Consort, recently took part in a documentary in celebration of her birthday (via Express UK). The show captured intimate details of the Duchess of Cornwall and her husband, Prince Charles, at home living their day-to-day lives.
However, what the documentary failed to capture was a recent heartwarming moment shared between the Camilla and a handful of adoptable dogs. According to Rebecca English, the royal editor for the Daily Mail London on Twitter, Camilla attended an event celebrating Battersea, a home for adoptable pets that has been in service for 160 years!
In the clip, you can see the duchess giving some love to the adoptable pups. She even hands over a little serving of pet-friendly ice cream for them to enjoy as a treat. According to English, Camilla was determined to help find these adoptable dogs forever homes, keeping up the royal tradition of loving dogs!