Joe Biden's Latest Slip-Up Has Everyone Saying The Same Thing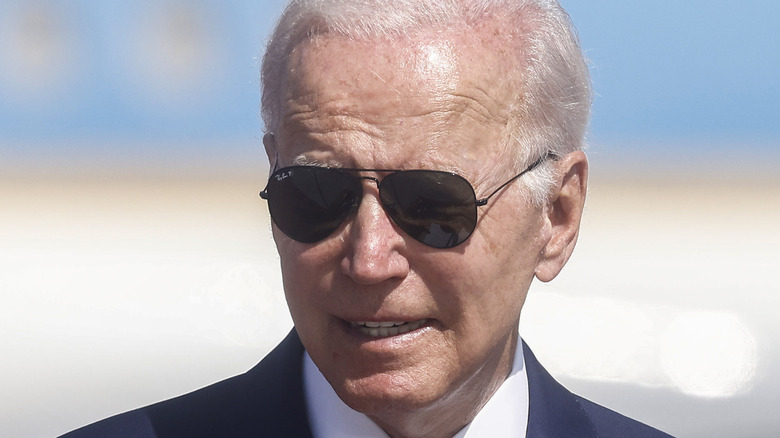 Bloomberg/Getty Images
President Joe Biden's first presidential trip to Israel started off a bit rocky, as a slip-up during a speech went viral on Twitter. USA Today reports that Biden's visit to Israel is mainly for security reasons: the two allied countries are set to discuss safety and security measures against any possible nuclear threats from Iran. But Biden also took the opportunity to show his respect for Holocaust survivors as he arrived in Tel Aviv on Wednesday. His thoughtful speech outlined his plans to pay his respects to the Yad Vashem Holocaust memorial during his visit, followed by a wreath-laying ceremony and a meeting with two concentration camp survivors (via New York Post).
While his visit thus far has been one motivated by respect and remembrance, one moment during President Biden's opening speech has Twitter spiraling. Once again, Biden finds himself faced with critiques regarding his advanced age and his ability to lead and represent the Unites States. 
We all make mistakes, even the president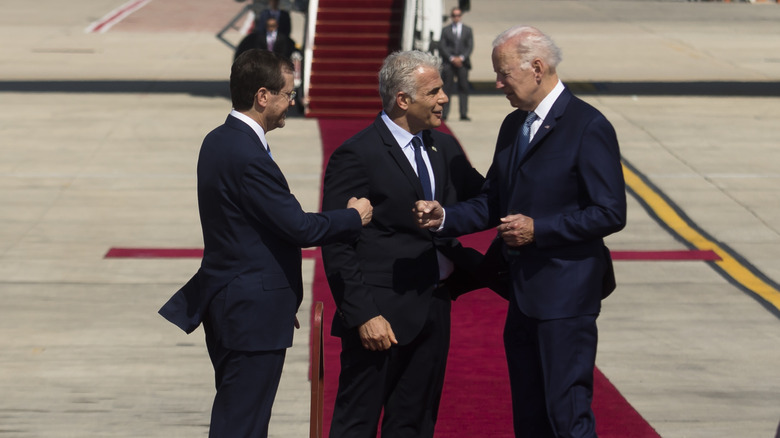 Amir Levy/Getty Images
The New York Post shared President Joe Biden's remarks, who said: "I will once more return to the hallowed ground of Yad Vashem to honor the 6 million Jewish lives that were stolen in a genocide and continue — which we must do every, every day — continue to bear witness, to keep alive the truth and honor of the Holocaust." "Honor" was quickly corrected to "horror", and Biden continued on, but Twitter never forgets.
This isn't the first time Biden has been criticized for a gaffe. One Twitter user called it the moment "[Biden's] brain BREAKS." Another user tweeted that he is "surprised they still allow him to speak." Even some supporters like The New York Times writer Michelle Goldberg think he is simply too old for office, which might hurt his chances in the 2024 presidential election.
Others recognized it as an accident and applauded Biden's ability to continue speaking out against antisemitism. Per Times of Israel, Biden wrote in the Yad Vashem visitors' book: "We must never, ever forget — because hatred is never defeated — it only hides."
Biden's trip has had a major impact, despite the verbal slip-up. According to Newsweek, Isaac Herzog, the President of Israel, awarded the Israeli Presidential Medal of Honor to Biden during his visit to Jerusalem on Thursday. Herzog celebrated the partnership between the U.S. and Israel, saying it is "essential to ensuring that peace and democracy prevail not only in the Middle East, but around the world."