The Sweet Way Tarek El Moussa Found Out Heather Rae Was Expecting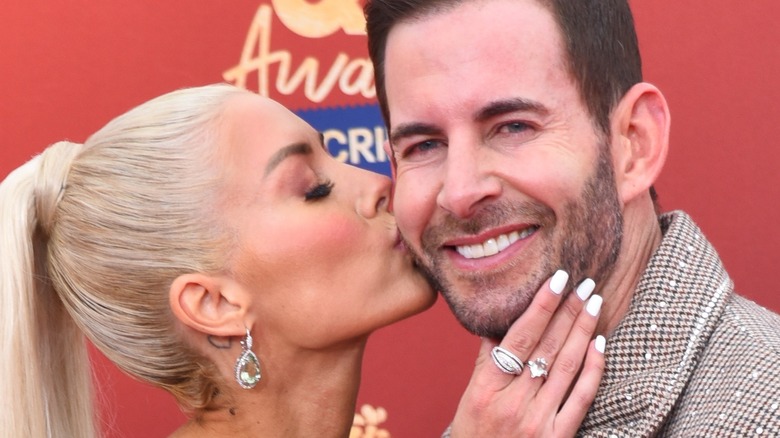 Michael Mattes/Shutterstock
Earlier this week, Heather Rae and Tarek El Moussa shared exciting family news, with the happy couple confirming they were expecting a baby after struggling for months with fertility issues. In fact, according to People, the El Moussas were actually in the midst of undergoing IVF treatments, with the goal of transferring an embryo sometime in the fall, when Heather discovered she'd actually conceived naturally. 
The "Selling Sunset" star admitted, "It was a huge shock," acknowledging, "We just weren't expecting this. ... We had a plan." Naturally, they were thrilled regardless. As Heather asserted, "I think when you least expect it and there's no stress in your life, the world just brought us what was meant to be." She added, "I'm so excited that it happened like this." 
The celebrity couple didn't always plan on having children together, with Heather initially content to play "bonus mom" to Tarek's two children with ex-wife Christina Hall. Once they realized what they wanted, though, their tough fertility journey began, as the reality stars detailed in an interview with Entertainment Tonight. "It's definitely been rough," Heather confessed at the time. 
Happily, everything worked out for them in the end. And now, the "Selling Sunset" star is revealing how she broke the news to a delighted Tarek.
Heather Rae El Moussa made a gift box for her husband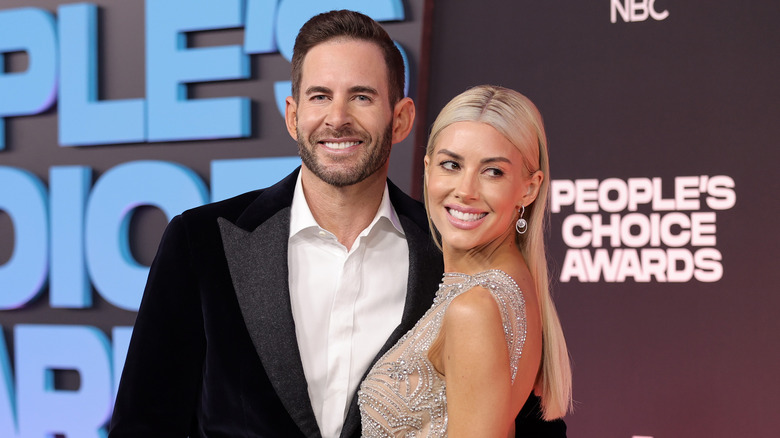 Amy Sussman/Getty Images
In a lengthy Instagram post, Heather El Moussa shared the sweet way she let husband Tarek El Moussa know the couple was expecting. A video showed the "Selling Sunset" star giving Tarek a nondescript white box, containing a baby onesie and three positive pregnancy tests. After confirming she is, indeed, pregnant, Tarek responds, "So many questions!" before adding "I told you to take a pregnancy test today!"
The reality star elaborated on how she was only "two days late" but, because the El Moussas are "so in tune with each other," Tarek immediately knew something was up and encouraged his wife to take a pregnancy test. Although Heather wasn't convinced, she did it anyway, before getting distracted elsewhere: "Long story short I went back upstairs once I remembered and saw that I was PREGNANT!!!" 
After three positive tests, it was finally time to celebrate, even though Heather had to wait until Tarek came home to do so properly. "We had been trying so hard for a baby and I really wanted to make the surprise special," she added of her makeshift gift box. The "Selling Sunset" star admitted to People that it's been "so challenging" keeping their happy news under wraps especially since, "Last week, I really popped." 
Heather didn't want anybody to notice her bump before the couple was ready to tell, which made being out in public difficult, especially given her penchant for form-fitting outfits. 
The El Moussas are also working on a show together
Aside from getting ready to welcome their first child together, Heather Rae and Tarek El Moussa also recently announced huge career news. The reality stars, who found fame on "Selling Sunset" and "Flip or Flop" respectively, will soon lead the charge on their very own show. The news was confirmed with a joint Instagram post, in which the couple enthused, "After many conversations, we've finally made one of our goals a reality and are excited to announce our all new series, 'The Flipping El Moussas' with HGTV coming in 2023!"
Heather and Tarek will both star and serve as executive producers on the show, which has already begun filming. "The Flipping El Moussas" will feature everything from high-end, multimillion-dollar flips in the heart of Hollywood to a more modest renovation in Big Bear. "Bringing our expertise together from each of our worlds has been so much fun," they wrote, also promising an inside look into their hectic personal lives. 
Today reports, in a press release, the celebrity couple noted, "We are so excited to bring viewers into our world to see the ins and outs of our day-to-day lives," with Tarek's children, Taylor and Brayden, set to make an appearance. According to the El Moussas, "The cameras are capturing our journey like never before and we can't wait to share it all." Evidently, it's about to get even busier in the family home too.