Hugh Grant Squashes A Huge Rumor About His Connection To Prince Andrew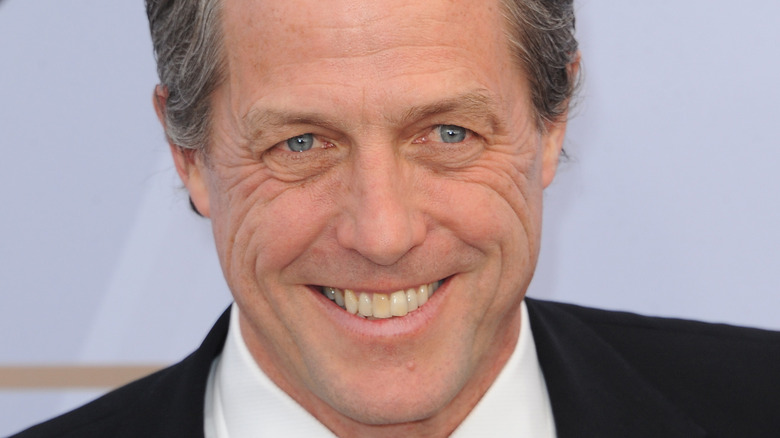 Tinseltown/Shutterstock
Earlier this week, rumors circulated that Hollywood A-lister Hugh Grant had been shortlisted to play Prince Andrew in an upcoming flick, delighting royal watchers and setting social media alight. Deadline confirmed that the movie, from "Your Honor" screenwriter Peter Moffat, was being adapted from tell-all book "Scoops: Behind the Scenes of the BBC's Most Shocking Interviews," which was penned by former "Newsnight" producer Sam McAlister.
Far from a straight a biopic of the Duke of York's life, the focus will be on his car crash of an interview with the BBC, during which Andrew discussed his relationship with disgraced financier Jeffrey Epstein. Although a director isn't attached, shooting on "Scoop" is due to start in November, with Grant as one of the names batted around to portray Andrew. As The Hollywood Reporter pointed out, the backlash to the royal's "Newsnight" appearance was swift.
It was even described as "a plane crashing into an oil tanker, causing a tsunami, triggering a nuclear explosion." Suffice to say, "Scoop" will be a must-watch for many different reasons. There's just one problem — Grant's involvement isn't guaranteed. 
The actor claimed to be unaware of an upcoming movie about Prince Andrew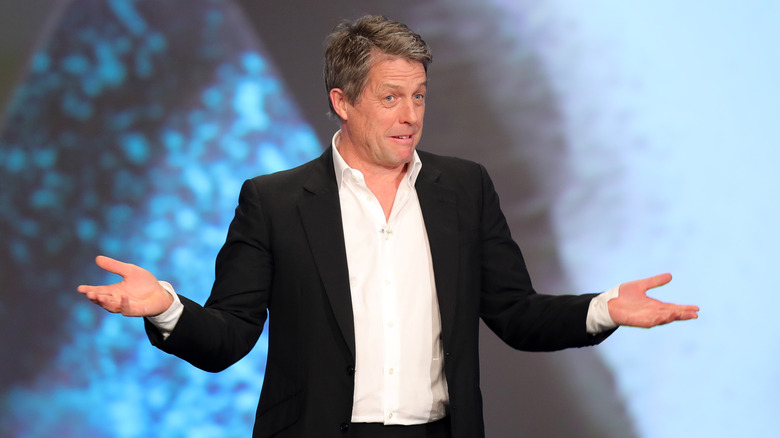 Andreas Rentz/Getty Images
Maybe his representatives just haven't given him the nod yet? Hugh Grant utterly dismissed rumors he's in talks to play disgraced royal Prince Andrew in an upcoming movie. In response to a since-deleted tweet from OK! magazine, sharing the news story, Grant wrote simply, "No I'm not. Never heard of it." Royal expert, and noted friend of the Sussexes, Omid Scobie took the opportunity to task fans with brainstorming their top picks to play the Duke of York instead.
Among the responses were; "A puffy Colin firth," Michael Sheen and even Kevin Spacey — who faced similar sexual assault charges to Andrew (via ABC News). Several respondents suggested nobody should play the beleaguered prince, though, considering the scandal in which he was embroiled amid Andrew's well-documented connections to the late Jeffrey Epstein. One commenter also joked the duke could play himself if only he were a better actor, citing his performance in the "Newsnight" interview.
Grant, meanwhile, is a huge hit on Twitter, particularly following the revelation that he was the one who requested the "Benny Hill" theme to be played at Westminster following Boris Johnson's resignation, as The Independent reported.
The Duke of York's relationship with the other royals is hanging by a thread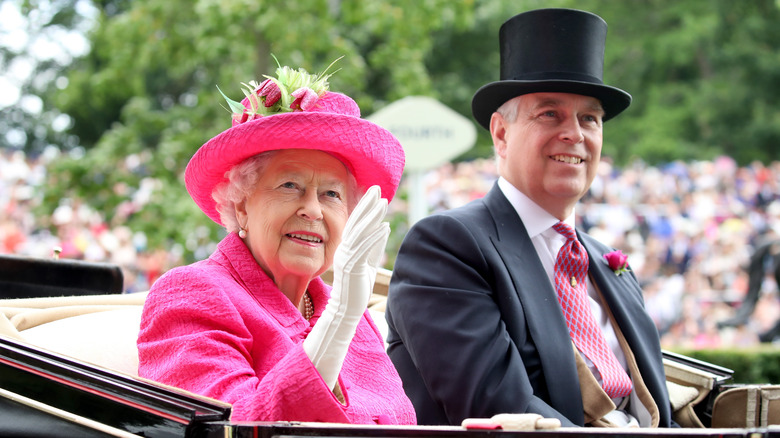 Chris Jackson/Getty Images
Royal expert Chris Ship said it best on Twitter: "Just when the Royal Family hoped they'd be able to move on from Prince Andrew ... someone decided to go and make a movie all about him and that Newsnight interview." The Duke of York's sex abuse scandal has cast a shadow over the monarchy, and reports posit certain senior royals are sick of dealing with him. As a source told the Mail on Sunday, Prince William wishes the whole thing had been dealt with much faster, and ideally out of the public eye.
"[William] feels very strongly about this," they claimed, adding, "He has strong views on the Duke of York and believes his insistence in trying to cling on to a public role is highly dangerous for the institution." In fact, according to the insider, William wishes his uncle would just disappear "from public view" for good. According to The Sun, he and father Prince Charles lobbied to ensure Andrew wouldn't be present at the Order of the Garter. The queen told Andrew to stay behind the scenes "for his own good."
William and Charles were concerned about the public fallout if it seemed like the duke was making his way back into the family's good graces, though that is reportedly his goal. With "Scoop" on the way, though, it's clearly going to be an uphill battle.