It's No Surprise That Nearly 34% Of People Think This Is The Best Destination Wedding Spot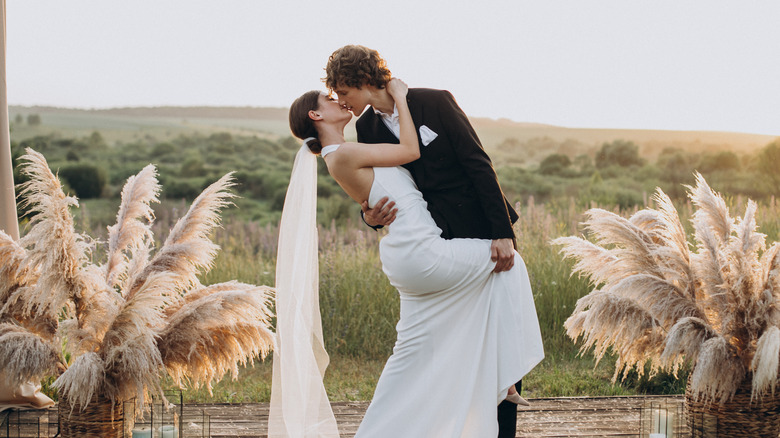 PH888/Shutterstock
The wedding industry has gone through a huge transformation in recent years; we've seen COVID-safe virtual weddings, intimate micro-weddings, even surprise weddings for our spontaneous lovebirds that just couldn't wait to tie the knot! While we all love a good wedding, planning one can be exhausting, leaving you in dire need of a vacay. Or, you can plan a destination wedding and get the best of both worlds! With travel back and better than ever, a destination wedding is the perfect choice for jet-setting couples who just can't wait for the honeymoon.
According to Issuu, destination weddings make up 25% of weddings planned each year, and cost almost $30,000 on average. For newlyweds who can't wait to escape to an exotic new land, a destination wedding is the perfect way to celebrate their love while exploring a new place. But with so many beautiful places in the world, which is the perfect venue for your wedding abroad? The List conducted a survey of 573 people, asking, "Which location do you think is best for a destination wedding?" The top answer has us searching for our passports and our strappy sandals as we dream of the perfect summer wedding.
Break out your bridal bikini at this tropical destination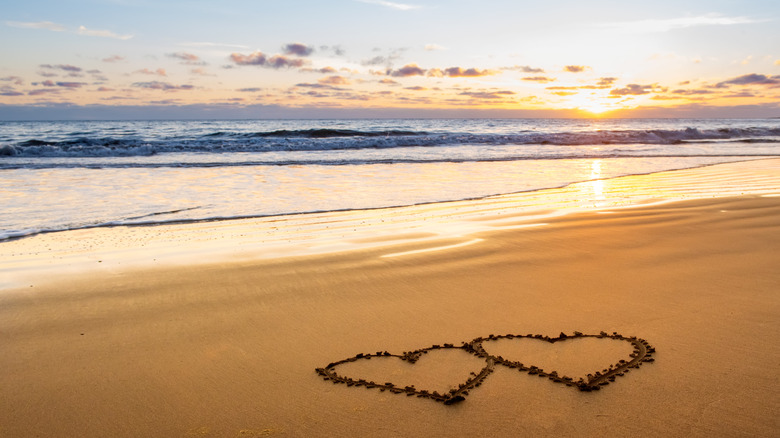 Kochneva Tetyana/Shutterstock
According to Red Barn20, a destination wedding is defined as any wedding celebration located outside of a couple's hometown. But for the sake of dreaming, The List asked readers to dream of far away destinations and decide which is the perfect spot to host a wedding, and 33.86% of responses headed straight for the Bahamas!
The romantic island destination won out; Italy followed close behind with 31.41% of the vote. While we love the thought of romantically sharing some pasta "Lady and the Tramp"-style with our new spouse, something about feeling the sand between our toes while we say "I do" just makes sense. Votes were also cast for France, Mexico, and Ireland (which we love and absolutely want to visit), but who doesn't want their "something blue" to be the sparkling Atlantic Ocean? Wedding planner Lindsay Sims told The Knot that "the scenery is what really draws people" to the Bahamas for a destination wedding. Couples and their guests both enjoy all that the islands have to offer, creating the perfect combination of a wedding and a tropical vacation.
Planning your big day in the Bahamas is no small task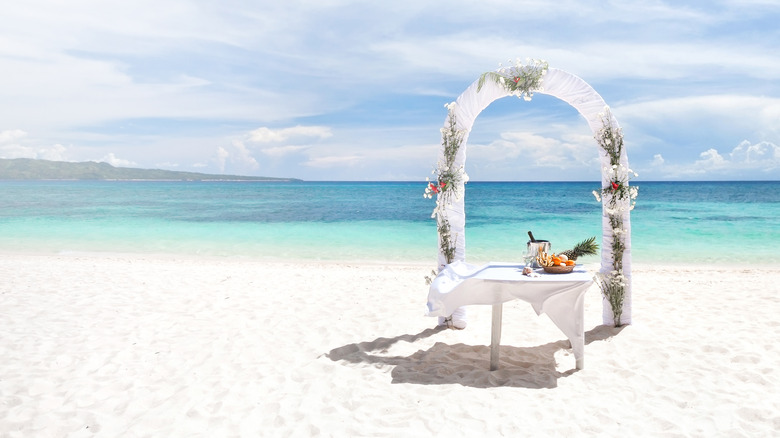 photopixel/Shutterstock
A destination wedding in the Bahamas will run up your tab quite quickly, depending on how many people attend and how fancy your venue package is. Wedding planner Marva Monroe told Brides that she has seen couples with a wide range of budgets get married in the Bahamas, but the bigger the guest count, the more costly the wedding. On average, a Bahamas wedding will cost around $50,000 if you invite 50 guests, and less than $25,000 for a microwedding. The cost of travel and lodging also needs to be taken into consideration, which is exceptionally high post-pandemic. Wedding guests are usually expected to pay for their own accommodations, which might mean that they cannot attend, depending on their personal and financial situation. Couples who have their heart set on a destination wedding should keep in mind that inviting their loved ones to travel around the world is a large ask; Martha Stewart writer Alyssa Brown reminds couples not to take it personally if guests cannot attend, and express your love for them regardless of their RSVP status.
Focus your energy on celebrating with those who can make it, and enjoy your tropical getaway! At the end of the day, whether it's just the newlyweds and a photographer, or 50 of your closest friends, the Bahamas is the perfect destination for your dream wedding ... Or at least for 34% of you.