American Carnage's Bella Ortiz On Her Immigration Story And Her Character's Journey - Exclusive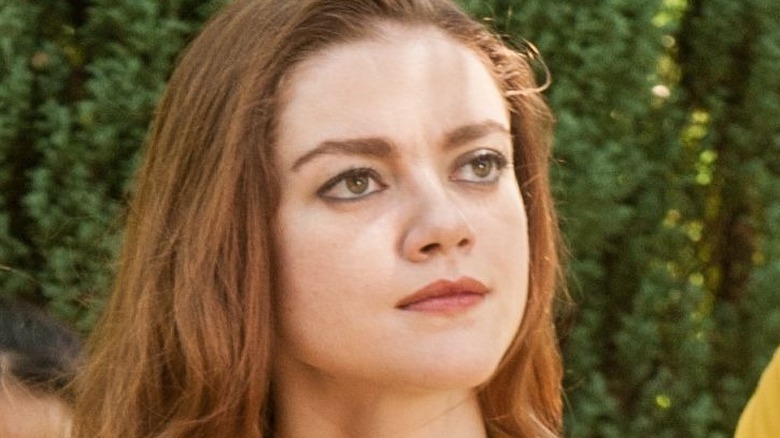 American Carnage/KWPR
Of all the hot-button political issues that permeate today's headlines, few have the emotional followthrough and the unbelievable threads of sacrifice than that of immigration. For a country founded on the tenets of immigration and religious freedom, the United States has been at the center of migration strain for decades, with notable — and horrific — images of children being separated from their parents at the border between the U.S. and Mexico cropping up in 2018 (per the Southern Poverty Law Center). While border control and the movement of undocumented peoples has been on the forefront of voters' minds for generations, it could be argued that society is losing sight of the stories and struggles of those wanting a better life in the first place. Those personal battles get lost in the numbers and headlines, and actor Bella Ortiz is keenly aware of such struggles.
A Chilean American actor who came to the United States when she was four years old, Ortiz is embodying the tangible struggles that the immigrant population faces in the newly released film, "American Carnage." Starring alongside Eric Dane, Allen Maldonado, and a chorus of talented actors, Ortiz's Micah finds herself in an untenable situation: Either she submits to being incarcerated like her fellow undocumented young people, or she is sent to care for the elderly. What follows is a horror-comedy-thriller that centralizes a key issue and projects it onto the larger screen, and ahead of the film's premiere, we sat down with Ortiz to discuss her own immigration story and how she related it to her character.
Bella's immigration story has overlapping elements with her American Carnage character
When some voters talk about immigration in the United States, many may not realize just how difficult it is to become a citizen in this country. The struggle to become a legal citizen is a reality that Bella Ortiz knows all too well, having come to the U.S. at age four. It wasn't until she was 17 that she became a citizen, having been in her home for 13 years.
"The process of becoming a citizen is a very long, expensive, daunting one. That's something that people don't necessarily realize," Ortiz told us. "In terms of my character ... [I began] noticing that we have the same starting point where we're both white Latinx women."
Telling us that how she presents physically has made a huge impact on her career and the environments she can navigate, Ortiz divulged that she's enjoyed opportunities that women in her own family have never experienced. "I can take up spaces that other people can't — other people being my own mother, my own family that is all still in Chile," she shared.
Bella took on a more meaningful responsibility as Micah
Explaining that "American Carnage" presented her with an opportunity to represent an important aspect of her own experience — despite the differences she has to that of her character, Micah — Bella Ortiz told us that she felt a sense of duty to the role.
"Regardless of how I felt about the character's end goal or how she turns out, I felt like it was a responsibility to be able to take up that space and play that character, knowing what my life and my intentions represent," Ortiz said, further reflecting on her own immigration journey.
She expressed that her own family sacrificed so much to come to the United States and that her mother — the youngest of 10 — left her own relatives behind in search of a new life, but that life wasn't her own. "When people come to this country for that American dream, it's not necessarily even for them," Ortiz said. "It's for them to hope that their children have better lives."
"American Carnage" is now playing in select theaters and is also available for rental and purchase digitally and on demand.