Camilla Parker Bowles' Son Reveals What Their Relationship Is Really Like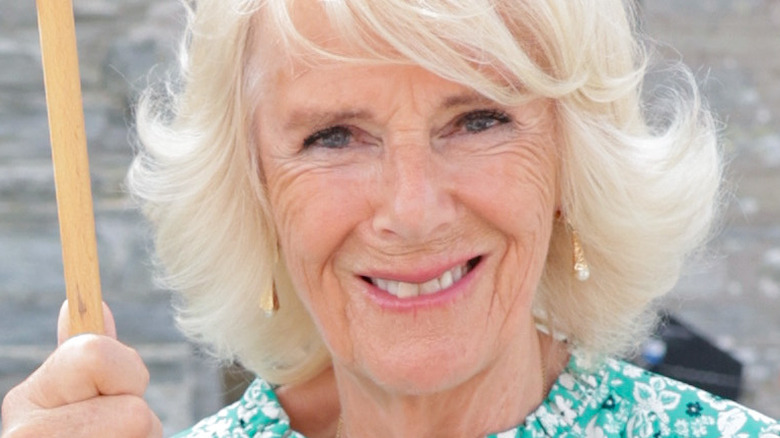 Chris Jackson/Getty Images
For the Duchess of Cornwall Camilla Parker Bowles, 2022 has been a milestone year in more ways than one. Back in February, the duchess received major royal recognition when Queen Elizabeth marked 70 years as queen with an announcement that "Camilla will be known as Queen Consort," when Prince Charles assumed the role of king, per Royal UK.
Recently, the Duchess of Cornwall celebrated a milestone birthday when she turned 75 on July 17. With her well-known sense of humor, Parker Bowles remarked to the Daily Mail, "We don't really want to talk about birthdays, do we? Unfortunately, I can never lie about my age as it's always brought up in a newspaper, so I just have to get on with it." Earlier in the week, the duchess celebrated publically when The Oldie magazine hosted a lunch in her honor, per The Telegraph.
However, for the actual day itself, Camilla preferred one of her three keys to a happy life — a quiet dinner with family (via Daily Mail). Camilla's two children, her son Tom Parker Bowles and her daughter Laura Lopes, along with her sister Annabel Elliot, planned to join Camilla and Charles to celebrate. As a food critic and author, Tom has spent time in the media spotlight, per Hello! Magazine. He recently marked his mother's birthday with some special words. 
Tom Parker Bowles thinks Camilla is caring and supportive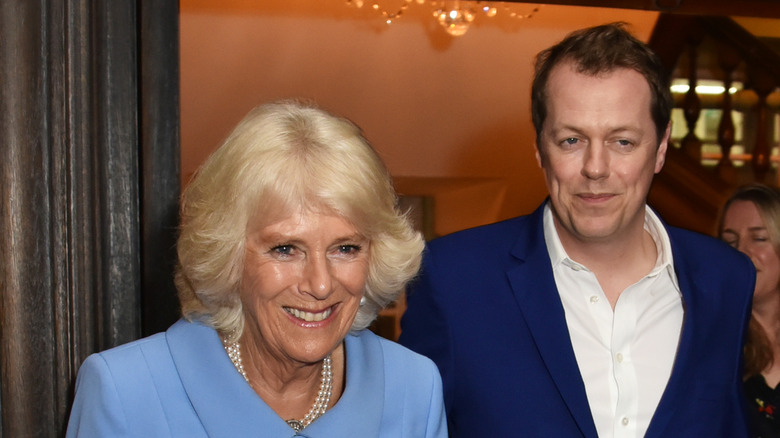 David M. Benett/Getty Images
Camilla's oldest child, Tom Parker Bowles, respects and appreciates his mother. "She is and always has been a great parent — caring, non-pushy — but oh so supportive in all our ventures, plus always knows the right thing to say," he told Neil Sean of Fox News.
When it came to his schooling, Camilla and Andrew Parker Bowles, Tom's father, had different opinions. "My mother couldn't care," Tom told The Times. "When I had bad reports, she'd be by the window making faces behind my father going, 'You're going to comprehensive if this happens again,' and he meant it."
The Duchess of Cornwall also is candid about admitting to a mistake she made as a parent. Looking back, she regretted her decision to send her son away to school. When Tom's daughter turned seven, he reminded his mother that he was only a little bit older when he left home. "My mother was slightly appalled, saying she'd never do it again," Tom recalled, per The Times.
As far as his stepfather is concerned, Tom is enthusiastic. "All you care about your parents is they're happy and my mother is exceptionally happy at the moment," he said on A Current Affair in 2015 (via Hello! Magazine.) "I've always adored my stepfather; he's always been a kind and good and lovely man." As Tom's godfather, Prince Charles has been part of Tom's life since he was a baby, per Yahoo! News.
Tom Parker Bowles sees Camilla as a great role model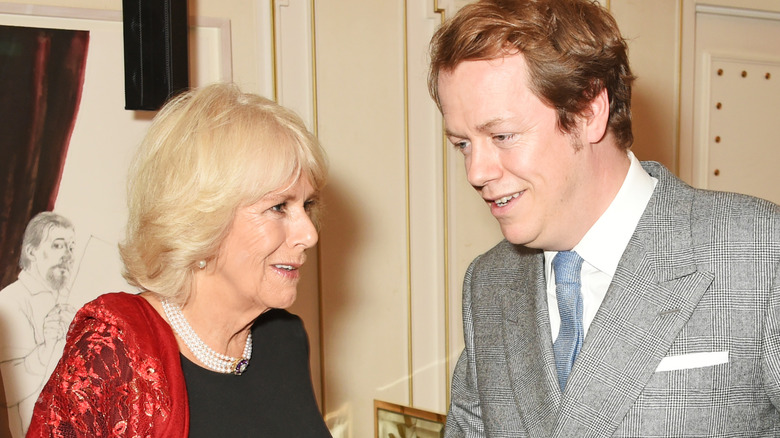 David M. Benett/Getty Images
As an adult, Tom has expressed his admiration for his mother's work as a senior royal. "She is mum, but also I love seeing how she has helped others with her charity work and really hands-on style," he told Fox News. "I know she is and remains a great role model for all of us."
Camilla's son appreciated his mother's grit in the wake of intense media coverage. Tom was a student at Oxford when her affair with Prince Charles became public. "I sort of remember not looking at the paper because, you know, Jesus, the things that we've all said to people that we love or girlfriends or boyfriends that you wouldn't want the world reading!" he told The Times. "I wasn't going to read that sort of stuff about my mother."
Camilla's fortitude has been a good influence. "There's absolutely nothing anyone can say about my mother or myself or my step-father that we haven't heard before," he told BBC Five Live, per Daily Mail. "It's just words, stick and stones and all that."
Tom also admires Camilla's interaction with his own children "She is a brilliant grandmother," he said to The Times. Speaking to The Australian Women's Weekly, Camilla called being a grandmother "The best role." The Duchess of Cornwall relishes spending time with her grandchildren. "They're just fun to be with. I love being with them, eating together, going to see a film or a play."