The Miracle Product Heather Rae El Moussa Uses On Her Baby Bump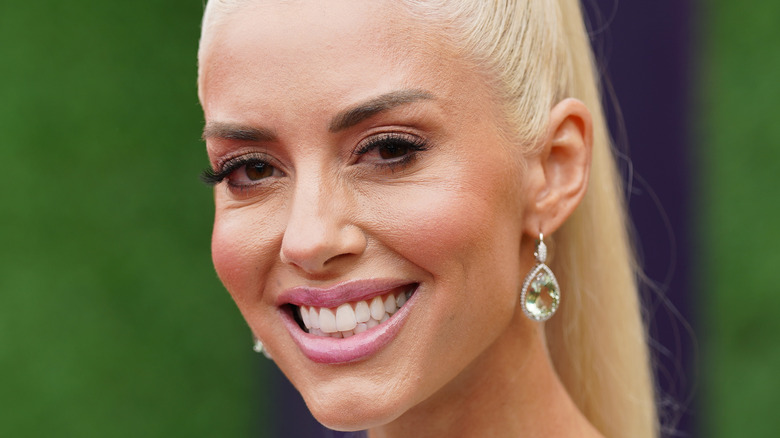 Presley Ann/Getty Images
We may receive a commission on purchases made from links.
After months of frustrating fertility issues, in July 2022, Heather Rae and Tarek El Moussa shared exciting family news. The celebrity couple excitedly confirmed they were expecting their first child, admitting in an interview with People that it came as a total surprise. The El Moussas were in the midst of fertility treatments at the time, with Heather revealing, "We just weren't expecting this. We had just gone through IVF. We had embryos on ice. We had a plan."
Naturally, though, they were thrilled to discover it had happened without them even realizing it. In fact, the sweet way Tarek found out Heather was expecting showed just how big of a deal it was to them. The "Selling Sunset" star posted an Instagram video, with a lengthy caption, detailing how she'd taken a pregnancy test at her husband's urging. Once Heather confirmed they were really expecting, she made up a gift box to break the news to him.
It was clear this was something both parties wanted for a long time. And, in keeping with her reputation for sharing every detail of her glamorous life with fans, Heather took the opportunity to let them in on what product she was using to keep her bump in tip-top condition.
The expectant mother reached for this organic concoction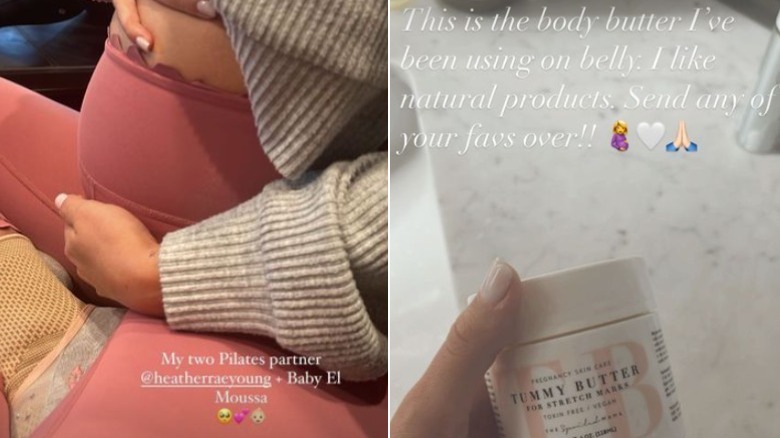 Instagram
Shortly after announcing she was expecting her first baby with her husband Tarek El Moussa, "Selling Sunset" star Heather Rae El Moussa — who frequently shares her go-to products with fans — took to her Instagram Stories to confirm which product she was using to keep stretch marks at bay. El Moussa wrote, "This is the body butter I've been using on belly. I like natural products. Send any of your favs over!!" alongside a shot of Tummy Butter, from The Spoiled Mama, which typically retails for around $41.
The site promises: "Our fast-absorbing belly butter helps soothe your itchy pregnant belly and penetrates deep into your skin to hydrate and prevent pregnancy stretch marks." As Heather noted, it's entirely natural, since Tummy Butter is formulated using "organic cocoa butter" and "11 organic oils." It also includes a ton of essential fatty acids, alongside vitamin E, and has a delicious chocolate-orange fragrance. So, if you're not already craving Terry's Chocolate Orange, be prepared to want it desperately.
The "Selling Sunset" star wasn't the only one rubbing delicious-smelling cocoa butter on her bump. Per People, Khloe Kardashian reached for Palmer's Tummy Butter while pregnant with daughter True Thompson. Pick it up on Amazon, starting at $5.99.
Tarek El Moussa was hugely supportive of his wife's changing body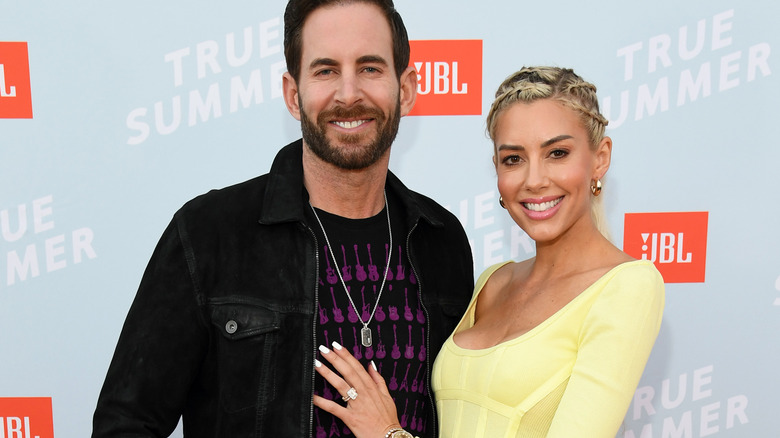 Kevin Mazur/Getty Images
Heather Rae El Moussa was doing her best to enjoy pregnancy, and thankfully husband Tarek El Moussa was being "so supportive" as the reality star got used to her new normal. As she told People, during her first trimester, "My body's changing and I'm obviously not used to certain changes. I see myself naked now and I'm seeing my belly grow and other areas of my body grow." Heather continued, "A lot of my clothes I've grown out of, and it's a hard change. I went from being very tiny, to just seeing my body change and getting used to those changes."
But Tarek continued loving every part of her, consistently reassuring his wife of "how beautiful I am and how beautiful my body is." In fact, the "Flip or Flop" breakout encouraged Heather to just enjoy the ride and relax, rather than worrying about how she looked, echoing her friends' advice. Heather noted, "My girlfriends are like, 'Just enjoy this. And your body's going to change and it's something you can't control.' And that's why I keep telling myself the most important thing is our baby's health and growing a healthy baby." 
The El Moussas weren't originally planning to have kids together but, as Heather admitted to E! News, after seeing how good of a dad Tarek is to daughter Taylor and son Brayden, whom the HGTV star shares with ex-wife Christina Hall, she changed her mind.