Prince Harry Absolutely Gushes Over Meghan Markle In His UN Speech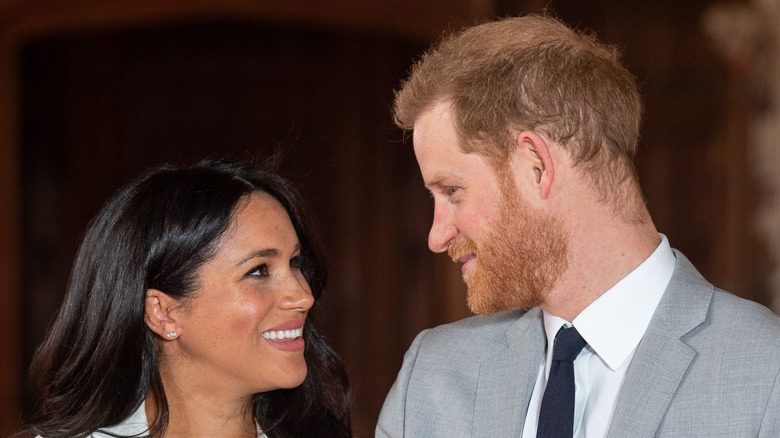 Wpa Pool/Getty Images
Fresh off their surprisingly low-key visit to the UK to celebrate the queen's Platinum Jubilee, Meghan Markle and Prince Harry were slated to make an appearance together at the UN General Assembly. A spokesperson told the Daily Mail, "The South African Mission has confirmed the participation of the Duke and the Duchess at Monday's commemoration." In fact, the Duke of Sussex was scheduled to make a speech in honor of Nelson Mandela Day, touching on the global climate crisis. 
The Sussexes were eager to honor South Africa's first president after meeting his widow, Graça Machel, back in 2019. Moreover, Harry's late mother, Princess Diana, visited Mandela himself in Cape Town in 1997. This isn't Meghan and Harry's first time appearing at the UN General Assembly; they previously attended in September 2021, though neither of them spoke at it. This year's event marks their first major public appearance since the Jubilee, and already the Sussexes are making headline news. 
Meghan stunned in a little black dress during her NYC arrival with Harry, with Elle noting the duke and duchess actually matched in their sleek, all-black ensembles. Clearly, they meant business, which was further evidenced by Harry's speech. However, he also took a moment to shout out the love of his life, leaving fans all over the world swooning.
Africa holds a special place in the Sussexes' hearts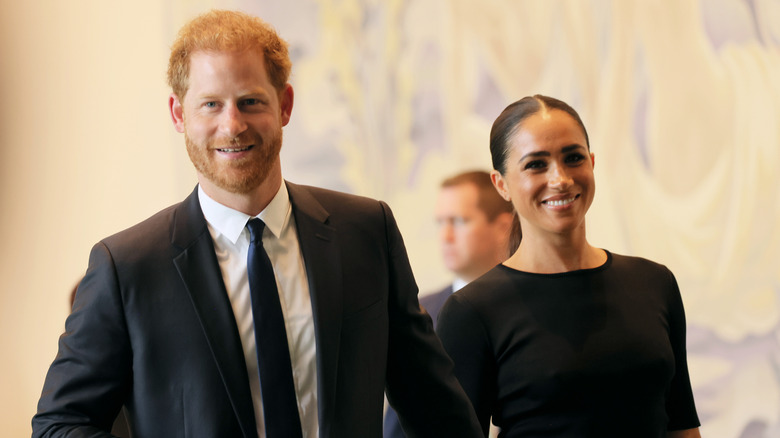 Michael M. Santiago/Getty Images
Prince Harry used his highly-anticipated speech at the United Nations HQ, in New York City, to honor his wife and the mother of his children, Meghan Markle. E! News confirms the Duke of Sussex delivered a keynote address to mark Nelson Mandela Day. Aside from paying tribute to the legendary civil rights activist, Harry shared how Africa has always been a special place for him because it's where the prince "found peace and healing" following Princess Diana's passing, and also where Meghan and Harry got closer, during their 2017 visit to Botswana.
The couple returned to the continent in 2019 after they got hitched. "Since I first visited Africa at 13 years old, I've always found hope on the continent," Harry shared. "It's where I've felt closest to my mother and sought solace after she died, and where I knew I had found a soulmate in my wife. And it's why so much of my work is based there." Harry also noted Mandela lives on in the work being done in his name.
Elsewhere in the speech, per The Independent, the duke railed against the recent rollback of abortion rights in the US by slyly taking aim at, "the few weaponizing lies and disinformation at the expense of the many." He also criticized the ongoing war in Ukraine and the terrifying climate crisis, contending, "We are witnessing a global assault on democracy and freedom, the cause of Mandela's life."
Piers Morgan wasn't too impressed with Harry's speech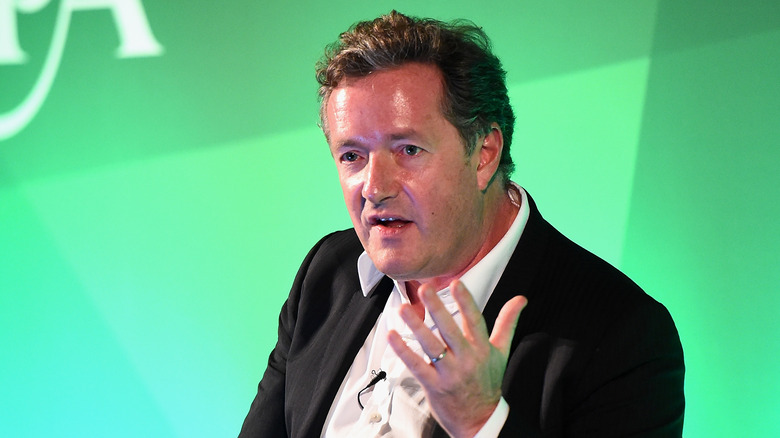 Eamonn M. Mccormack/Getty Images
Surprising nobody, Piers Morgan, aka one of the biggest thorns in the Sussexes' side, didn't appreciate Prince Harry's UN speech. Express reports Morgan kicked off a recent episode of his "Uncensored" TV show by ranting, "Prince Harry has waded back into politics when nobody wanted him to." The controversial pundit was "baffled" as to why the Duke of Sussex was even chosen to deliver the keynote speech in the first place, reasoning, "I can't think of anybody less qualified of the eight billion inhabitants of our planet to talk about Nelson Mandela than Harry."
According to Morgan, Harry behaved hypocritically by complaining about the climate crisis despite regularly flying on private planes, branding him "miserable," "pompous" and "po-faced." The former "Good Morning Britain" host laid the blame squarely at Meghan Markle's feet, suggesting her influence has had an adverse effect on Harry. Royal biographer Tom Bower, whose book "Revenge: Meghan, Harry And The War Between The Windsors," comes out this week, seemed to agree with him. 
According to The Sun, during an appearance on TalkTV opposite Morgan, Bower revealed that, through his research, he allegedly discovered several of Harry's friends believed Markle took herself too seriously. Further, Bower argued that the Sussexes only want "money" and fame. He asserted, "Everything is built around the future documentary series to promote the Sussexes." Bower also pointed to the reported lack of a turnout for Harry's speech, noting the auditorium was "pretty empty."