It's No Surprise That More Than 28% Of People Say This Social Media Platform Is Their Favorite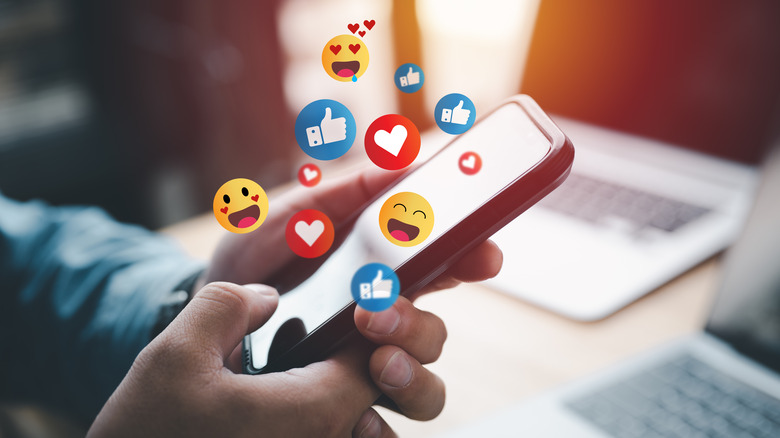 LookerStudio/Shutterstock
Do you find yourself scrolling through your feed, catching up on news, and fighting your FOMO as you check your friends' stories to see what they got up to the night before, all before you've had your first cup of coffee? If social media is the first thing you see each morning, you aren't alone: according to Statista, people spend an average of two hours and 27 minutes on social media sites each day worldwide. Social media has taken the world by storm, allowing anyone with access to an internet connection the ability to post, share, and instantly connect with people all over the world.
We've come a long way since the first social media platform, Six Degrees, back in 1997. (Via CBS News). Over the years we've watched OG social media sites like MySpace and Friendster go away, while shiny new apps like Snapchat and BeReal arrive on the scene. But which social media platform is truly the most popular? A survey conducted by The List asked 573 people, "Which is your favorite social media platform?" We aren't surprised that one social networking sight soared above the rest.
TikTok, Instagram, Twitter... Oh my!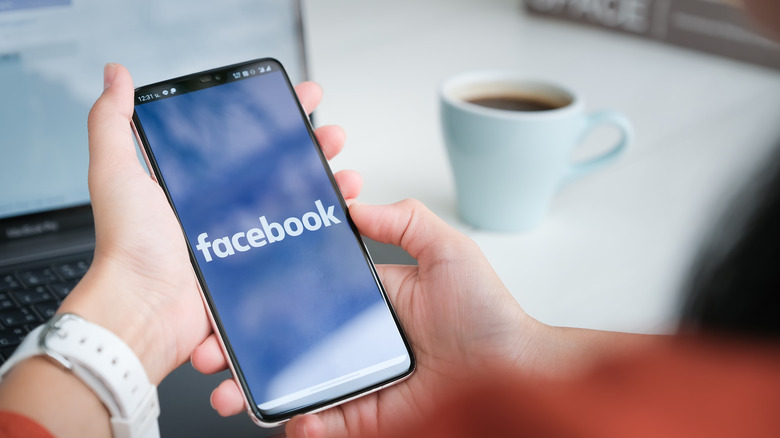 Jirapong Manustrong/Shutterstock
With all the social media platforms available to us today, it's hard to pick a favorite. Luckily, The List narrowed down the top social media platforms and asked readers to identify their top choice. All other platforms, step aside because the reigning favorite is Facebook. With 28.45% of the vote, Facebook remains a staple in people's social media scrolling routine. Facebook was founded by Mark Zuckerberg in 2004 as a way for Harvard students to connect online and has grown into its own media empire (via History). Whether you are logging on to play Farmville (is Farmville still a thing?) or checking on the status of your high school sweetheart's marriage, Facebook has you covered, with almost three billion monthly active users, per Statista.
YouTube claimed second place with 26.88% of the vote. According to TitanGrowth, YouTube is also "the 2nd most-used search engine following Google." Instagram fell close behind, with 22.16% of responses favoring the photo-sharing platform. Snapchat, TikTok, and Twitter were less favored over the other social media titans, but with TikTok's success and celebrity presence, we wouldn't be surprised if it dethroned one of the current favorites in the next few years.
The positives and negatives of social media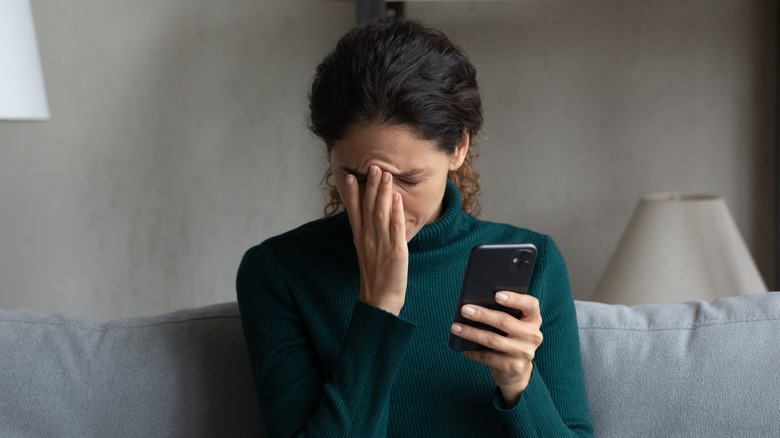 fizkes/Shutterstock
Connecting with your friends and loved ones instantly through your phone or computer is nothing short of amazing. Since the dawn of social media, it has connected families across the globe, created a platform that has uplifted voices and movements, and allowed people to feel a sense of community even in the most isolated of places. But sometimes, social media can be "too much of a good thing," and can negatively impact people's mental health.
According to Help Guide, "multiple studies have found a strong link between heavy social media and an increased risk for depression, anxiety, loneliness, self-harm, and even suicidal thoughts." Research done by the Journal of Social and Clinical Psychology recommends people limit their social media usage to 30 minutes per day, to avoid negative feelings that are associated with extended social media usage (Via HuffPost).
It can be hard not to compare yourself to your favorite influencer or celebrity, or even your gorgeous neighbor who always looks so put together in her Instagram stories. When you start to compare yourself to what you see on social media, remember that people's posts are only glimpses into their life, covered in filters and clever captions. And next time you find that you're experiencing some sadness or self-doubt while you're scrolling, take it as a sign to log off for the day and enjoy connecting with people outside of the metaverse.